Getting Started
What's SaTT?
Smart advertising Transaction Token
SaTT is an advertising token that allows you to monetize your community. Get paid for a Tweet, a Facebook post, a YouTube video, and much more.

What are Ad Pools: an advertiser's solution
Ad Pool: Reward influencers to promote your brand
Are you ready to boost your sales, drive greater revenue, and surpass your marketing objectives? If so, get started with SaTT today.
Try our new Ad Pool concept, where multiple influencers can participate in the same campaign and try to collect as much budget as they can.
With SaTT Smart Contract, you'll only pay for results. In turn, you can launch targeted ad campaigns while working with creators and partners who understand your objectives.
With data-driven performance reports, automated campaign options, and absolutely 0 middleman, SaTT empowers organizations to increase their exposure and results.
What's Post Farming: a content creator's solution
Post Farming: Fairer, faster, and more secure way to monetize your social media account
SaTT allows you to Farm your social media posts by regenerating money from them.
It creates a unique opportunity for content creators and digital marketers, accelerating their earning potential while increasing their exposure.
By using blockchain, transactions are automated to ensure a faster and more transparent payment process. Every step of the way, creators are paid based on their results, achieving specific criteria and KPIs that define campaign success.
If you're interested in working on relevant, fully-funded advertising campaigns, get started with SaTT today.
Blockchain
Our DApp is multichain, the platform users can stock their tokens and launch AdPools on many blockchains including Ethereum, BNB Chain ecosystem, Tron, Polygon and BitTorrent Chain.
Our token « SaTT » is actually available on Ethereum and BNB Chain for now.
Gas fees will be applied depending on the blockchain.
User Interface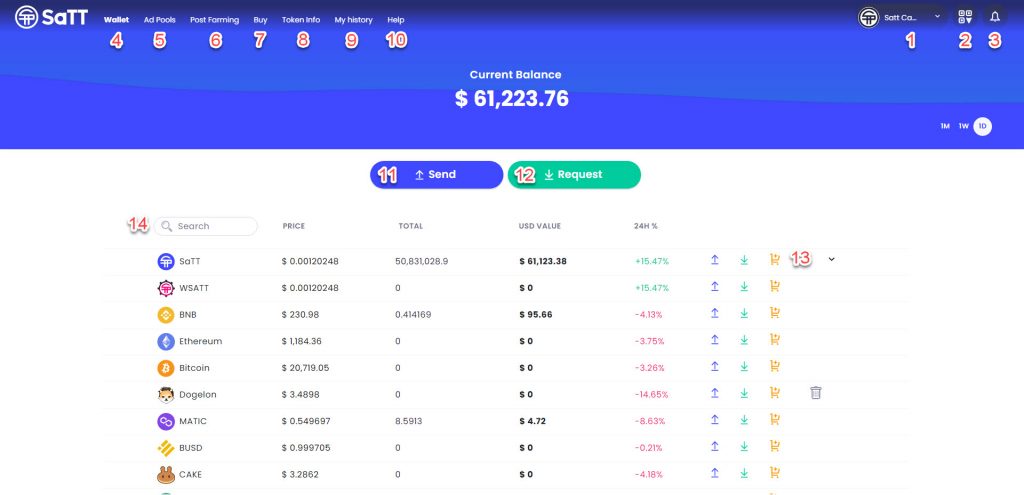 Profile settings

Social networks, interests, KYC & security, all your information.

Wallet Address

Here you'll find your Bitcoin, Ethereum, Binance Smart Chain, and many other network address of your wallet

Notifications
Wallet

Watch your balance, send receive & convert tokens.

Ad Pools

Create your owned Advertising Pool or submit your application to an Ad Pool and Farm your Post.

Post Farming

Harvest your tokens from your Ad Pool participation.

Buy coin or token
Check information about cryptocurrencies
My history

Find your transactions and your Ad Pool participation history.

Help

Read the FAQ or contact our team.

Send coins & tokens
Send a receipt request
Buy coin or token
Search or Add a new token
Profile Settings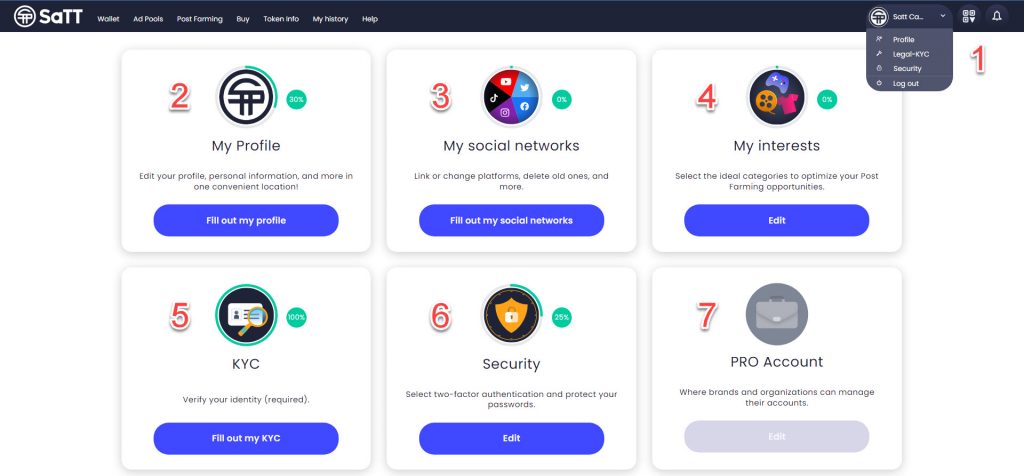 Click on your profile button in the header
Fill out your profile with personal information: First Name, Last Name, Gender, Birthday, Language, Email, Address, Zip Code, City, Country and Phone (Optional).
Link your social networks to your account: Facebook page, Twitter account, YouTube channel, Facebook account and LinkedIn page.
Select your interest categories
Fill out your KYC by providing your ID or Passport and a proof of address which is less than 3 months old (utility bills, property tax receipt, valid driver's license, bank statement)
Add a two-factor authentication to your wallet and protect it from hackers.
In case you're a brand, you can manage your accounts from the PRO Account section.