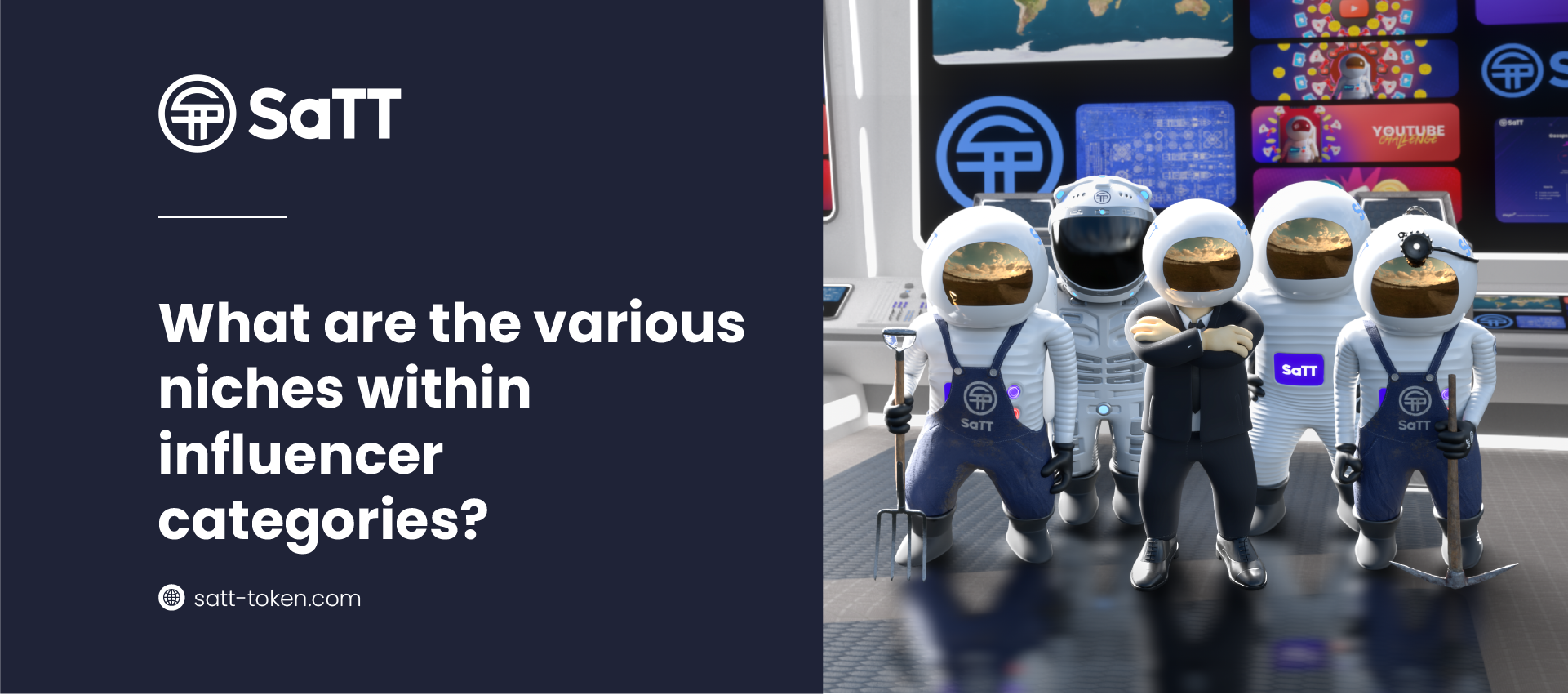 What are the various niches within influencer categories?
Consumers are beginning to question traditional advertising, so many brands are now turning to influencer marketing. Just as with any other communication strategy, brands need to clearly define their target and their needs. Should they focus on engagement rather than visibility? Which category of influencers is best to work with? From celebrities to nano-influencers, this article examines influence niches based on the types of influencers.
Mega-influencer niches
Influencers in this category have millions of followers. They are fully dedicated to their influencing business and captivate their audience by revealing their daily lives. Their world revolves around a relatively broad topic, which allows them to reach a very wide audience. They're the ideal target for brands seeking visibility. Sports, lifestyle, food, business, and video games are the most common areas of influence in daily life.
Mega-influence and lifestyle
EnjoyPhoenix is the queen of fashion and beauty influencers. Her 5 million followers are enthralled by her every move. Her profile lets her be open to different types of advertising, since she talks about style as much as about travel and cooking.
Mega-influence and sports
A true influencer in his field, Tibo Inshape has built a physique that is as impressive as his community. Beloved for his self-deprecating nature and how close he is to his subscribers, he has the perfect profile for recommending sports programs or protein snacks.
Mega-influence and gaming
Squeezie is the fun friend we all want to hang out with. His Twitch channel has over 3 million subscribers, making him an iconic figure in the video game world. Brands in this field have every interest in collaborating with him if they want to continue to grow.
Macro-influencer niches
Macro-influencers have between 100,000 and 1 million followers. They develop their popularity in niche areas so they can stand out. Their followers are fewer in number but are generally enthusiastic about what they have to share. This is a positive factor for partner brands, who are increasingly focusing on quality rather than quantity. Travel, digital media, news, art, and animals are areas of influence that appeal to dreamers as much as to the people involved.
Macro-influence and travel
Bruno Maltor is one of the most-followed travel influencers in France. This modern-day adventurer is as genuine as ever, much to the delight of his community. He shares his helpful hints and his challenges while promoting little-known and often-underestimated destinations.
Macro-influence and technology
Hasheur is the youngest ambassador of the cryptocurrency ecosystem in France. Every week, he shares his interest in blockchain technology with nearly half a million subscribers. As for Micode, he keeps things simple by explaining topics like the Dark Web and cybersecurity to his community. They are the undisputed leaders in their field and are regularly enlisted for their knowledge and influence.
Macro-influence and animals
Kitty et Lola are two dogs that belong to the famous YouTuber Natoo. She has fun showing their daily lives on Instagram, and she never fails to mention their favorite brands of dog food. This is an excellent marketing tool for pet-related brands.
Micro-influencer niches
Micro-influencers have 10,000 to 100,000 followers. They are enthusiastic about their niches and their followers like their authenticity. Unlike celebrities, these future social media stars are still close to their communities, who share their interests. This is a valuable asset for brands that want to partner with quality ambassadors to reach an engaged audience. Specific activities, unique engagement, and unusual hobbies are three areas of influence that people don't follow by chance.
Micro-influence and niche sports
Far from the most popular activities, sports micro-influencers play mainly for their own pleasure. This is true of Casquette Verte, a trail runner sponsored by a racing shoe manufacturer. His amazing performance is a real asset for the brand, which is gaining popularity among his 20,000 followers.
Micro-influence and ethical fashion
Fashion is a key area of influence that is particularly powerful; it can be synonymous with engagement. The blogger Iznowgood has seized this opportunity by creating Marqu'iz, an ethical brand generator (you enter criteria, and the generator will suggest brands that offer what you're looking for). Her collaborations are the product of careful consideration, never failing to appeal to her engaged community.
Micro-influence and food
Although less famous than Michelin-starred chefs, food micro-influencers have also found a recipe for success. They often follow very specific diets and share pictures of their meals with followers who need ideas and inspiration. Laura Healthy Vegan does just that, posting photos of her vegan and gluten-free dishes on Instagram. For partner brands, this guarantees an audience of 35,000 hungry followers.
Nano-influencer niches
Nano-influencers are enthusiastic beginners whose communities have less than 10,000 followers. They are pursuing their hobbies in parallel with their jobs and are increasingly sought after for advertising. They make up for their lack of visibility with high engagement and conversion rates, making them an excellent marketing lever for up-and-coming brands. This category of influencers operates in a wide variety of niches, and you will only find them if you look for them.
Nano-influence and calligraphy
After changing careers to become a calligrapher, Letterinparis is a constant source of inspiration for her 4,000 followers. Every day, she shares her creations, describes her craft, and gives advice to people interested in the art of lettering. She partners with a famous brand of markers, which her students use when she conducts workshops.
Nano-influence and literature
Book lover Molaireettentacules enjoys reflecting on her latest reads. Supported by a major cultural entertainment brand, she receives books and can even give some away to her community. This is a great way for the brand to become known and liked.
Nano-influence and cosmetics
Do It Yourself is a niche that will continue to grow. Beauty Shake delights in sharing cosmetics recipes and natural tips with her followers on Instagram. She collaborates with several brands in the field, promoting them on her website.
Influencer marketing has long been driven by celebrities, but it is now built around high-profile personalities. One thing quickly became clear to brands: mega-influencers are expensive and unavailable, and their communities are more curious than engaged. So, the approach has changed a lot in recent years. Many brands prefer to leverage macro- or micro-influence. The more an influencer develops in a specific field, the more they are surrounded by a small, passionate, engaged community. This is a big plus for brands whose goal is to convert as many followers as possible into buyers. Influence niches vary depending on the type of influencer, but influencer marketing seems to have a bright future ahead of it.
Read more: What are the advantages of paying influencers per performance?