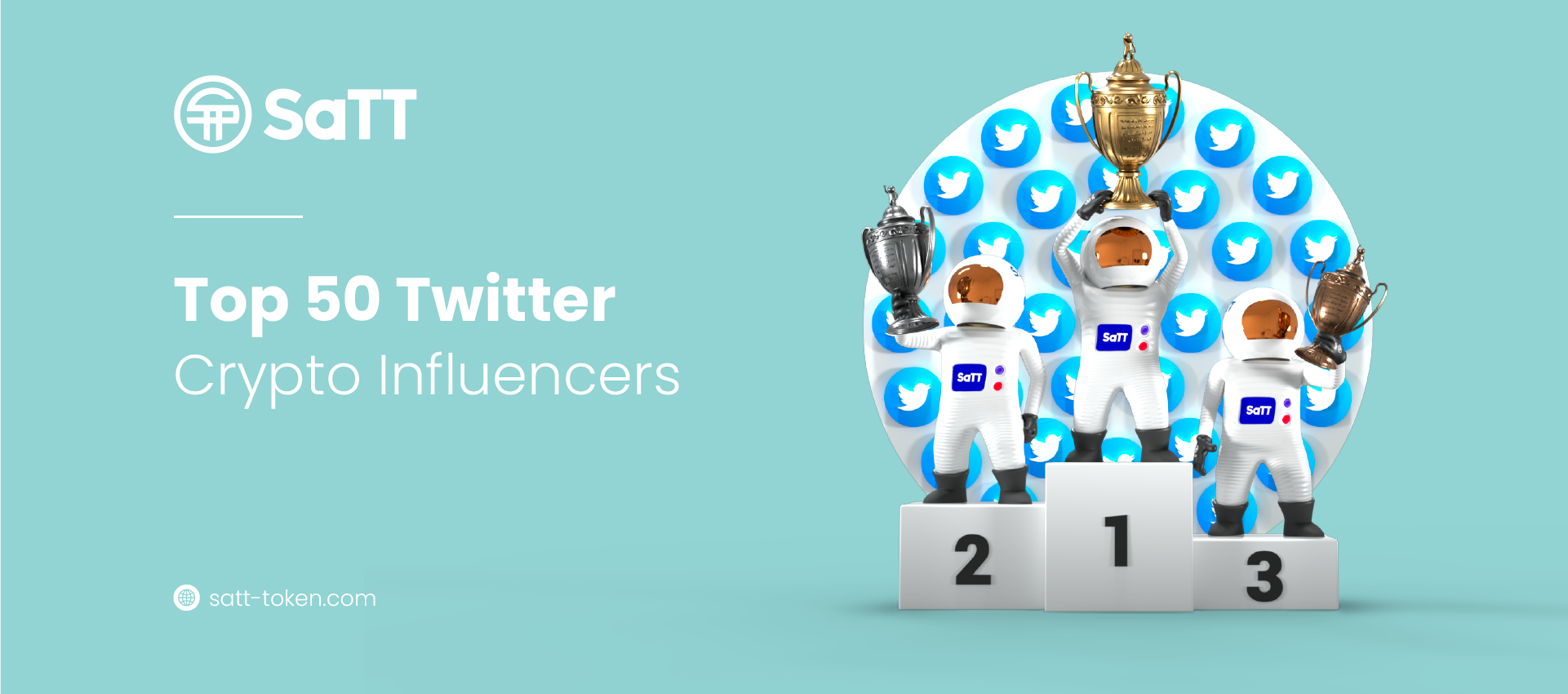 Top 50 Crypto Twitter Influencers
Cryptocurrency has become the ultimate destination for investors who love taking bigger investment risks to make it big. Similarly, the new generation of tech gurus is looking at cryptocurrencies and blockchain as one of the most exciting new frontiers alongside machine learning. If cryptocurrency and blockchain excite you, then you must be always on the lookout for reliable crypto news, information, or opinions on public forums.
Twitter is one of the greatest sources of information for anyone interested in cryptocurrency and blockchain news. Over the past few years, the social media platform has become the source of crypto-breaking news or where new crypto projects go viral. If you're enthusiastic about cryptocurrency and its related technology, Blockchain, then Twitter should be your to-go-to platform. This is particularly if you're a crypto trader or an aspiring trader.
The list was populated following research on thousands of Twitter influencers talking about cryptocurrency and blockchain. Each influencer was ranked on three metrics: followers, posts, and engagements.
NOTE:
We've excluded Elon Musk for he's by default too big to include in this list. You never know when he's going to make an unsettling statement to shift crypto prices in minutes. I suppose you're following him already, though.
The Twitter following is as at the time of writing this article.
Itsallrisky @itsallrisky
Itsallrisky is a former Bitcoin maximalist turned Dogecoin champion. If you're into meme coins, Itsallrisky is one of the Twitter crypto influencers you should be following if you're interested in meme coins such as DOGE. He has over 197K Twitter followers.
Barby Crypto @barbycrypto
One of the most known meme coins enthusiasts. If you're into meme coins, Barby Crypto should be the first place you start. She has over 535.1K followers on Twitter.
Barry Silbert @BarrySilbert
Barry operated the popular Moneyape.com. If you want to hear about fair launches early, he should be on your list as he breaks launching news on the dot. Barry has over 593.1K followers.
Pentosh1 @pentosh1
Pentosh1 has been one of the most active technical analysts on Twitter. His insights and predictions have helped many of his 320.7K followers.
Leah Thompson @girlgone_crypto
Leah is an extremely engaging crypto enthusiast. He does it all, from Twitter posts, live streams, to video updates. A great source for crypto and entertainment that would make your days not just informative but also enjoyable. She has over 154.8K Twitter followers.
Ran Neuner @cryptomanran
Ran is NBC's crypto guy. He's one of the most important people you need to follow if you want to stay on top of crypto news. Ran has a following of 372.8K Twitter followers.
Johnny @cryptogodjohn
Johnny of the Walsh Wealth Group is one of the most influential crypto educators on Twitter. With a following of 252.8K on Twitter, Johnny is a fan favorite for his insightful knowledge about crypto projects.
Cred @CryptoCred
CryptoCred is a Twitter educator and technical trader. He has built a large online following by providing free daily market analysis and trading tips for his over 382.3K followers.
Benjamin Cowen @intocryptoverse
A self-proclaimed crypto promoter and schiller, Trexcrypto knows his game quite well. His tweets to over 334K followers are some of the most appreciated in the industry for insightfulness.
Ashwsbreal @ashwsbreal
Ashwsbreal is a well-known crypto analyst and promoter. He has some of the most insightful views on new crypto projects. Ashwsbreal has a following of 312.1K on Twitter.
The Wolf Of All Streets @scottmelker
A renowned crypto investor and trader, The Wolf of All Streets is also an author of the Wolf Den Newsletter. He has over 633.5K Twitter followers.
Erik Voorhees @erikvoorhees
Erik is the founder of Shapeshift, an open-source crypto platform. He's also a strong believer in the crypto market growth, especially Bitcoin. Erik has over 536.6K Twitter followers.
Mia Crypto @miapomp
Mia is a major crypto influencer who is well known for identifying gems for crypto enthusiasts. He has 565.5K followers on Twitter.
Alex Becker @zssbecker
Alex is the CEO of HYROS and a crypto gaming maxi. He has over 330.8K followers.
Dan Gambardello @cryptorecruitr
Dan is the founder of Crypto Capital Venture. He's a talent recruiter for the crypto industry and a well-known Youtuber. He has a following of 172.8K followers.
Will Clemente @wclementeiii
Will is the leading analyst for Blockwareteam and is known for his insightful analysis of the projects coming into the market. He writes for the weekly newsletter with over 50,000 subscribers. He has over 328.9K Twitter followers.
Willy Woo @woonomic
An on-chain analyst who seeks on-chain signals to make purchase and sale decisions. What he shares can help you make the right purchase and sale decisions as well. He has over 794K Twitter followers.
Matt Wallace @mattwallace888
Matt is a famous Youtuber, and just like Elon Musk, he loves Dogecoin. He gives real-time updates on crypto projects, especially meme coins. He has over 281.7K Twitter following
Anthony Scaramucci @scaramucci
The American entrepreneur is the founder of Skybridge- an alternative investment fund. One of the biggest believers in cryptocurrency and an advocate of alternative money, Anthony has a massive following of 1Million on Twitter.
Michaël van de Poppe @cryptomichnl
Michaël is a professional trader and the founder and CEO of Eight Global. Based in Amsterdam, Netherlands, Michaël is a full-time trader at Beursplein 5, Amsterdam, hence you'd expect him to give credible insights based on his experience as a trader. Michaël has over 450.2K following on Twitter.
Roger Ver @rogerkver
Roger is one of the first investors in Bitcoin startups. He's been a strong advocate of Bitcoin and actively participated in getting the word out. Dubbed the Bitcoin Jesus, Roger has traveled across the world as a Bitcoin evangelist. He's associated with projects such as Bitcoin.com, Blockchain.com, Ripple, Z.cash, BitPay, Kraken, etc. Roger has over 735.2K following on Twitter.
CRYPTOBIRB @crypto_birb
The chemical engineer turned crypto analyst has been doing pretty well in the crypto space. He's the founder of @@TheBirbNest and Co-founder @yellowblock_io. He has 460.5K followers on Twitter.
The Moon @themooncarl
The Moon is a Crypto expert who mainly focuses on Bitcoin investment. With over 596K followers, The Moon is a force in the crypto space, and if you're interested in Bitcoin and other major crypto projects then he's worth following.
The Crypto Dog @thecryptodog
As an early Bitcoin miner, The Crypto Dog is one of the most influential Twitter users with his great insights into projects with big potential. The Crypto Do has over 642.4K followers on Twitter.
Mario @marioirivarren
Mario is a successful crypto investor and a subject matter expert who has been advocating for crypto projects that he believes will make the greatest impact on society. Mario has over 851.6K followers.
David Gokhshtein @davidgokhshtein
David is the founder of the popular outlet Gokhshtein Media which writes about all things crypto. He has over 459 followers on Twitter.
Nick Szabo @NickSzabo4
Nick is a Blockchain, cryptocurrency, and smart contracts pioneer. He's known for being one of the most vocal advocates of cryptocurrency being included in the mainstream financial economy.
Rekt Capital @rektcapital
One of the most well-known analysts is often admired for his level-headed crypto-analysis. He's the author of Rekt Capital Newsletter. Rekt has over 222.6K Twitter following.
Lark Davis @thecryptolark
One of the most successful crypto investors, Lark Davis is worth following if you're interested in projects that can give you great returns in the long term. Follow him for some insightful weekly reports on crypto projects. He has over 186.2K Twitter following.
Peter Schiff @peterschiff
The Chief Economist & Global Strategist of Europac.com, Peter has been a strong advocate of crypto projects. He believes that the future of money is in cryptocurrency. He's also the founder of EpacFunds.com, EuroPacBank.com, and Host: SchiffRadio.com. He has over 573.2K followers on Twitter.
Andreas @aantonop
Andreas is an experienced author with an extensive list of best-selling books. His books are on the topics of the internet and money, Bitcoin and other cryptocurrencies, and more. Andreas has over 635K followers on Twitter.
BeniaminMincu @beniaminmincu
The founder of the Elrond Network has been growing in influence over the last few years mostly due to the impact Elrond Network is creating on the crypto and blockchain space. Elrond Network is one of the fastest-growing crypto projects in the world. Beniamin has 187.5K followers on Twitter.
Julie @julietasaylor
The self-proclaimed gem hunter is one of the most influential crypto enthusiasts. If you want to get real-time info about new projects with great prospects then Julie is a must-follow.
Robert Dobbs @iamrobertdobbs
The musician turned Crypto fan has been a strong advocate of cryptocurrency, especially the Central Bank Digital Currencies (CBDCs). Robert has over 1.5 million Twitter followers.
Tyler Winklevoss @tyler
He is the co-founder of trading platform Gemini and one of the strongest voices for Crypto. Tyler has over 887k followers on Twitter.
Naval @naval
The serial entrepreneur and angel investor have been in the tech space for quite some time. He's the co-founder of Angelist and its subsidiary, Coinlist. A respected figure in the tech and blockchain communities for his thoughts on a diverse set of topics. With over 1.4 million followers on Twitter, it's not surprising that he's one of the most reliable people to follow if you're interested in crypto and blockchain.
Dan Held @danheld
The former growth team member at Uber is now in the same role at Kraken. Dan Held has been a crypto proponent for a long time and a strong champion of Bitcoin and currently has over 412k followers on Twitter.
Loomlock.eth @Loomdart
Known for his strong insights into crypto and blockchain projects, Loomdart is an experienced crypto analyst and veteran trader. He's been giving well-researched and relevant trading and investment strategies and tips on Twitter since early 2014.
Luciano @luciano_eltirri
The self-proclaimed self-described crypto fanatic and a TV star have been known for his vocal support for crypto and blockchain. Luciano has over 1.2 million followers on Twitter.
PlanB @100trillionusd
The father of the famous stock-to-flow model, PlanB has over 1.1 Million followers on Twitter. He's one of the most engaging crypto enthusiasts on Twitter. The deeply knowledgeable crypto investor is a big proponent of cryptocurrency and blockchain.
Pomp @apompliano
Pomp is one of the biggest individual investors in crypto projects. He often targets early-stage crypto startups that he finds interesting. As of today, he has invested over $200M in crypto projects. With over 1.2 million followers, you can join his newsletter to get up-to-date info.
Jacob Stamp @imjacobstamp
One of the most influential DEFI experts on Twitter, Jacob Stamp is also known for his love for NFT Gaming, which he pioneered. The crypto investor has over 1.5 million Twitter followers
Ellio Trades @elliotrades
The co-founder of SuperFarmDao Ellio Trade is another influential crypto enthusiast Twitter user. SuperFarmDao is a cross-chain platform to launch DEFI and NFT projects. Describing himself as a Crypto Youtuber, Ellio has over 377K Twitter followers.
Taylor Musk @taylor_musk
Taylor musk is a crypto investor and promoter mostly known for his love for NFTs. With over 1.8 million Twitter followers, Taylor has been at the forefront of promoting unique collectibles that he believes with make an impact.
Charles Hoskinson @iohk_charles
The vocal founder of Cardano (ADA) is known for his overall busy social media engagements. Hoskinson is also the founder of IOHK and former co-founder of Ethereum. Mr. Hoskinson is known for his fearless leadership. He currently boasts over 740k followers on Twitter.
Rodrigo @rodrigoheralz
Rodrigo Heralzate is one of the biggest proponents of cryptocurrency. A strong crypto enthusiast and BNB champion, Rodrigo refers to himself as an NFT collector. He holds over 2,000 BNB tokens. Currently followed by 2.6 million Twitter users, Rodrigo is a highly engaging promoter of new crypto projects that he believes in on the blogosphere.
Michael Saylor @michael_saylor
Michael Saylor is the president and CEO of MicroStrategy. The company, which currently owns over 5,000 Bitcoin, has been one of the major investors in Bitcoin. Mr. Saylor is a prominent advocate of Bitcoin, which explains why MicroStrategy became one of the leading companies to invest in Bitcoin. Currently, the company owns about 114,042 Bitcoins, according to Market Watch. 1.6 million Twitter users currently follow Michael Saylor.
vitalik.eth @VitalikButerin
Vitalik Buterin is the co-founder of the world's second-largest cryptocurrency by market cap, Ethereum. His social media activities, especially Twitter have been huge, always promoting Ethereum. He also co-founded Bitcoin Magazine. The world's youngest crypto billionaire boasts 2.5 million followers on Twitter.
Justin Sun @justinsuntron
The CEO of BitTorrent and owner of Tron, Justin Sun has been an extremely influential figure on matters cryptocurrency. Currently boasting over 3.1 million followers, the Chinese billionaire is a power to reckon with in the crypto space. He's also highly engaging on Twitter.
Changpeng Zhao @cz_binance
The CEO of Binance, Changpeng Zhao, who goes by the name CZ takes the first position on this list. Other than being the CEO of the world's largest exchange by trading volume, CZ is big on Twitter. CZ has over 3.6 million followers. He has attracted many followers from his influential engagement on Twitter and sentiments on his activities.
Conclusion
The top 50 crypto Twitter influencers is an elite list of individuals who have been involved in the crypto space over the last years. They have aggressively pushed the growth of cryptocurrency and blockchain technology over the last 5+ years or so. The list may not be exhaustive but it's enough to give you an idea of what you can achieve by following them on Twitter if you're a crypto investor or an aspiring developer.