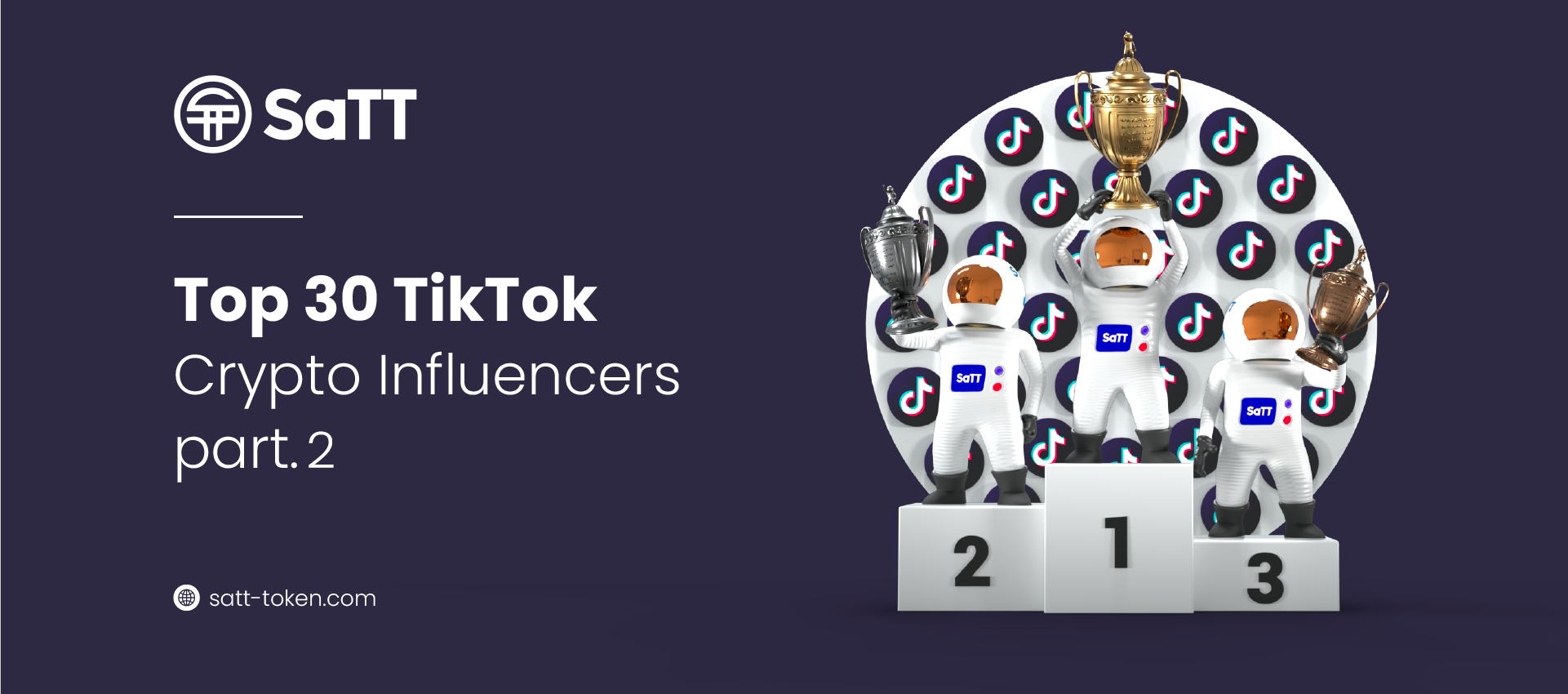 Top 30 Crypto Influencers on TikTok (part 2)
TikTok's popularity has been booming recently. Its unique algorithm has been successfully suggesting content to millions of people around the globe, paving the way for plenty of new and creative ways to share ideas.
The crypto sphere hasn't been left out either, and since there are hundreds of influencers focusing on this topic on other social media channels, it's no surprise there are many of them on TikTok as well.
A word of advice — TikTok constantly updates its rules and regulations. At one point, it started taking down certain videos about cryptocurrencies, even though most of them are educational and helpful to many users. Therefore, if any of the TikTok crypto influencers mentioned below aren't available on TikTok anymore, make sure to look for them on different social media.
Without further ado, let's briefly overview the best crypto influencers currently on TikTok.
If you didn't read it yet
15. MacNCheeasy
MacNCheeasy is a cryptocurrency investor and an engineer, so he is able to offer both perspectives on cryptocurrencies, which makes him one of a kind. He even has a free Discord channel where you can ask him questions.
Joshua Jake
This crypto trader, whose username is itzjoshuajake, has plenty of TikToks covering some of the latest news about the industry and individual cryptos. He also has other social media accounts and sometimes hosts giveaways.
13. BradInIowa
Brad is also a popular influencer who teaches his followers about finance. His content is often crypto-focused, but you'll see plenty of other stuff, too. For example, he sometimes discusses how to have a side hustle.
12. _patrickkim
Patrick isn't only focused on cryptocurrencies, as he also shares useful content about stocks and covers a wide array of related pieces of news. He has more than 100K followers on TikTok and uses other social media, too.
11. Crypto Mason
Crypto Mason is a popular cryptocurrency influencer. He uses all kinds of social media, including TikTok, to share his thoughts and opinions about the latest trends and news related to BTC, ETH, and other popular cryptocurrencies.
10. Crypto Cita
Crypto Cita is a popular cryptocurrency influencer who mainly users TikTok and Instagram to post useful crypto-related content. She describes herself as a crypto nerd and has more than 700K followers on TikTok.
9. Crypto Economists
This account is also led by an anonymous person who posts excerpts from interviews of influential figures in the crypto sphere. In other words, you'll find plenty of useful cryptocurrency content on Crypto Economists.
8. Performante
Performante is a TikTok account aimed at crypto investors. The anonymous person behind this name offers plenty of explanations on how to properly invest your digital wealth, covering many other related subjects along the way.
7. CryptoChuck
CryptoChuck is a minor crypto influencer on TikTok with around 10K followers at the moment. He gives various pieces of advice and discusses Bitcoin and other cryptocurrencies in his videos.
6. VirtualBacon
VirtualBacon is a cryptocurrency analyst who posts some useful and informative videos for everyone interested in cryptocurrencies and NFTs. He even has an official website, which is probably why his following is quite substantial.
5. CryptoKang
CryptoKang has a huge Instagram following, but he has decided to extend his scope to TikTok as well. His content mostly consists of crypto and NFT memes, so if you like a good joke, make sure to follow him.
4. TheWolfOfBitcoins
TheWolfOfBitcoins is an anonymous crypto account on TikTok (the person literally wears the infamous anonymous mask). It features all kinds of useful and entertaining crypto-related content.
3. CryptoWendyO
Another popular cryptocurrency account on TikTok is called CryptoWendyO. You can also find her on YouTube and even subscribe to her newsletter. Her TikTok features plenty of videos about the latest crypto news.
2. GirlGone_Crypto
BitBoy Crypto has been building his audience on YouTube for quite a while, but he has also joined TikTok, where he often posts all things related to BTC and other popular cryptocurrencies. His real name is Ben Armstrong, and he currently has more than 2.7 million TikTok followers.
1. BitBoy Crypto
Girl Gone Crypto offers a nice overview of the latest news from the crypto sphere. Her TikTok account is easy to follow, as everything is explained in a fun way. However, if you have no experience with crypto, you might have trouble understanding some of her TikToks.
Final Thoughts
If you want to learn about the latest cryptocurrencies or crypto-related news and hear different opinions on the industry, following the 30 TikTok accounts is a good start. Of course, we encourage you to research crypto TikTokers further and find the ones that suit your taste.