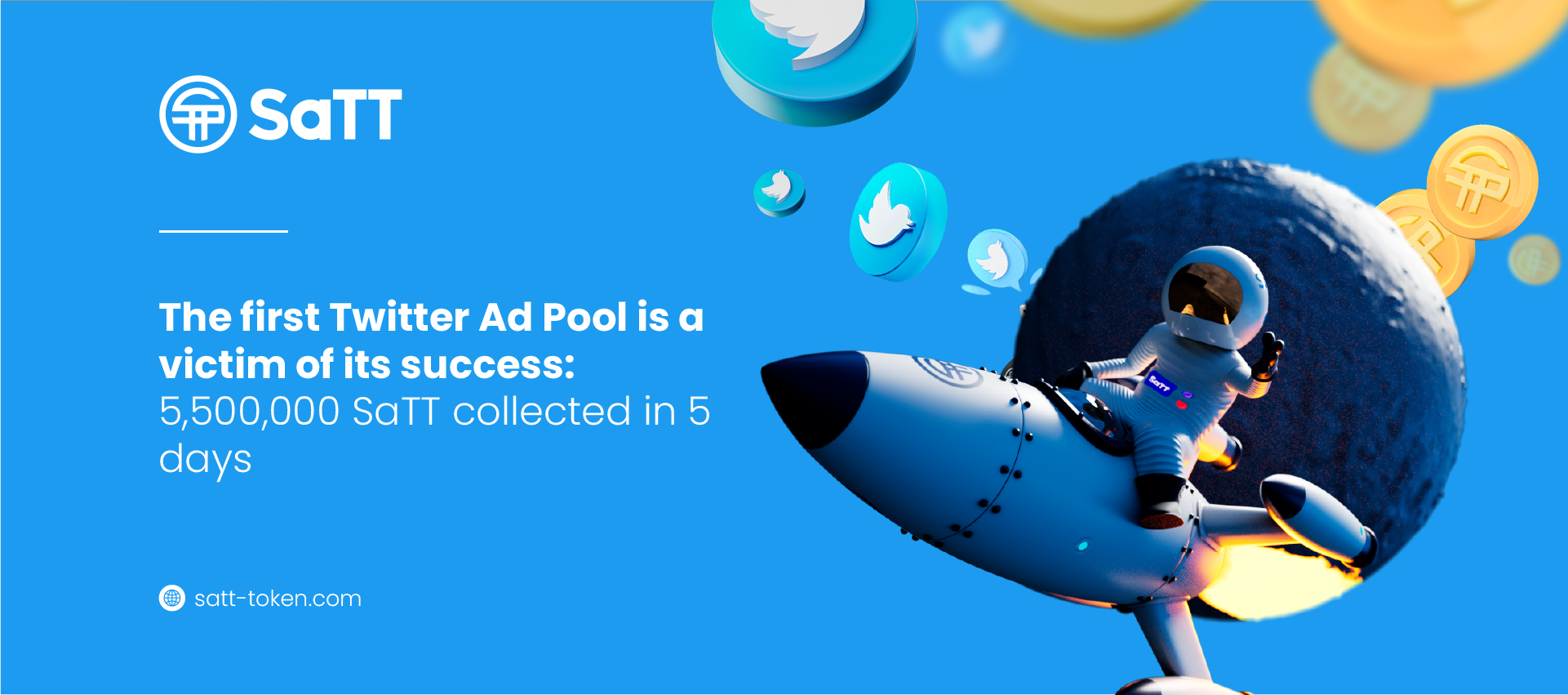 The first Twitter Ad Pool is a victim of its success: 5,500,000 SaTT collected in 5 days
The first Twitter tests begin
In order to test the statistics recovery oracle and the smart contract offering rewards for publishing on Twitter, we have carried out Our first Ad Pool test.
As a reminder, here are the conditions of the Ad Pool:
Budget: 5 500 000 SaTT
Blockchain: BEP20
Network: Twitter
Method of payment: per publication
Duration: 3 weeks
Rewards:
From 50 to 200 followers: 2,000 SaTT
From 201 to 1 000 followers: 10 000 SaTT
From 1 001 to 5 000 subscribers: 40 000 SaTT
From 5,001 to 10,000,000 subscribers: 150,000 SaTT
The 5.5 million SaTTs were distributed in only 5 days. Anyone could participate starting 50 followers. The Ad Pool was a victim of its own success from the start, with +507,5% for @SaTT_Token mentions and +163% of visits for our account.
Statistics
Total rewards collected: 5,500,000 SaTT
Number of entries: 314 tweets
Number of accepted entries: 164 tweets
Total views: 212,034
Total likes: 675
Total number of retweets: 208
Many new accounts were also created.
Results of the tests: remarks & possible improvements
The tests were conclusive and allowed to identify several areas of improvement for the following weeks of development.
KYC
KYC's are no longer mandatory for the use of our platform and hinder the participation of users. They will no longer be required for the creation and involvement in Ad Pools but will remain mandatory for the withdrawal of funds under the legislation.
Withdrawal of rewards
The remaining Ad Pool rewards are updated according to the harvested budget by participants, not according to the budget initially allocated to each participant.
Allocated budget: Amount of rewards after the validation of the post
Harvested budget: Amount of rewards after Harvest
This feature prevents SaTTs from being left inactive in Ad Pools if a user does not harvest their rewards, which would block the Ad Pool manager's budget.
Conversely, some users can participate before the Ad Pool closes but cannot collect their rewards because the total budget was collected during their absences; first come, first served.
A more mutually beneficial solution will be investigated.
Participation fees
As a result of the previous situation, some users paid a participation fee to farm their posts but could not collect the rewards. So they only spent money without getting any profit. A solution is also being studied.
Ad Pool management
On the side of the management of Ad Pools, there are also many improvements. Many optimizations are underway between the display of posts to be validated, the sorting function, and the process of accepting a link.
The following steps: optimization in the foreground
Special care has been taken to test the different functionalities and has resulted in many optimization solutions.
We will continue to offer you different Ad Pools, including the two new Twitter Ad Pools, which will be launched tonight, based on performance this time.