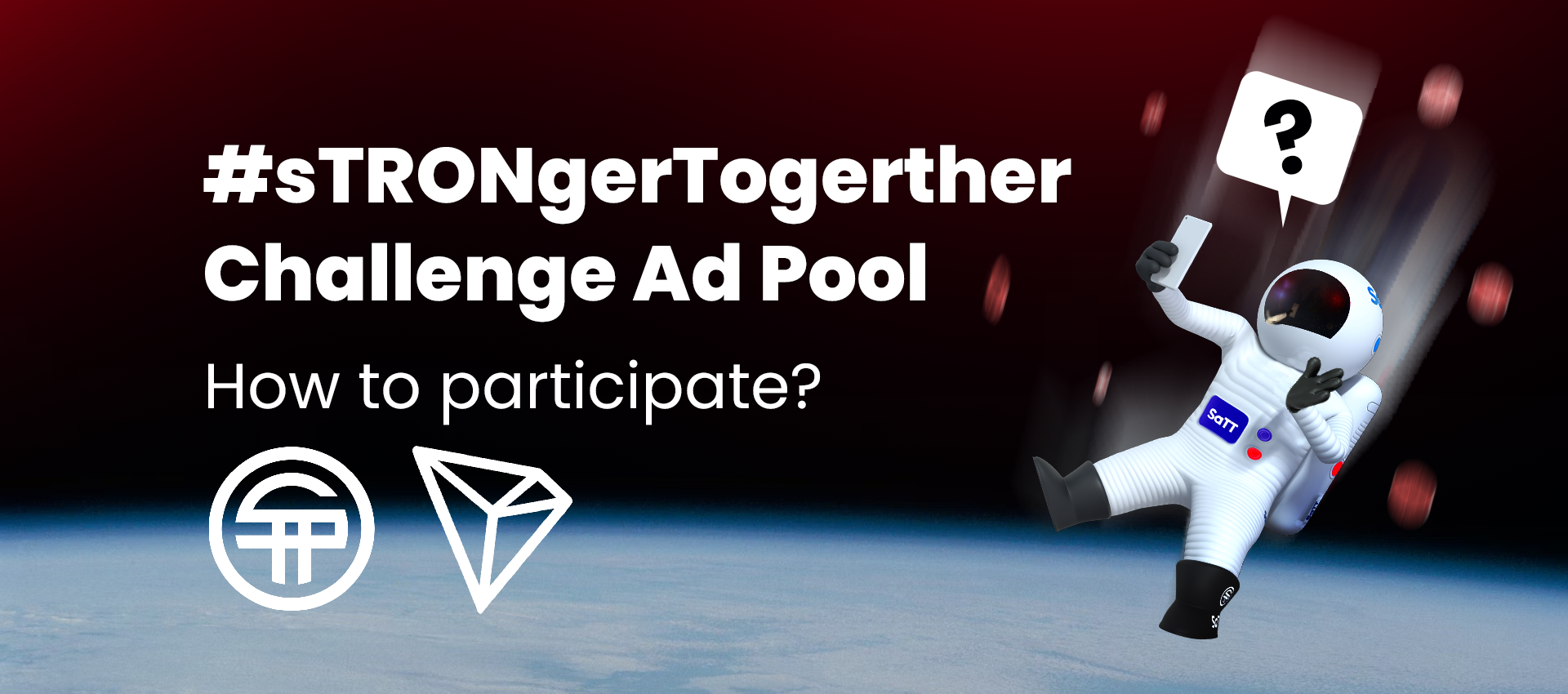 #sTRONgerTogetherChallenge Ad Pool: How to participate?
After our participation in the TRON Grand Hackathon 2022 and hitting the 1sT Runner-Up place with more than 100 votes from the Tron community. We didn't want to stop the connections we had made at the event: United We Stand, Divided We Fall.
To enhance/boost the Tron ecosystem, Laurent Perello (@PerelloLaurent) / Twitter launched the sTRONgerTogetherChallenge, a TRON Ecosystem Initiative. +$10K Airdrop will be granted for participants for the next 30 days.
Participants only have to follow, retweet, like, comment, tag 3 friends and join the Telegram Channel to join the contest.
The perfect opportunity to build partnerships. First, we've decided to offer free listings on SaTT.io to all hackathon participants. We really liked the #sTRONgerTogetherChallenge initiative, and decided to offer $2200 in $SaTT to promote the event on Twitter. This article explains how to participate.
Let's participate in the #sTRONgerTogertherChallenge Ad Pool
Create an account on SaTT.io: https://dapp.satt.io/auth/registration
⚠️ Warning: We don't recommend using a Dashlane-type password manager. There is a risk of overwriting your transaction password because managers are not used to managing multiple passwords for a single site, which is possible in DApps.
As a reminder, we are not responsible for the loss of your funds
❓ Do you need more help?
Join Telegram 👉 https://t.me/satttoken
Read Documentation (Under development) 👉 https://satt-token.com/docs/welcome/
Once done, you can connect to your account: https://dapp.satt.io/auth/login
Now, go to the #sTRONgerTogetherChallenge Ad Pool: https://dapp.satt.io/campaign/63079287aeb6bf72515fb061
Read carefully all the specifications, go on Twitter and make a quote tweet following the specified rules.
⚠️ Take care about the first mission "Make a Quote Tweet of this Pinned Post Twitter Account: https://twitter.com/PerelloLaurent" 👉 You'll need to QUOTE TWEET the current pinned tweet of @PerelloLaurent
TWEET TEMPLATE:
Once the tweet is published, click on your tweet, copy your URL or click on the "share" button, then "copy link to tweet".
Your link should look like this: https://twitter.com/SaTT_Token/status/1563179812986191877
Return to the Ad Pool page and click on "Participate" on PC/MAC or "Apply" in the bottom bar on mobile
Paste your link, enter your transaction password, and click Send.
If your Twitter account isn't linked, just click on "Link to Twitter".
Your link will be waiting for validation by the advertiser, please be patient.
⏱️ The harvest function will be available only 24 hours after the validation by the Ad Pool Manager.
Once done, click on Harvest 🚜
Enter your password and wait a few moments.
Congratulations, you've harvested your earnings! You can check the blockchain information by clicking on the txhash.
Here is the first step for SaTT in the Tron community. Soon, will be able to launch Ad Pools on TRON & BTTC. Nano-influencers and Micro-influencer could be remunerated with reduced transaction fees. Stay tuned, future partnerships will be announced! 🔥🔥