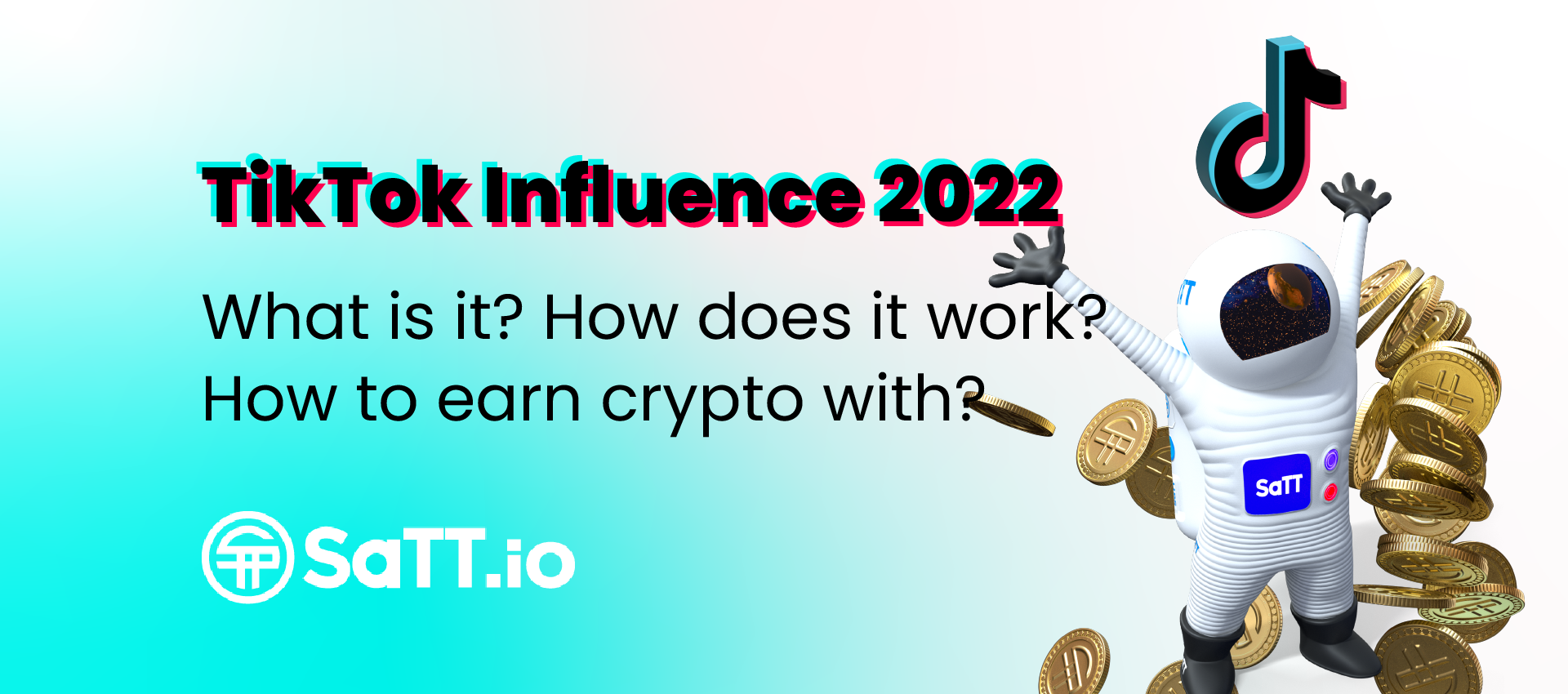 State of influence on TikTok
Recently appearing in the domain of social networks, TikTok has been able to create enthusiasm, especially among the younger generation. What are the reasons for its success? Short and incisive videos that can be scrolled endlessly, a wide variety of topics covered that can suit all tastes, and an algorithm that perfectly understands the expectations of its users. Previously reluctant to create a presence on the platform, brands now have everything to gain. If Gen Z is in their sights, then TikTok is a must-have marketing tool. Learn more about this social network and the state of influence on TikTok.
TikTok, what is it?
At the origin of TikTok there is Douyin, an application created by the Chinese company ByteDance in 2016. In just a few months, the social network had more than 100 million users. The application was then launched under the name of TikTok to conquer the international market. Since then, TikTok has experienced significant growth and ranks in 2021 as the most downloaded application in the world.
TikTok is a social network entirely dedicated to creating and sharing short, mobile-friendly videos. The goal of the app is to promote creativity and bring joy. Users can find videos that will make them laugh, punctuated by catchy music, choreography, and challenges.
With the number of creators increasing, there is now a wide diversity of content on TikTok. We can see:
• advice on diverse topics
• art
• cuisine-related information
• sports
• beauty and fashion
• fitness…
Videos can be embellished with filters, music, and text. As on all other social networks, users can comment on a video, like it, or even share it.
What makes TikTok special is also its algorithm; very powerful, it offers users videos based on what they have already watched or their current interests. Targeted videos are presented on a news feed called "For You page" (or "Pour toi" in French). Here, the user does not see the videos created by the people he or she follows, but rather those of other content creators, which the algorithm has deemed interesting and that correspond to the particular user's expectations.
TikTok audience
In just a few years, the application has placed itself as a big winner in the hearts of Generation Z. In any case, this is what the research firm Forrester tells us in its survey conducted in 2021. Out of 4,602 Americans surveyed, aged 12 to 17, 63% of them say that TikTok is the application they use the most. According to them, TikTok offers fun and entertaining content. They also appreciate the short format of the videos and the infinite scrolling, which makes this social network a great way to pass the time.
The Data Reportal site tells us that 57% of users are women and 43% men. In the United States, the majority of users are between 10 and 19 years old, i.e. 32.5% (source: Statista). Users spend an average of 52 minutes per day on the app. In September 2021, the social network had more than one million active users worldwide.
The Data Reportal site tells us that 57% of users are women and 43% men. In the United States, the majority of users are between 10 and 19 years old, i.e., 32.5% (source: Statista). Users spend an average of 52 minutes per day on the app. In September 2021, the social network had more than one million active users worldwide.
What place is there for influence on TikTok?
As we have seen previously, TikTok has a powerful algorithm, which makes the platform addictive. The platform has shaken up the world of social networks with its principle of short videos, Instagram with its reels, and YouTube with its shorts, were all eager to integrate too. TikTok continues to develop to offer ever more freedom to its creators, such as the possibility of publishing videos lasting up to 10 minutes.
For its 2022 Social Media Trends Report, Hootsuite asked more than 18,000 marketers which platforms they felt were most effective in achieving their business goals; 24% of respondents reported that TikTok was most effective. It may not seem like much, but this is a 700% increase compared to the year 2020, when only 3% considered TikTok effective.
Offering excellent statistics, TikTok is gradually becoming fertile ground for brands. Initially, they were cautious, not understanding all its codes, nor its interest. Today, TikTok's marketing effectiveness no longer needs to be proven as we can observe that the target demographic of many brands is readily found on this platform. Furthermore, it represents an additional opportunity for brands to make themselves known and win over customers.
So few brands are present on TikTok today, it's a safe bet that in a few years, everyone will want their piece of the cake. So, a word of advice: if your brand isn't there yet, invest in marketing on TikTok now!
Influencer marketing on TikTok: how does it work?
On TikTok, influencer marketing is done like on all other social platforms; it is an effective solution because it allows the creation of more natural and authentic content than traditional advertisements. For users, it is also less intrusive. To do this, brands must find influencers in line with their products and their values.
You should also keep in mind that the model for distributing videos on TikTok differs from Instagram. On Instagram, the influencer marketing campaign will be seen by the influencer's followers. On TikTok, content is shared with anyone it might interest, not just a select circle of followers. A video can then reach one million views even if its creator has only 100 followers.
This is an interesting prospect for brands, which can thus work with content creators whose particular touch and style of videos they like, even if they are not very popular. This can also allow them to multiply collaborations while having a limited budget.
How do you find influencers on TikTok?
The platform has set up the TikTok Creator Marketplace which allows you to find influencers and learn more about them. Once access is granted, brands can search according to different criteria such as geographic location, video reach, subjects, number of views, etc. This is an effective first step in building a list of influencers that match their expectations.
You can also read our Top 30 Crypto Influencers on TikTok :
There are also influencer platforms, where a lot of data is listed on influencers, and which makes it possible to carry out precise searches. Some of them even offer a messaging system to communicate directly with influencers.
Finally, brands can use the services of an influencer agency to create their campaigns. Such agencies are responsible for setting up the project and finding the right influencers.
While TikTok is a difficult platform for many to pin down, there's no denying that when it comes to the realm of influencers, it has a lot of potential. It represents a real pool of creators who have been able to grasp the essence and codes of this social network in order to stand out. Beneath this "fun" layer are also important marketing opportunities for brands. On TikTok, the speed at which trends spread is impressive and this is what allows brands to gain popularity. The relevance of its algorithm and its ability to capture the attention of users make it a platform conducive to influencer marketing, for brands to invest quickly.
Earn Crypto with TikTok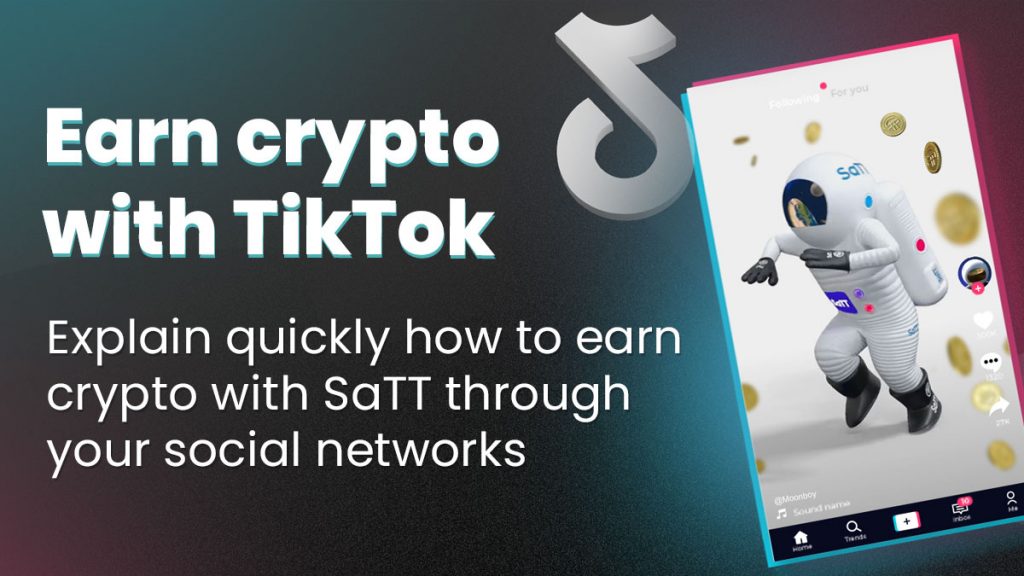 We recently opened the TikTok oracle tests and an advertising campaign has been created on https://satt.io which allows you to earn crypto by promoting SaTT on TikTok. The concept is simple.
Make your video by adhering to the following guidelines:
Explain what SaTT is during your TikTok & add a picture of the campaign kit
Say "Earn crypto with your social networks"
Write a positive sentence about SaTT in your description
Include #SaTT #crypto #influencer
Mention & Follow @satt.io on TikTok
Mention https://satt.io
Finally, copy and paste your link by participating in the TikTok campaign. Attention: shortened links are not accepted for the time being, therefore, you will have to paste your shortened link in a web browser in order to transform it before posting. Good luck!