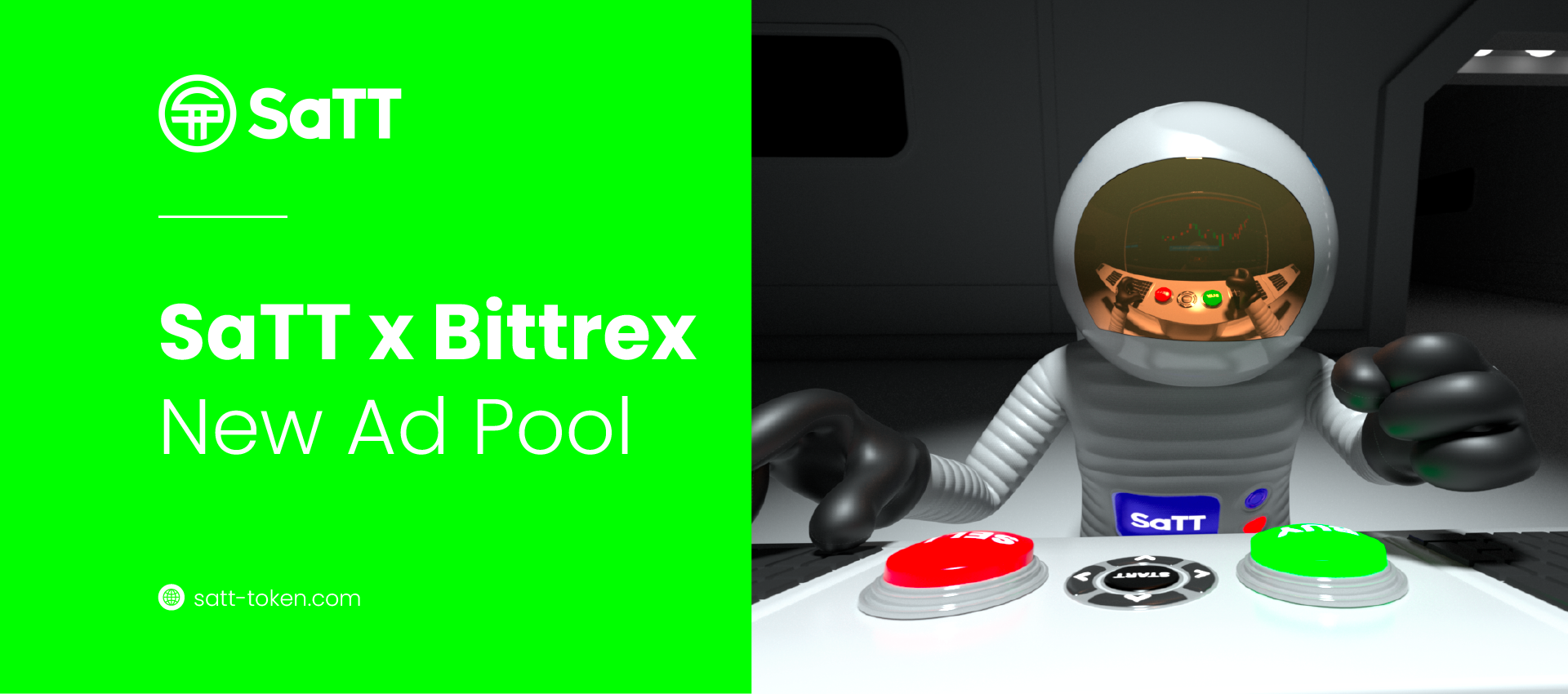 Share our news: SaTT is now listed on bittrex!
We are proud to announce that we are now listed on Bittrex! To earn some $SaTT, share this news on Twitter and farm your post. 🐦🚜
You can now trade $SaTT on Bittrex. 👨🏻‍💻👨🏻‍🚀🚀Pair: https://global.bittrex.com/Market/Index?MarketName=USDT-SATT
In order to spread the word that we are stepping up in the game, be part of SaTT experience and share your love on Twitter! 🔥🔥
DESCRIPTION
Ad Pool Link: https://satt.atayen.us/#/myWallet/campaign/617954c3cb2973758665c73c
Brief to respect
Be part of the SaTT community!
Write a tweet and share the awesome news that we are now listed on @BittrexExchange.
You'll be rewarded with 4 SaTT / views, so give the best of yourself!
Share the news
Farm your post
Harvest your earnings
General information
Blockchain network: Binance Smart Chain BEP20
Maximum duration: 1 month
Budget: 5,000,000 SaTT
Reward / Impression: 4 SaTT
Max Reach: 175%
Conditions
Tweet in English only
One tweet per week maximum
Do not make two similar tweets
Include an image from the campaign kit
Include the link of the trading pair on Bittrex Global or one of our announcement article
Include the hashtags #FarmPost & #AdPool
Mention @SaTT_Token and @BittrexExchange
🔴🤚 False profile, false likes, false retweet = Risk of ban
Prerequisite
Have BNB BEP20 in your wallet to pay Binance Smart Chain transaction fees (less than $2 of BNB BEP20 is required to submit a link or claim rewards) [Buy on Binance] [Buy on PancakeSwap]
How to participate