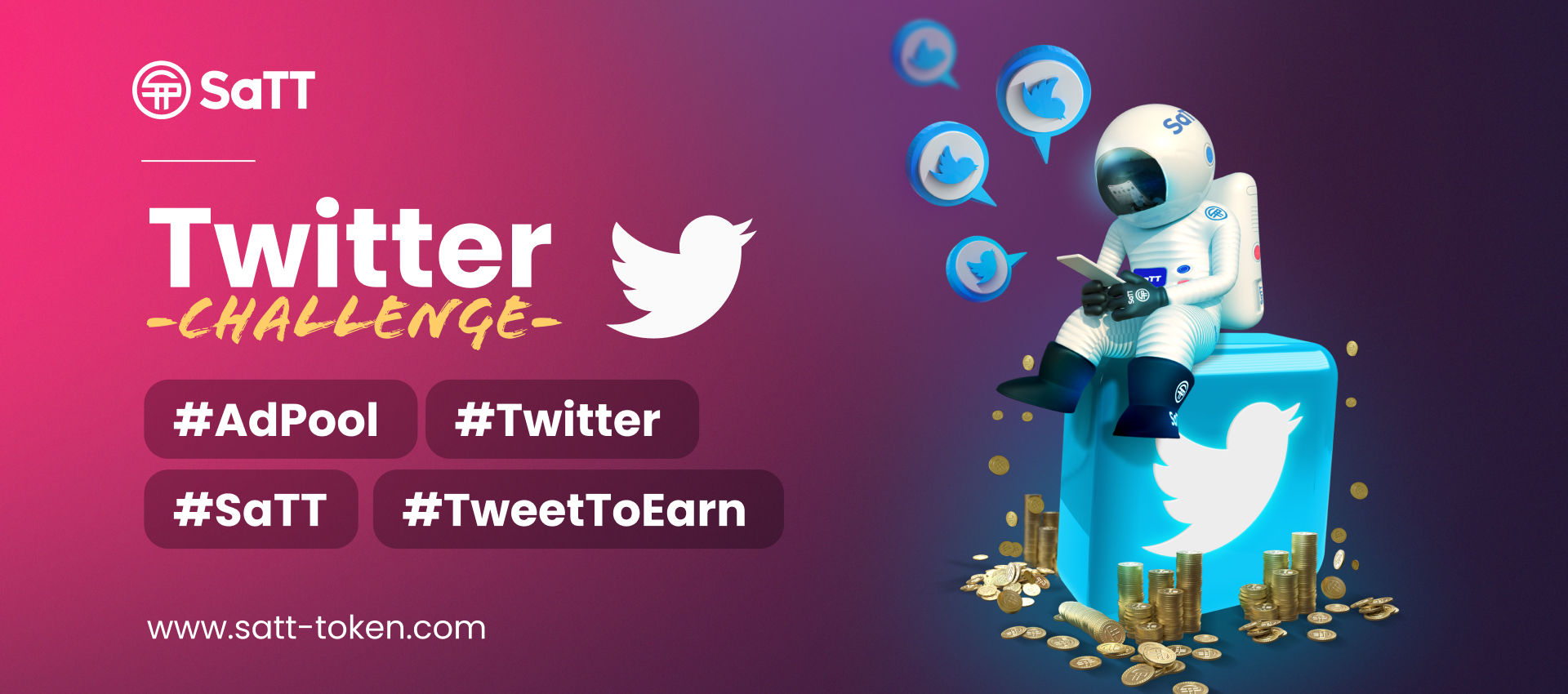 SaTT, the made-in-blockchain advertising challenger, is back in full force with a $100,000 Twitter campaign!
After successfully launching its YouTube Proof of Concept and being listed on the Bittrex exchange, SaTT, the decentralized advertising solution leveraging blockchain, is back with its Twitter Challenge campaign to prove the effectiveness of its platform solutions.
A large-scale Twitter campaign for a project that is just as large
For those who don't know yet, SaTT is a project developed by Atayen INC to optimize the impact of advertising campaigns on social networks (Facebook, Twitter, Youtube, and Instagram). It aims to simplify their management through automation and the use of smart contracts, but also to reduce costs. Unlike other solutions, SaTT allows anyone to launch and participate in Ad Pool campaigns. According to their contribution, each participant is then remunerated in SatTT (the platform's native cryptocurrency). And that's what today is all about, talking about the new Twitter Challenge campaign launched by the platform!
Ready to win a share of the $100,000 campaign?
Influencers or simple members active on social networks, the SaTT platform allows you to use them to generate revenue! Indeed, the blockchain advertising challenger is already offering a Twitter Challenge campaign, or Adpool as the SaTT team calls them, worth $100,000!
Lasting 1 month, this real social farming is, as said before, open to both crypto influencers and the public.
Anyone with a Twitter account with more than 150 followers is qualified to earn $25 of SaTT just by posting a Tweet and Farm it on the platform SaTT.
The goal behind this campaign is simple: to reach 10,000,000 views to show everyone the effectiveness of the solutions that the company Atayen has developed over the past few years. With much news and partnerships to come soon, no doubt that the participants of this campaign will be fully satisfied to have obtained quickly and easily their first SaTT tokens already available on many exchanges (Bittrex, HitBTC, Probit..)
Go to https://satt.atayen.us/ad-pools and try to participate in the Twitter Challenge. Read the conditions, then submit your tweet, reap the rewards.
If you are an influencer, email us at contact@satt-token.com to register on our Twitter Challenge for Crypto Influencers whitelist.
Don't know how to participate? Follow our video tutorial