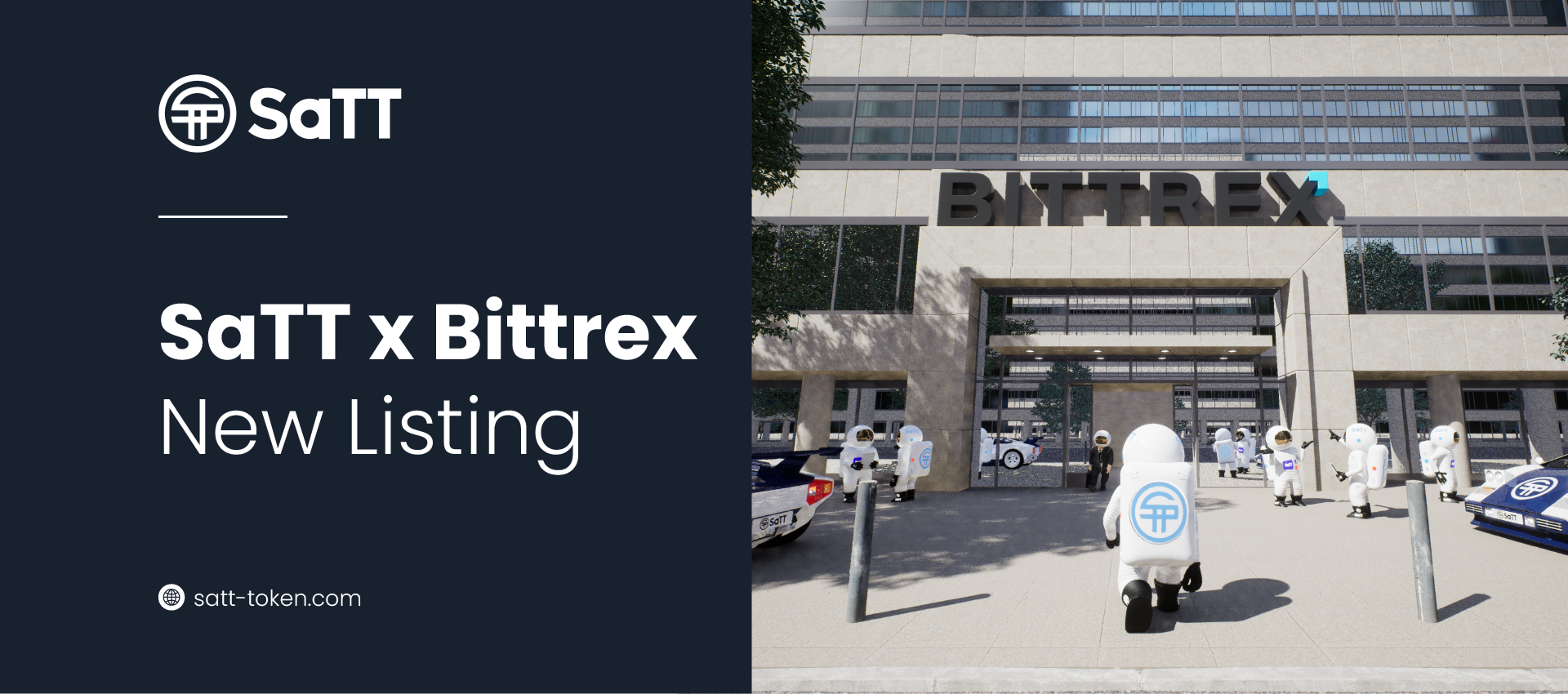 SaTT (SATT) is Going Global With Bittrex Global Launch: Farm Your Social Networks and Get Paid, Invest in Next Big Tech Before it's Too Late!
In a booming cryptocurrency market, it's the idea of cryptocurrency that solves a unique problem, a solid team, and community support that will decide the project's future. SaTT token is making it big with its promise to bridge the gap between social media creators and advertisers with its launch on Bittrex Global.
The SaTT Moment is Here!
SaTT is going to make its presence truly global with its listing on Bittrex Global exchange after being present on Probit, HitBTC, Bitcoin.com, and Digifinex.
Another SaTT Milestone — SaTT is Going Live on Bittrex Global
The SaTT (SATT) market will be open to trade tomorrow, on 4th November 2021, with the trading of USDT-SATT pair on the Bittrex Global website. This listing is part of SaTT 360's program to list a significant number of the world's leading exchanges. The pre-ICO launch of the token took place in 2018, and since then, it has come a long way and is all set to reach a vast audience on a global level through its listing on Bittrex Global exchange.
SaTT's Bittrex Global Launch: Why is it Special?
Bittrex Global platform aims to go beyond crypto trading activities. The team works with global teams to help advance innovative projects, which can somehow transform individuals' day-to-day lives.
"Our listing on Bittrex Global is a tremendous honor, considering its highly selective process; it represents a clear step-up in our listing options, and we are waiting for many more to come" says Atayen's CEO Gauthier Bros.
SATT has achieved the distinction of getting listed on Bittrex after the latter reviewed SaTT's potential in the following ways:
Preliminary Review: This initial review determines whether a token seeking to get listed on Bittrex.com should proceed through the complete listing process.
Full Listing Review: A more in-depth review of the token takes place wherein experts at Bittrex assess a project's potential based on various parameters, including security, its use-cases, etc. A committee of Bittrex employees determines if the token meets their robust criteria and whether it deserves to get listed on Bittrex.com. As part of the review, Bittrex may contact outside advisors, and the following factors are reviewed about the token:
Rating by the Crypto Rating Council (CRC)
A significant improvement over existing blockchain
New blockchain features
Interesting, innovative, or unique application
The usefulness of use cases
Reputation and technological experience of the token applicant and the team behind it
Market interest
POC SaTT: Farm your Twitter account by participating in SaTT's Ad Pool: "Share our news: We are now listed on Bittrex!''
As SaTT enables anyone to monetize their social media presence and get paid for social media posts on a performance-based remuneration. To showcase proof-of-concept for the technology, Atayen is currently offering the first Ad Pools exclusively on Twitter for interested early adopters. Throughout the process, you can discover the advantages of SaTT firsthand and earn cryptocurrencies by farming your Twitter account (posts). You can gauge the project's success by the fact that the first Twitter Ad Pool collected over 5 million SaTT in around five days!
Final Words – How Does The Future Look Like?
The project is determined to offer an innovative approach to advertising, unlocking more significant opportunities in today's world, which is increasingly moving towards the online way of life. SaTT is set to take the lead in the advertising world by bridging the gap between content creators on social media and advertisers. The concept of advertising pools, or Ad Pools offered by SaTT, in conjunction with social network farming, enables organizations to reward creators with ease and greater transparency, and in return, get to increase their brand value. Lastly, those who continue to HODL will get to see incredible returns, given the project's wide adoption in such a short period, which is only going to get on an exponential growth path!
References
Houston, R. (2021, August 6). Bittrex crypto review: Trade bitcoin and other assets with a $3 minimum. Business Insider.
SaTT. (2020, August 3). 100 years of innovation in advertising industry. Medium.
SaTT analysis: 3.7/10 – is it good to invest in SATT now? (n.d.). Cointobuy.Io. Retrieved November 3, 2021, from https://cointobuy.io/satt
Sephton, C. (2021, February 24). Innovative marketplace for advertisers and influencers deploys on BSC. Cointelegraph.
The SaTT blog – blog SaTT. (2018, June 8). Satt-Token.com.