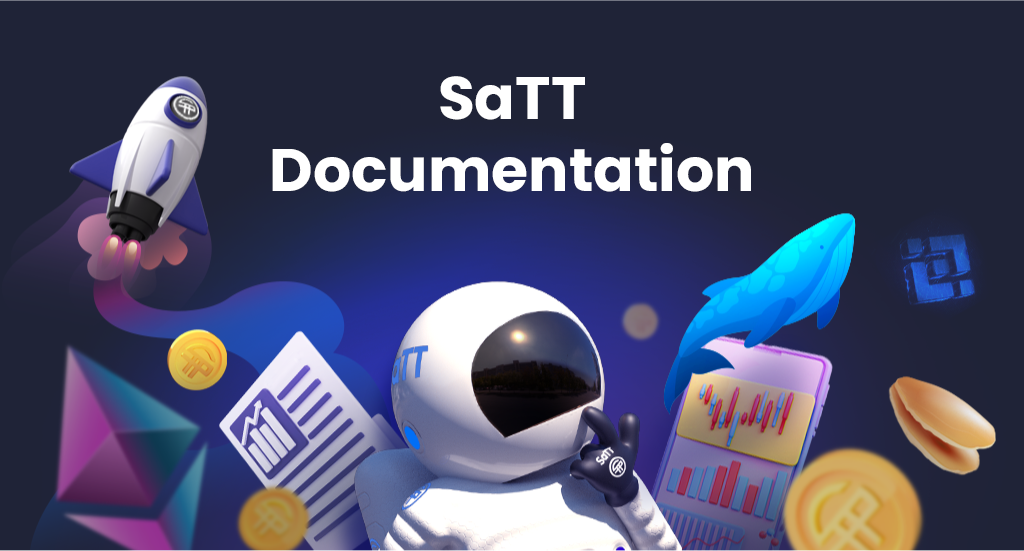 SaTT Documentation
Getting Started
Farm your social networks with SaTT!
Read our documentation to understand how to farm your social networks through Facebook, Instagram, Twitter, YouTube, and much more.
What's SaTT
Smart advertising Transaction Token
SaTT is an advertising token that allows you to monetize your community. Get paid for a Tweet, a Facebook post, a YouTube video, and much more.
What're Ad Pools: an advertiser's solution
Ad Pool: Reward influencers to promote your brand
Are you ready to boost your sales, drive greater revenue, and surpass your marketing objectives? If so, get started with SaTT today.
Try our new Ad Pool concept, where multiple influencers can participate in the same campaign and try to collect as much budget as they can.
With SaTT Smart Contract, you'll only pay for results. In turn, you can launch targeted ad campaigns while working with creators and partners who understand your objectives.
With data-driven performance reports, automated campaign options, and absolutely 0 middleman, SaTT empowers organizations to increase their exposure and results.
What's Post Farming: a content creator's solution
Post Farming: Fairer, faster, and more secure way to monetize your social media account
SaTT allows you to Farm your social media posts by regenerating money from them.
It creates a unique opportunity for content creators and digital marketers, accelerating their earning potential while increasing their exposure.
By using blockchain, transactions are automated to ensure a faster and more transparent payment process. Every step of the way, creators are paid based on their results, achieving specific criteria and KPIs that define campaign success.
If you're interested in working on relevant, fully-funded advertising campaigns, get started with SaTT today.
Interface presentation
Wallet Address
Here you'll find your Bitcoin, Ethereum, Binance Smart Chain, and many other network address of your wallet
Profile settings
Social networks, interests, KYC & security, all your information.
Notifications
Wallet
Watch your balance, send receive & convert tokens.
Ad Pools
Create your owned Advertising Pool or submit your application to an Ad Pool and Farm your Post.
Post Farming
Harvest your tokens from your Ad Pool participation.
My history
Find your transactions and your Ad Pool participation history.
Help
Read the FAQ or contact our team.
Gas fees
Blockchain networks need fees to interact with Ad Pools & Post Farming
Send coins & tokens
Send a receipt request
Buy coin or token
The bridge: convert ERC20 to BEP20 and vice versa
Contact our team
Add a new token
Prerequisites
⚠️ Ad Pools and Farm Post interacts with the blockchain. ⚠️
Our smart contract uses a third-party blockchain network to operate. SaTT is currently available on Ethereum and Binance Smart Chain. So you need some ETH or BNB for your participation or to recover your earnings.
How to get ETH?
First solution:
Click on the buy icon
Here you'll buy ETH by card
Second solution:
Buy ETH on Binance or Uniswap.
Copy your wallet address.
Send your BNB to your wallet address using the Ethereum Network (ERC20).
Your ETHs will appear on your wallet quickly.
How to get BNB?
Buy BNB on Binance or PancakeSwap.
Copy your wallet address.
Send your BNB to your wallet address using the BSC Network (BEP20).
Your BNBs will appear in your wallet quickly.
⚠️ Never forget your transaction password ⚠️
⚠️ A blockchain transaction may take a long time to success, be patient! ⚠️
Events
Proof Of Concept: YouTube Challenge
Be among the first to farm SaTT through YouTube
Whether you have 100 or 1 million subscribers, your performance will dictate your compensation. SaTT automatically measures your impact through an integrated smart contract that rewards high-volume results. Once you fulfill the requirements, your reward is sent immediately. No delays, payment challenges, or foggy metrics. Just results.
SaTT's user-friendly interface, ease-of-use, and accessibility are changing the world of influencer marketing as we know it. Now, everything you need is in one easy-to-navigate application: https://satt.atayen.us/
As part of our efforts, we're excited to step into our proof-of-concept phase for SaTT…
About the 'Proof Of Concept: YouTube Challenge'
The biggest innovation in modern-day advertising is well underway. To celebrate, Atayen is launching a test drive for YouTubers. Throughout the process, advertisers and creators alike will experience the benefits and capabilities of SaTT firsthand.
The first advertising pool (AdPool) of the promotion includes 100M SaTT that's ready to be farmed. During the challenge, YouTubers can claim their stake. The ultimate goal of the challenge is to generate 5M YouTube views.
Farm your audience on YouTube and earn crypto
Ad Pool: Proof Of Concept SaTT: YouTube Challenge
Link: https://satt.atayen.us/#/myWallet/campaign/6148e86115629a5d7fdafc72
Budget: 100 000 000 $SaTT
Blockchain: BSC BEP20
Social Network: YouTube
Remuneration mode: performance-based
Duration: 6 months
Rewards: 10 $SaTT/Views; 20 $SaTT/Like
Ad Pools
Create an Ad Pool (Coming soon)
Post Farming
Farm Post, Earn SaTT
Ad Pools interface
Blockchain Network
Social Network
Full description
Submit a post
Reward earned; Remaining reward in Ad Pool
SaTT/view; SaTT/like; SaTT/share; Reach max
Instruction, description, useful links & campaign kit
Farm Post, Earn BTC, ETH, UNI, CAKE… (Coming soon)
Submit a Twitter Link
Post your tweet
Click on it
Copy the link
Link your account
Enter your transaction password and send
Be patient
Success!!
Submit a YouTube Link
Post your video on YouTube
Click on share
Copy the link
Paste your link
Link your YouTube account
Our Google "bluecheck" will be accepted soon. Currently, you can only validate manually.
Click on Advanced settings
Confirm
Continue
Submit your transaction password and send your link
Be patient
Success!!
Submit an Instagram Link (Coming soon)
Submit a Facebook Link (Coming soon)
Harvest a Post
Go to Post Farming
Be patient, an advisor is verifying your post
Click on Harvest
Submit your transaction password and confirm
Success!!