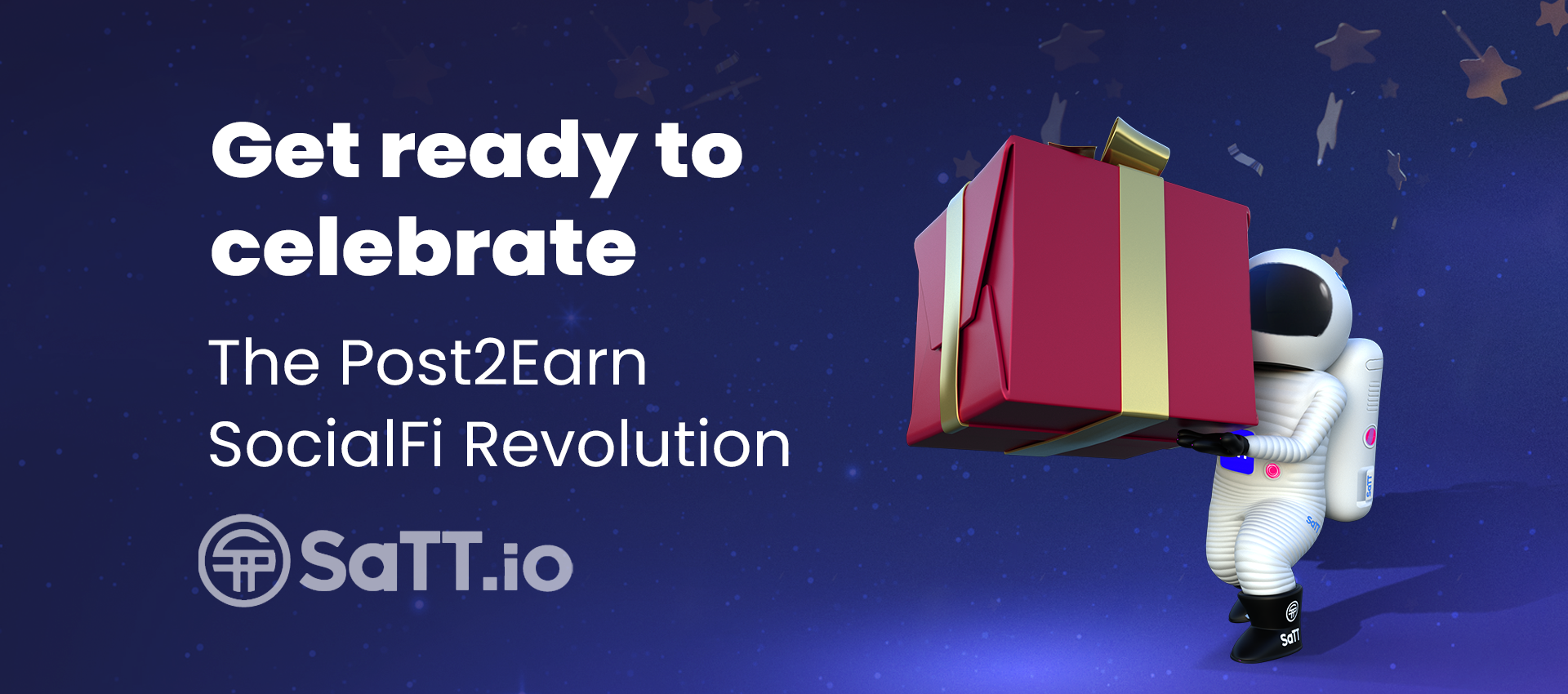 SaTT Anniversary Program: The Post2Earn SocialFi Revolution
2 years have passed!
An eternity, a permanent race
2 years to keep on building, constantly and relentlessly
It may have seemed like a long time!
Yes, indeed!
2 years…
Surely, the idea could seem crazy, the dream unattainable!
Surely…
2 years to keep on being focused to deliver the promise, in silence and sometimes in the indifference
2 years of fluctuations, euphoria, questioning, storms all around, the uncertainties of the market,
Nothing, nothing could hinder us!
We never gave up.
Never!
And here we are, 2 years later…
SaTT has made a long journey to turn an idea into a reality, a new and revolutionary solution: the Post2Earn SocialFi!
SaTT is ready now to lead the Multichain SocialFi revolution!
The web2 era, where YOU were the product, is definitely over.
Bye bye the Web2 advertising model, today SaTT's Web3 innovation offers a unique and revolutionary opportunity, regardless of your audience, to earn a fair return by spreading the word and sharing what you love.
Since now, SaTT allows anyone to be fairly rewarded for posting a message on social media for brands or any project or product, all in total transparency governed by smart contracts on the blockchain.
The SaTT's journey is just beginning
New strategy, new AdPools, new partnerships, new business model, new audits and certifications…
The multichain SocialFi revolution, Post2Earn, is underway and you can be part of it.
For those who didn't quite understand what we do and what our revolution is, let's quickly summarize!
SaTT is a web3 program that runs in the blockchain. We call it Post2Earn.
Have we lost you?
Let us explain it better:
You can now earn cryptocurrencies simply by posting a message on social media, whether it's a tweet, a Facebook post, a TikTok video or any other social media shout-out!
You got it now?
Enough with the long talk, it's time to take action!
The best and easiest way to understand what the Post2Earn revolution is all about is simply to give it a try!
Create your SaTT account and wallet, search for the AdPool that suits you best, apply for it, share it on the corresponding social media and start earning crypto in minutes 👉 https://satt.com.
You will now be part of the SocialFi journey, the Post2Earn revolution and you will love farming your social media!
Let's take a tour of SaTT's anniversary program!
This year opens the doors to a new stage: AdPools for the masses
The future of web3 is Multichain!
SaTT has not expected this to be the norm, but rather has anticipated this inevitable shift
SaTT has not been waiting for this to become the norm, but has been anticipating this inevitable evolution
In order to improve interoperability between different chains, SaTT has adopted a cross-chain strategy that will significantly benefit our community in many meaningful ways.
Now that we've made it accessible to most crypto communities, it's time to pull out all the stops!
We will start by creating ad pools with other crypto communities.
What does this mean?
An AdPool can be created using a large number of cryptos
It will be possible to farm by Post2Earn and to earn a variety of cryptos.
Since the latest integrations of Tron and BTTC into our platform at the end of the Tron GrandHackathon, we have enabled nano- and micro-influencers to participate in AdPools and reap the lowest possible transaction fees.
This is a game changer, not only can big influencers monetize their audience, but now anyone can also take part in this Post2Earn revolution.
AdPools are ready to be released!
If you are already using social media, why not monetize it and make it a side business, a complementary source of income?
Join the Post2Earn innovation now!
Social media platforms use your data to sell it to brands and you never get any profit from it
SaTT changes the game, giving users ownership of their data and offering them a simple, fair and transparent way to monetize their audience!
Don't wait anymore, join our AdPools!
Spread the word, contribute to generating hype, start making money from your social media actions and help us to decentralize the world!
Let it burn, step by step!
Enjoy less SaTT on the market all the time!
We deemed it necessary to innovate even more, as more is not enough
Revolutionizing socialFi with Post2Earn is not enough.
So, SaTT will be deflationary by design, as the new business model and tokenomics are driven by the monthly burn.
Here's how:
The first burn will take place on January 1, 2023!
A new year, a new era, a new dimension.
We are a legion, we will conquer the SocialFi market! Be part of it to get your share!
Join the SaTT Legion on its commando-level mission across all major social media platforms (Twitter, LinkedIn, Instagram, TikTok, Facebook and more) and get rewarded in Crypto.
How to take part?
Your mission is quite simple, participate in every AdPool published on SaTT.com and join our Post2Earn campaign.
We are relying on you and your continued support to build the largest and strongest community.
The SocialFi market is within our reach!
That's why we have decided to launch many airdrops for you.
We can't imagine making this revolution without you and without making you benefit from it
We care about you, SaTT is owned by people who love it, who are involved in it, YOU.
The journey is just beginning, stay tuned!
We will be announcing amazing news every day, spread the word and follow us on your favorite social media.
Follow us on our social networks
CoinMarketCap: https://coinmarketcap.com/currencies/satt/
Twitter: https://twitter.com/SaTT_Token
Telegram Channel: https://t.me/SaTTAnnouncements
Telegram Group: https://t.me/satttoken
Facebook: https://www.facebook.com/SaTT.Token
GitHub: https://github.com/SaTT-Wallet