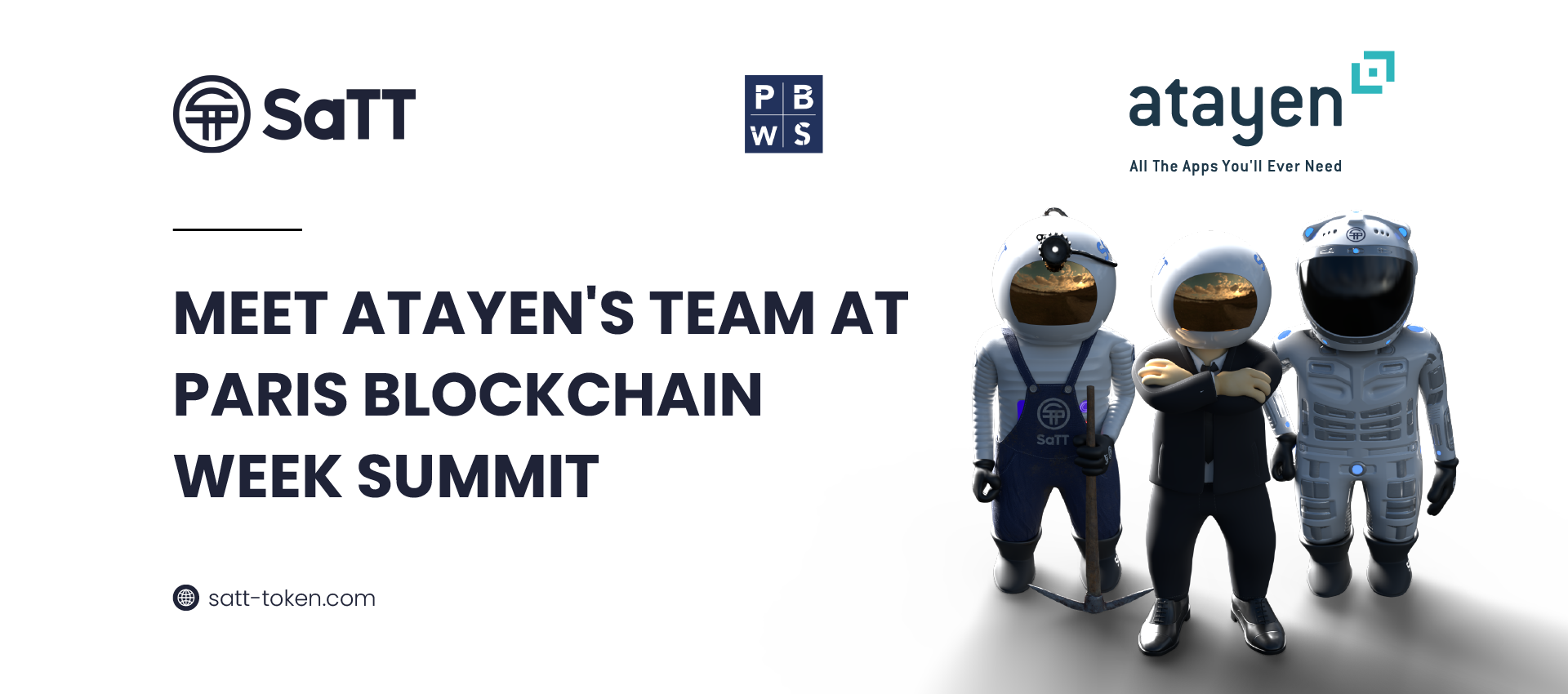 MEET ATAYEN'S TEAM AT PARIS BLOCKCHAIN WEEK SUMMIT
After long months of restrictions following the COVID-19 crisis, we are happy to announce our return to the Blockchain scene.
French Article: https://satt-token.com/blog/fr/2022/03/31/rencontrez-lequipe-atayen-au-paris-blockchain-week-summit
Yes! We will be present at the PBWS – Paris Blockchain Week Summit on April 13 and 14, 2022, at Brongniart Palace. On these days, you can visit us and ask us any questions you may have. A calendar to make an appointment with the different members of the team will be set up.
Atayen, Official Sponsor of the Paris Blockchain Week Summit
The PBWS counts 3000 participants, 70 sponsors, 250 speakers and 100 media partners. In other words, the largest Blockchain conference in Europe. That's why we decided to participate. But not only… Atayen has chosen to be an official sponsor.
This is an opportunity for you to visit us and meet our ambitious and talented team. Whether to learn more about Blockchain or to share with us around our projects, you are welcome.
Make an appointment with our team members
We are proud of our community, and we want to meet them, we want to meet you. It's the perfect opportunity! An agenda will be set up in the next few days so that you can make an appointment with the different members of our team. Stay tuned.
Are you a developer? We have just launched one of our main projects, SaTT, in Open-Source. Come and discuss R&D, programming, blockchain, with us, and submit your ideas.
Take a chance to win your ticket at the Paris Blockchain Week Summit
You like contests, and we know that. Don't miss the opportunity to win your place. It's not every day that you can participate in an event of this magnitude: try, try again, participate. We look forward to seeing you. The competition will be open to everyone and will be broadcast on the SaTT social media.
LinkedIn Atayen : https://www.linkedin.com/company/10943449
Twitter : https://twitter.com/SaTT_Token
Facebook : https://www.facebook.com/SaTT.Token
Telegram : https://t.me/satttoken