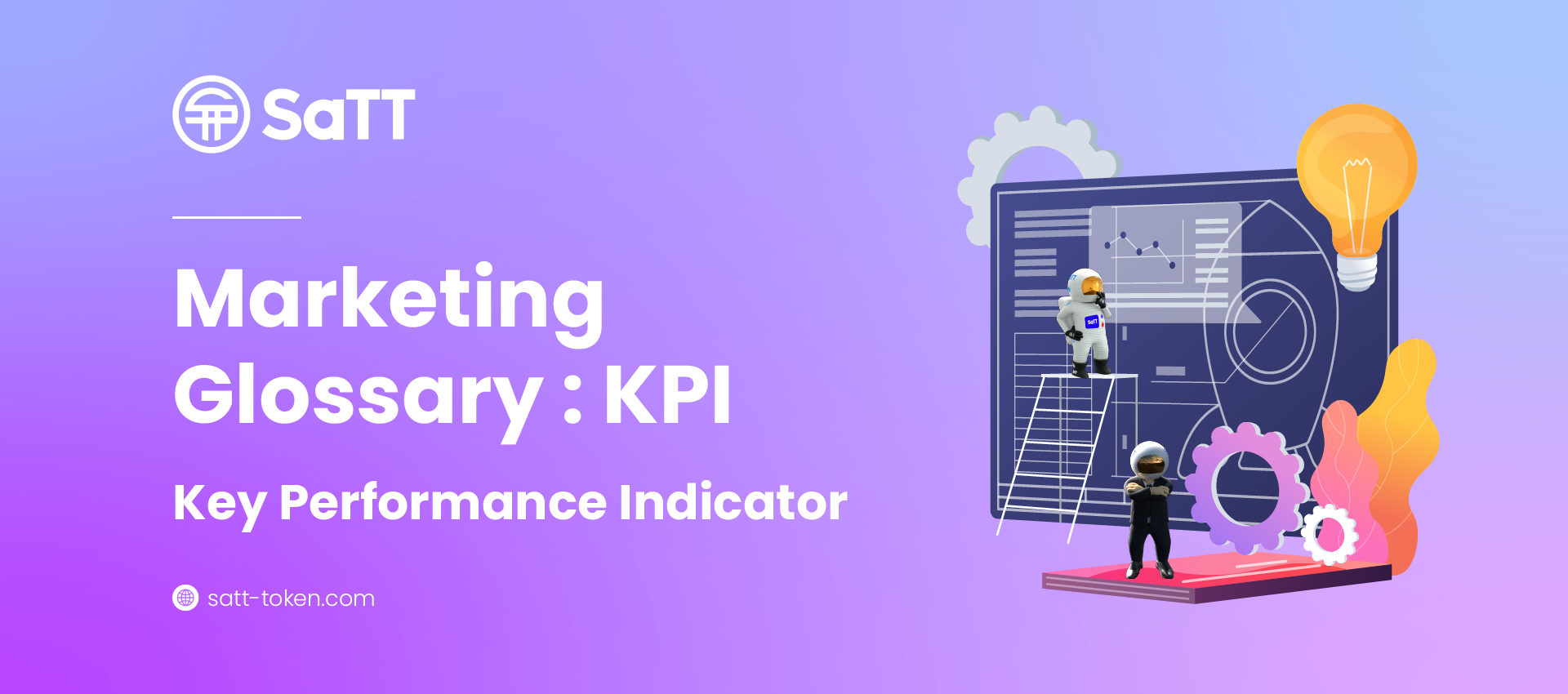 Marketing glossary: KPI
Do you know how well your company's marketing is doing? Do you understand what makes your company's marketing efforts effective?
Every firm operates on a tight budget and no one wants to support marketing initiatives that cost them money. You'll know which techniques to optimize, which to abandon, and how to adjust your budget to the various methods if you track the correct KPI.
Your organization will report and make corporate decisions based on inaccurate data if you aren't measuring the correct KPIs.
What is KPI ?
The term KPI "key performance indicator" refers to a quantifiable measure of performance over time for a specified goal. KPIs provide teams with goals to strive towards, milestones to track progress, and insights to help everyone in the company make better decisions. Key performance indicators assist every aspect of the business–from finance and HR to marketing and sales–and pinpoint how to move forward strategically.
An Indicator is a measure used to collect data on your business. For example, you may track how many hours your workers work, how many sick days they take, or how much paper they use. It's crucial to remember that indications are almost certainly worthless because they have no influence on your business. Is it truly important how many hours your employees worked in the previous week? It might be if you use those hours to bill clients, but there's nothing useful you can do with such information otherwise.
A performance indicator is a metric that tracks how well your company is doing. Production firms, for example, might look at performance indicators such as the number of raw materials sourced, the number of defects per manufactured lot, or the number of steps in the manufacturing process. However, a performance indicator is missing one thing: its criticality to the business. This is where a key performance indicator comes into play.
Key Performance Indicators are a subset of performance indicators that are most essential to your business at the top. KPIs are used to keep track of your progress toward strategic goals. The most effective leadership teams, in our experience, track fewer than 25 indicators that span the organization's four perspectives: financial, client relations, process, and personnel.
What's the difference between KPI and metrics ?
Despite the fact that key performance indicators ( KPI ) and metrics are similar, we are not talking about the same thing. Here's a basic rundown:
KPIs are the key targets you should monitor to ensure that your strategic business goals are met. KPIs help you and your team focus on what's important and support your strategy. "Targeted new clients per month" is an example of a key performance measure.
Metrics measure how well day-to-day operations support your KPIs. They have an influence on your outcomes, but they aren't the most crucial. "White paper downloads" or "monthly store visits" are a few examples.
Key Performance Indicators You Should Track
There are a few key performance indicators ( KPI ) that practically every company should track. These are the most important KPIs for monitoring a company's health. They're probably not the only KPIs you'll want to track (see below for more on additional KPIs to consider), but they're a nice place to start.
New leads/New prospects
This is the most basic marketing indicator, but it is still important to monitor. It shows how many new leads your marketing generated in a specific time period.
Get the most recent data from your pipeline management software and filter the leads by date to see how many new leads were created during a given time period. Create SEO-optimized content, increase your ad campaign budget, and introduce fresh discount offers to increase the quantity of leads your marketing generates.
Sales revenue
How much did your inbound marketing effort earn you?
Reviewing your sales revenue over time is the best approach to measure your marketing success. Understanding your sales revenue aids strategic planning by identifying areas of growth as well as areas where marketing money is being spent with no tangible return on investment.
Use the following formula to calculate your sales revenue:
(Year-end total sales) – (Total revenue from clients acquired through inbound marketing)
Cost per lead
Do you know how much it costs your company to acquire a new customer (or client)? You might not be concerned about the cost of a sale in the early stages of your firm. However, as your company expands, this is a vital measure to monitor.
You can achieve this by calculating the cost of acquiring a new customer, or in other words, how much it costs to acquire one customer. You should use the following equation:
Cost per lead = (sales expenses + marketing expenses) ÷ number of new customers
So, if you spent $5,000 on marketing over a quarter and acquired 10 new clients, your customer (or client) acquisition cost per client is $500.
Customer lifetime value (CLTV)
Over time, loyal customers will provide more value. Measuring each customer's lifetime value will help you figure out how to increase their value to your firm. CLTV is also a useful indicator of your company's ROI, and it can help you plan for your future business objectives.
The CLTV can be calculated using the following formula:
(Average number of sales per customer) x (Average number of purchases per year) x (Average retention time in months or years for a typical customer)
Lead nurturing programs aimed at existing customers are an excellent method to increase CLTV. This will allow you to notify your current consumers about new products, services, and resources.
Inbound marketing ROI
To measure the success of your marketing initiatives, track your return on investment. The return on investment from various marketing events will indicate where you should boost your expenditure to produce greater growth. You'll also be aware of the actions that cost you money but don't produce the desired results. This knowledge is useful for future planning.
The formula for measuring your inbound marketing ROI is as follows:
(Revenue growth – Marketing Investment) / (Marketing Investment)
The KPIs listed above aren't the only ones to keep track of. Other KPIs, depending on your business type and stage, can provide you with an accurate picture of how your business is performing.
KPIs are a complex issue in and of themselves. KPIs are significantly more than simple analytics and factual data, as much as we would like them to be.
Great managers are willing to continue learning about KPIs and to improve their grasp of how to choose, measure, communicate, manage, and even alter KPIs in order to achieve real success. Key Performance Indicators can actually become part of the business culture and a critical step on the road to strategic success if you commit to the process.
If you want to know more about Marketing terms and vocablury you can check here.