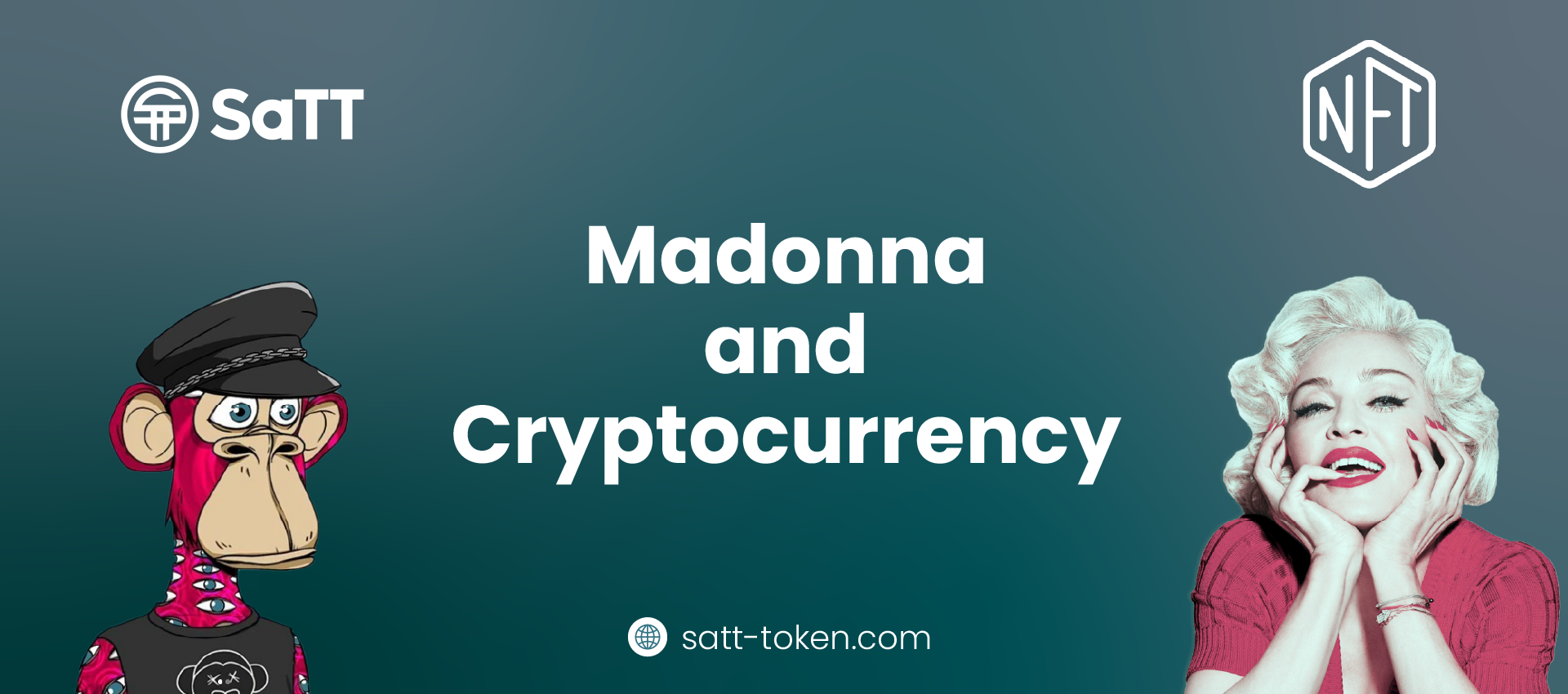 Madonna and Cryptocurrency 
Here we're back with our popular series on cryptocurrency involvement among celebrities & public figures. We are talking here about the "Queen of Pop" Madonna and her first step in the cryptocurrency world!
Who is Madonna ?
A singer
Firstly, Madonna has been labeled the "Queen of Pop" since the 1980s. And that's for pushing the boundaries of mainstream popular music songwriting and imagery onstage and in music videos. "Papa Don't Preach," "Like a Prayer," "Vogue," and "Material Girl," among many others, are among her best singles.
An Actress
Secondly, Madonna has appeared in sixteen commercials. Also she worked in 26 feature films (twenty-one as an actress), 10 short films, 3 theatrical plays, and 10 television programs.
An Icon
Thirdly, Madonna, is an American singer and songwriter. She has had a social and cultural impact on the world through her music, attitude, dress, and lifestyle since she began her career in the early 1980s.
She has been considered internationally the greatest woman in music, and the most influential and famous female recording artist.

Madonna entered the Metaverse 
The "Queen of Pop" announced on Instagram and Twitter in late March that she had acquired an NFT. This NFT is from the popular Bored Ape Yacht Club collection worth more than $500,000.
NFTs are a form of digital content ownership, such as a photo or a GIF.
The metaverse promises a virtual world in which we can socialize with others using avatars and Madonna is updating her Twitter profile image to further highlight her foray into the metaverse and the world of NFTs. The Bored Ape is now represented by this one.
Madonna is the latest celebrity to publicly endorse digital apes, following high profile purchases by stars like Eminem, Justin Beiber, and Paris Hilton.

MoonPay, a cryptocurrency custodian and payment processor. It acts as a "concierge" service for celebrities interested in purchasing NFTs, was behind the recent transaction.
For those unfamiliar, MoonPay Concierge is a new service for wealthy individuals interested in purchasing cryptocurrencies and NFTs for large sums of money. Snoop Dogg, Gunna, Meek Mill, Lil Baby, Gwyneth Paltrow, Diplo, and Kevin Hart are just a few of MoonPay's clients.
Even though artists are increasingly entering the world of NFTs, many Madonna fans were unhappy with her Instagram post. Some called it a disappointing move and a few called on the singer to take it down.
However, let's not forget that the pop star's ties to the cryptocurrency industry date back to 2018 when she partnered with the Brad Garlinghouse-led blockchain company Ripple to raise money for Miami orphans.
Madonna's first step into crypto could be the push that the metaverse and non-fungible tokens need right now after the strong year start.
Madonna may surely revive interest in this concept at the heart of the future of Facebook.