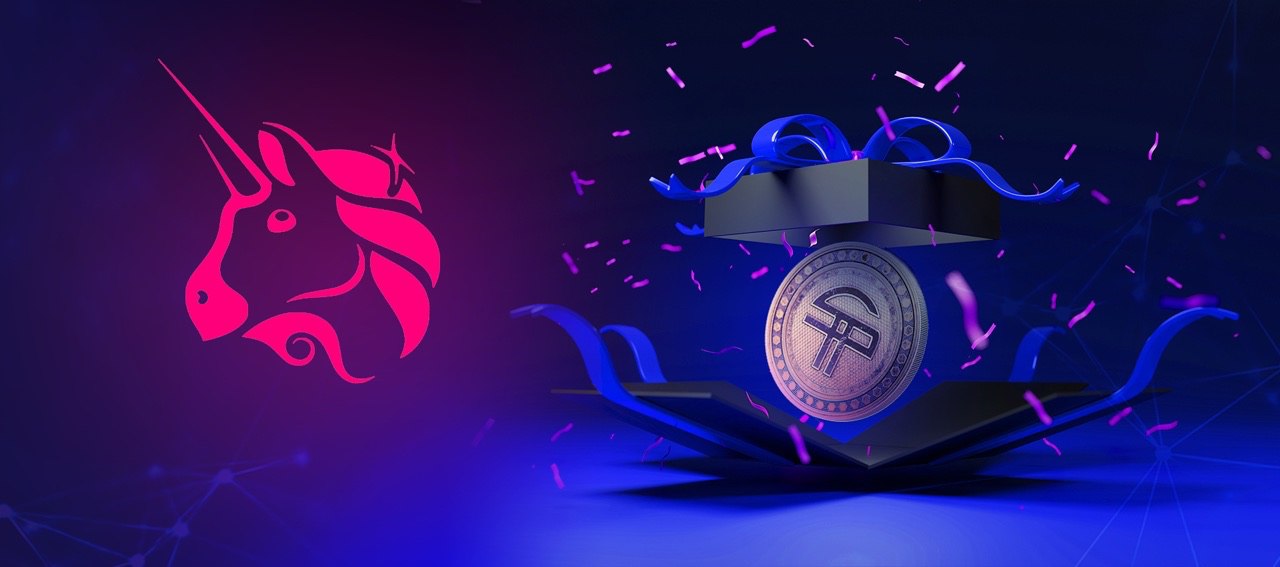 Getting on Uniswap 2: How to Join the Liquidity Pool
If you have already read Getting on Uniswap 1 , congratulations, you are almost there! 😊
If you haven't, we will have to insist you read it first because MISTAKES COST! 😱
Disclaimer : Before we begin, we want to put out a disclaimer that before trading, you should always carefully consider your investment objectives, level of experience and risk appetite. DEXs including Uniswap are all in Beta mode and trading on these platforms is very high risk. Do not trade with funds that you cannot afford to lose!
Visit Uniswap & Connect Your Metamask Wallet
Step 1
Visit Uniswap's website at www.uniswap.org with the MetaMask extension (using Google Chrome or Firefox). Click on 'Launch App "at the top right corner. Make sure that you are always redirected to app.uniswap.org .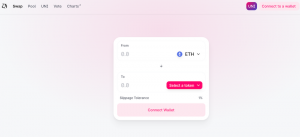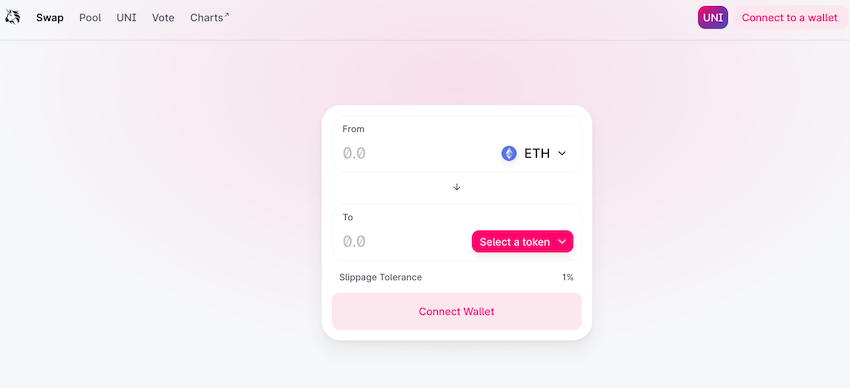 Usually, you'll automatically land on the 'Swap' functionality.
On the top-left, you will find tabs 'Swap', 'Pool', 'UNI', 'Vote', and 'Charts'. Click on 'Pool'.
Step 2
Click on the 'Connect to a wallet' button on the top-right of the interface.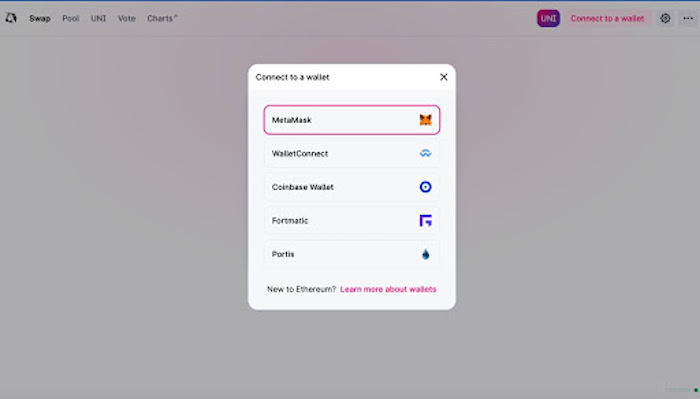 In the pop-up that appears, you'll find several ERC20 wallet options like Metamask, WalletConnect, Coinbase Wallet, Fortmatic, and Portis. Select MetaMask.
Once you select 'MetaMask' you'll get a notification on your wallet's app where you need to confirm the integration. Confirm it and you're connected!
In case you don't have a wallet on Metamask, you'll first need to create one and then perform this whole process.
Joining the Pool
Step 3
Once you've connected your wallet, click on the Pool tab and then click on 'Create a pair' and select WSATT / ETH. If the pair is not displayed, you will have to create it.
Our staking reward program is only available for the WSATT / ETH pair liquidity pool providers and we will be providing instructions only for this pair.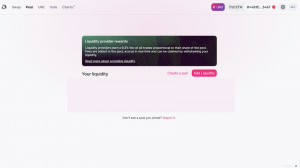 To create the pair, click on 'Create a pair', then click on 'Select a token'.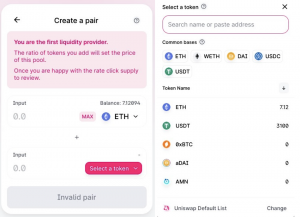 A pop-up will then appear. Type in 'WSATT' and choose the token from the list. If it doesn't appear, paste the smart contract address of WSATT.
WSATT Smart Contract address: 0x70A6395650b47D94A77dE4cFEDF9629f6922e645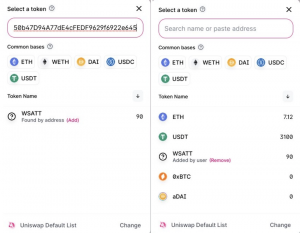 WSATT will appear under Token Name, click 'Add' then click 'WSATT'.
Step 4
The 'Add Liquidity' window will pop up.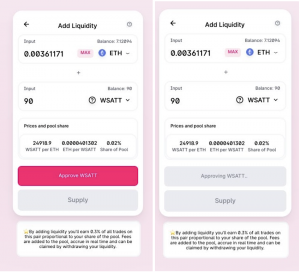 By default, ETH is the base token. Ensure that you have an adequate amount of ETH in the same wallet as your WSATT.
Enter the amount of WSATT you want to input to the pool. And then click 'Approve WSATT'.
Step 5
MetaMask will prompt you to confirm the transaction. Click on 'Confirm Supply' and Uniswap will notify you with 'Transaction Submitted'.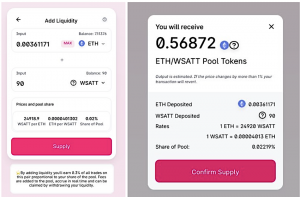 You'll see a notification in your wallet's interface, informing you of the total transaction value, including Ethereum's gas fee.
After validating your contribution from the wallet, you'll have to wait a few moments.
When you receive a confirmation, your participation is successful!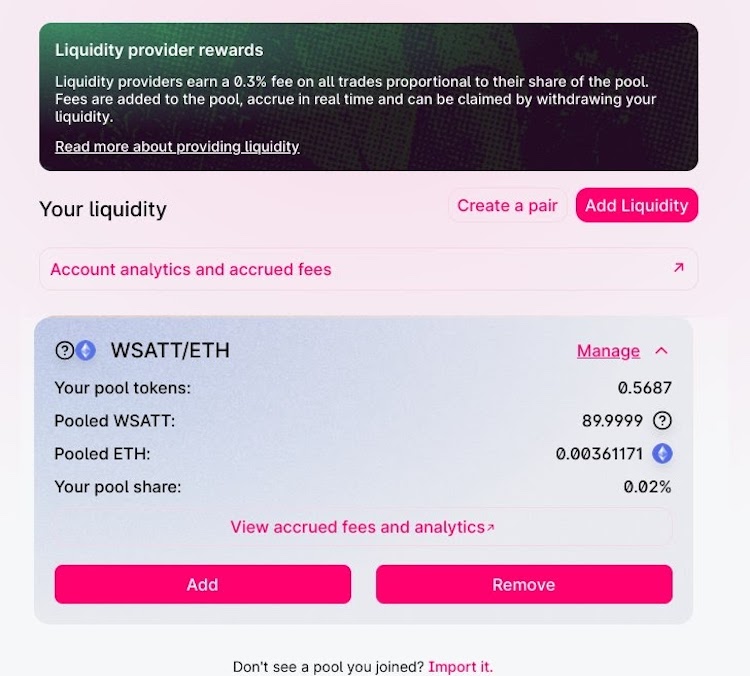 Now that you have added liquidity to the WSATT / ETH pair, you can see your pool share and how many pool tokens you have. Click on 'increaseded fees and analytics' to see you pool share earnings.
Incentivizing WSATT Staking
When WSATT holders supply liquidity, you support the project. As an incentive, we are offering an exclusive ten-day staking reward equal to 2% of total pool contribution for a few cycles. The amount will be increased in real-time and can be liquidated upon closing the pool. This staking reward program is only available for the WSATT / ETH pair liquidity pool providers.
After each cycle of the Staking Reward Program, the rewards you earn will be delivered in SATT automatically into your MetaMask wallet.
Staking Reward Program
Our staking reward program is only available for the WSATT / ETH pair liquidity pool providers.
Uniswap gives you the option of reading up on liquidity rewards. As such, liquidity providers get a reward of 0.3% on all trades conducted on Uniswap, in proportion to their total pool contribution. On top of that, WSATT holders get an added bonus .
Token rewards:
10 days: 2% – Only for the first 50 participants
30 days: 3%
90 days: 10%
180 days: 22%
Braced with the knowledge from this article, you can begin your bull run to passive yields from your SaTT. Naturally, the more you stake, the more you gain! 🚀🚀