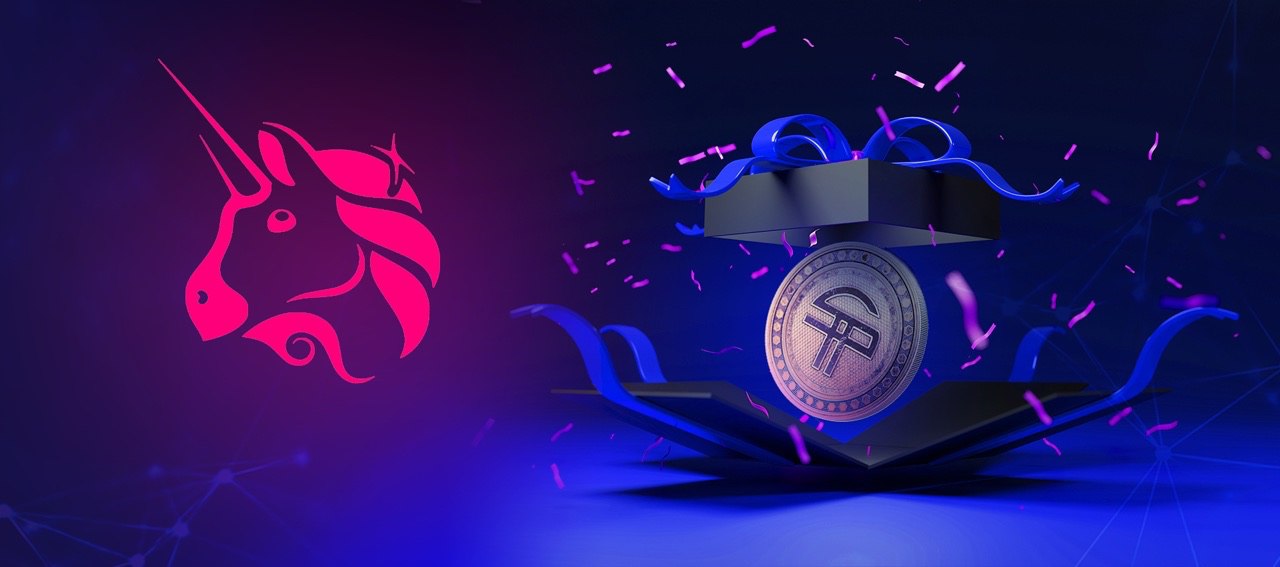 Getting on Uniswap 1: How to Get WSaTT so as to Provide Liquidity on Uniswap to Collect Rewards!
По просьбе сообщества статья доступна на русском языке: Нажмите здесь
Currently trading on CEX (centralized exchange platforms) WhiteBIT , ProBit , BW and Coinsbit , the SATT token can now also be traded on currently the biggest DEX (decentralized exchange) on Ethereum – Uniswap ! ✨✨
Unlike CEXs, Uniswap employs Automated Market Maker (AMM) protocols where asset prices are automatically determined, based on their liquidity pool – a smart contract that escrows proportional amounts of trading pairs.
SATT holders can now join the WSATT liquidity pool to participate in trading on Uniswap and yield staking rewards! We will explain the process here.
However before we begin, we want to put out a disclaimer that before trading, you should always carefully consider your investment objectives, level of experience and risk appetite. DEXs including Uniswap are all in Beta mode and trading on these platforms is very high-risk. Do not trade with funds that you cannot afford to lose!
As you might already know, the SaTT smart contract is catered to advertisers, with a high gwei fee to process transactions fast in order to avoid bottlenecks since ETH transactions have to be processed consecutively.
To trade on Uniswap, the SaTT team has created the Wrapped SaTT (WSaTT), which is optimized for Uniswap.
In this article we will explain:
How to Swap ETH for WSATT

How to Convert SATT to WSATT

How to Convert WSATT back to SATT
How to Swap ETH for WSATT
Step 1. Visit Uniswap
Visit Uniswap's website at www.uniswap.org with the MetaMask extension (using Google Chrome). Click on 'Launch App "at the top right corner. Make sure that you are always redirected to app.uniswap.org .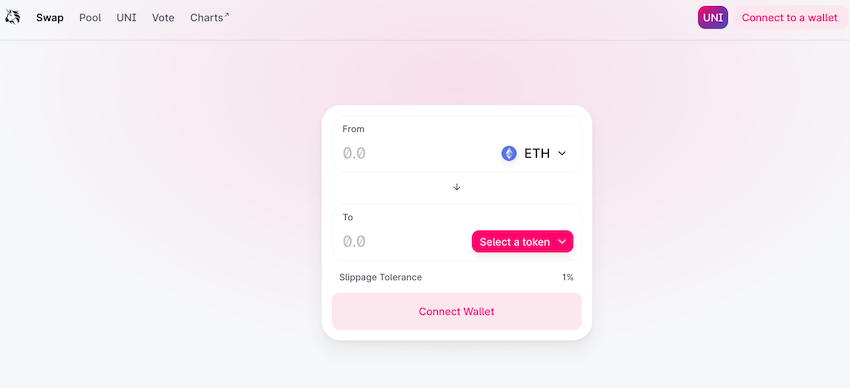 Step 2. Connect to MetaMask Wallet
Usually, you'll automatically land on the 'Swap' functionality. Click on 'Connect to a wallet' on the top-right of the interface.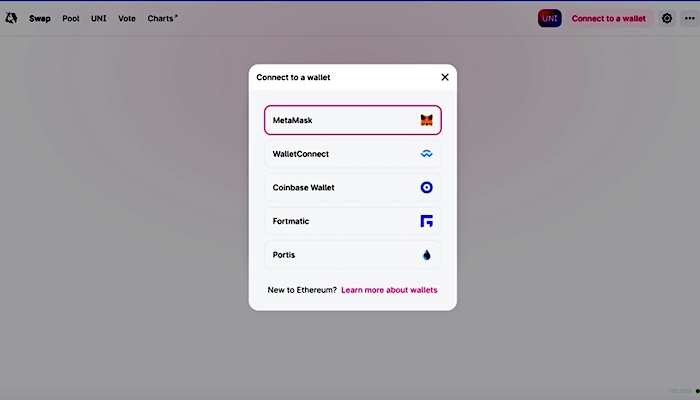 In the pop-up that appears, you'll find several ERC20 wallet options like Metamask, WalletConnect, Coinbase Wallet, Fortmatic, and Portis. Select MetaMask.
Step 3. Confirm the integration
Once you select 'MetaMask' you'll get a notification on your wallet's app where you need to confirm the integration. Confirm it and you're connected!
In case you don't have a wallet on MetaMask, you'll first need to create one and then perform this whole process. Make sure there is ETH in your MetaMask wallet or send some ETH to it.
Step 4. Add WSATT token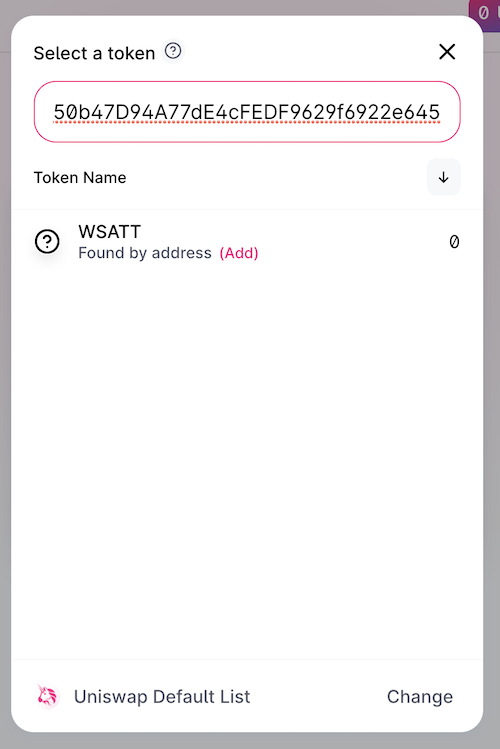 Make sure you are on the 'Swap' tab. Click 'Select a token'. A screen will pop up with a selection of tokens. In the address tab enter the contract address of WSATT:
0x70A6395650b47D94A77dE4cFEDF9629f6922e645
'WSATT' will appear under 'Token Name'. Click 'Add'.
Step 5. Swap ETH for WSATT
Close the pop-up window and you will be back in the 'Swap' tab. Click 'Select a token'. Search for 'WSATT' and you will see WSATT under 'Token Name'. Select 'WSATT'.
You will be taken back to the 'Swap' tab. Enter the amount of ETH you wish to swap for WSATT. And then click on 'Swap'.
That's it! You've swapped ETH for WSATT.
You are now ready to participate in the Uniswap Liquidity Pool!
How to Convert SATT tokens to WSATT (Wrapped SaTT)
Step 1
First, SATT tokens will have to be deposited on your MetaMask wallet.
Using the Google Chrome browser which hosts your MetaMask wallet, click on this link below. Then select 'Add to MetaMask' to add WSATT.
https://vittominacori.github.io/watch-token/detail.html?address=0x70A6395650b47D94A77dE4cFEDF9629f6922e645&network=mainnet&logo=https%3A%2F%2F3xchange.io%2Fassets%2Ftokenatta
Step 2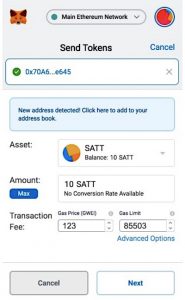 Next we will wrap SATT, which is basically converting SATT to WSATT.
From your MetaMask wallet, send your SATT to this address:
0x70A6395650b47D94A77dE4cFEDF9629f6922e645
After the transaction is processed and confirmed, the WSATT balance will be shown in your MetaMask asset list. The ratio for SATT to WSATT is 1: 1.
You are now ready to participate in the Uniswap Liquidity Pool!
How to Convert WSATT back to SATT
For trading on CEX (centralized exchanges), you will need to convert your WSATT back to SATT. To unwrap SATT, go to the contract interface on etherscan by clicking on: https://etherscan.io/token/0x70A6395650b47D94A77dE4cFEDF9629f6922e645#writeContract
Step 1
Click on 'Connect to Web3' which is next to the red spot, it will prompt you to 'Connect a Wallet'. Select 'MetaMask'.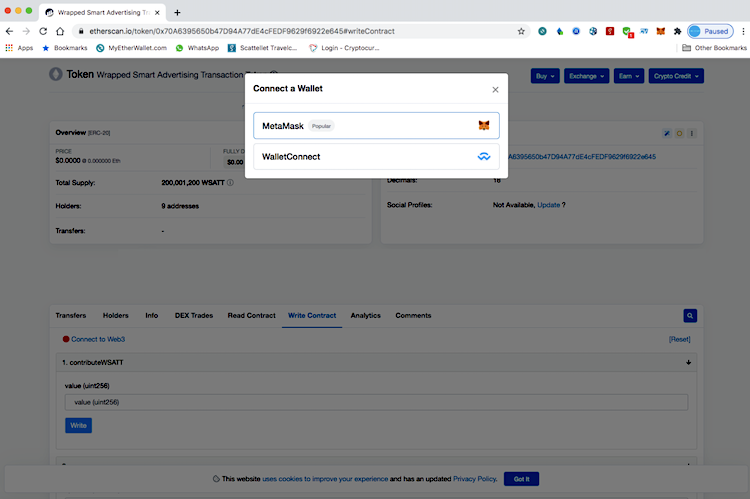 MetaMask will give you a pop-up notification. Click on 'Next'. (If none of this happens, please make sure that you're on Chrome – MetaMask works with Chrome.)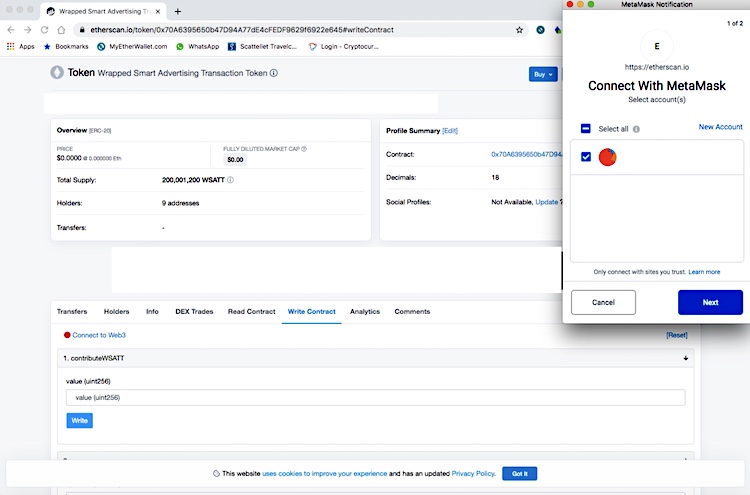 The next pop up 'Connect with Metamask' will come up. Click 'Next', then 'Connect.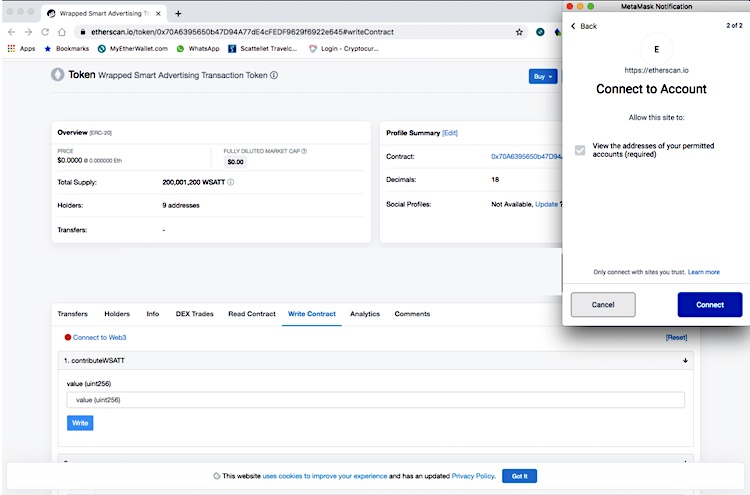 The red spot turns green, meaning you're connected with your MetaMask and your wallet address will show up next to it.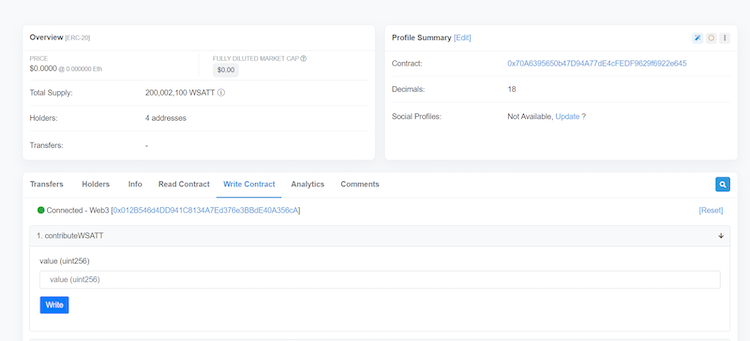 Step 2
We will now activate the contribute WSATT function. Enter the value of WSATT you wish to convert to SATT. You need to add 18 '0's (SaTT amount multiplied by 1000000000000000000) For 10 WSATT, write 10000000000000000000 (10 + 18 0's essentially).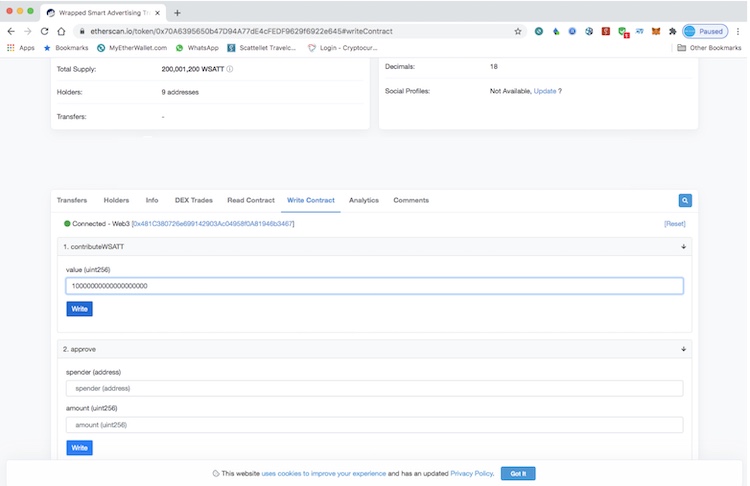 MetaMask will prompt you to confirm the transaction. Click 'Confirm'.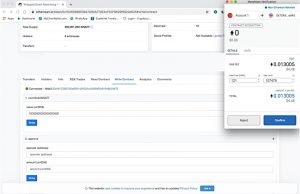 Once the transaction is successful, the SATT will appear in your asset list.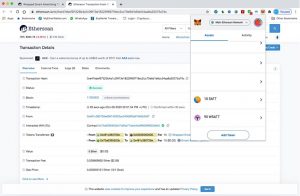 And that's it! Now you can send your SaTT to other wallets or exchange platforms. 👍👍