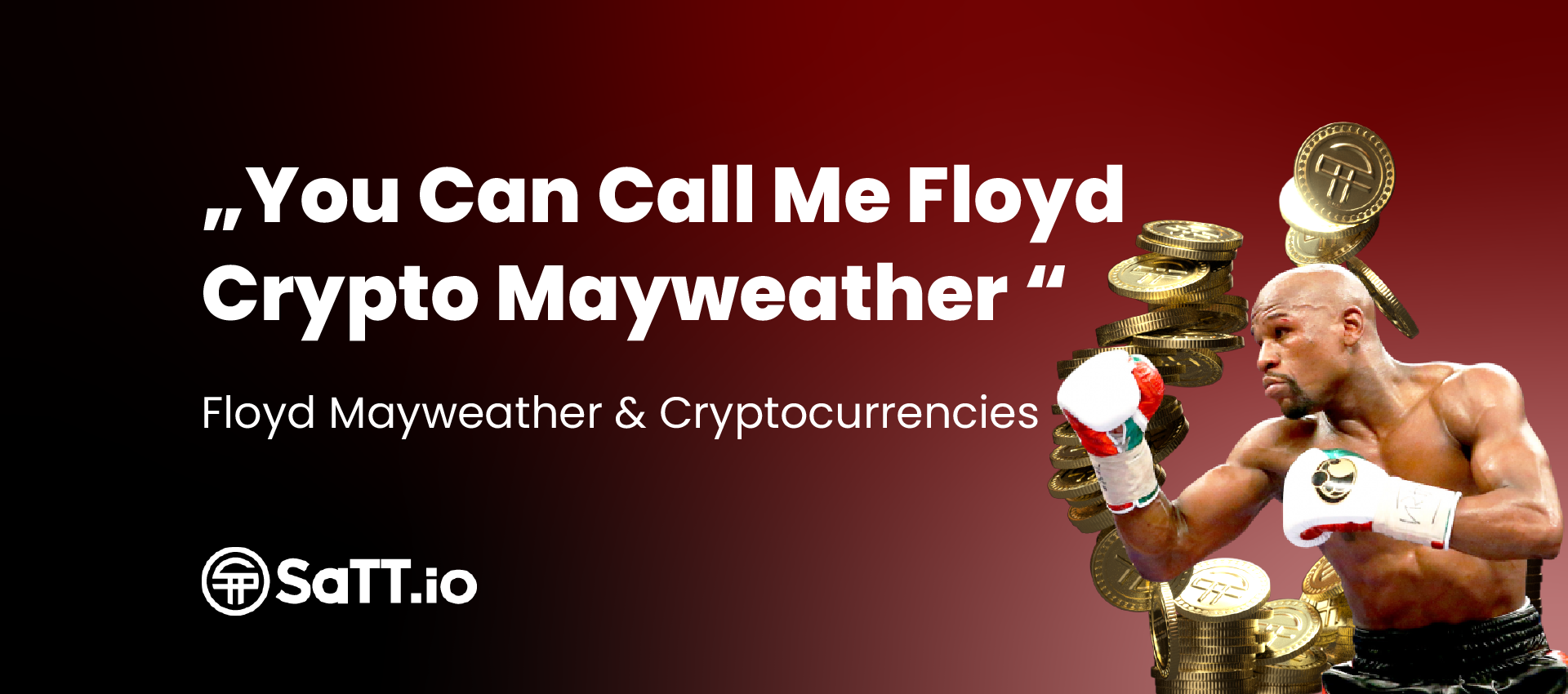 Floyd Crypto Mayweather and Cryptocurrencies
We are pleased to bring you the next installment in this ongoing series about the use of cryptocurrencies by well-known public figures and celebrities. In this article, we will talk about Floyd Mayweather, also known as the "Floyd Crypto Mayweather," and his foray into the realm of cryptocurrencies in this article.
Floyd Mayweather, the Crypto King?
Floyd Mayweather isn't just known as one of the best boxers in the world; he's also known as a maverick. His Instagram stories show him driving a private jet with TMT Floyd Money Mayweather printed on the side, while his Ferrari has TBE (The Best Ever) on it in big letters. He's also been tweeting about Bitcoin and other cryptocurrencies since at least 2017, calling himself the king of crypto. Since then, he's appeared on the cover of an ICO magazine and even sponsored an ICO!
Who is Floyd Mayweather?
As a professional boxer and entrepreneur, Floyd Money Mayweather is no stranger to making money. In fact, his nickname is more than just a moniker. Born into poverty in Grand Rapids, Michigan, Floyd Jr. joined the ranks of highest-paid athletes of all time with a $750 million dollar payday for defeating Manny Pacquiao in 2015—making him one of only three boxers to ever earn over $1 billion dollars in career earnings. He has defeated Oscar De La Hoya and Sugar Shane Mosley twice—and now he's setting his sights on cryptocurrency investment as well as other lucrative ventures!
Why Is He So Successful?
People pay thousands of dollars to see Floyd Mayweather fight. It is an astonishing amount of money for those who have never heard of him before. A few years ago, he was just another boxer fighting on Showtime or HBO. He wasn't a household name, and his fights didn't generate much buzz unless it was to support a worthy cause that benefitted from ticket sales and televised broadcasts. How did he make such a complete turnaround? In 2016, Mayweather came out with a new nickname: The Money Team. He also got into cryptocurrency at around that time. In fact, it wasn't long before he became known as Crypto Mayweather instead of just Money Mayweather. His first major investment in crypto was by way of Stox. They were looking for a spokesperson, and he agreed to do so without hesitation. Not only has Floyd been involved in promoting ICOs, but he has also been actively investing in them. So far, his strategy seems to be working quite well!
What Influences His Decisions?
As with anything in life, money influences Floyd's decisions. Floyd is no stranger to spending and making money. The boxer owns an interest in more than 30 businesses around his hometown of Las Vegas. He has made nine figures worth of career earnings for his boxing alone, according to Forbes. With these types of credentials, he does not make rash decisions when it comes to cryptocurrency investments.
However, if you put yourself in his shoes regarding a certain investment opportunity – would you take that risk or not?
Would you invest $400K into something without knowing what it was?
Would you invest your entire retirement savings into something without doing some research first? What about putting all your savings into Bitcoin, Ethereum, Litecoin, or another cryptocurrency just because one of your friends told you to do so? Would any of us really do that? I doubt it.
So why do we think that celebrities are any different from us when they are faced with similar situations? Because they have lots of money and don't care about losing it. Right?
What Does This Mean For Us?
First off, Floyd has been vocal about how much he likes to do business. In fact, he's a serial entrepreneur in his own right. Not only is he an investor in 100 different businesses, but he is also the CEO of multiple companies. He is a great example of someone who likes to diversify his portfolio and invest in many different opportunities. Being one of the first celebrities to be on board with blockchain technology and cryptocurrencies shows us that anyone can do it!
Floyd Mayweather Marketed For Cryptocurrency Token
The former boxing champ is starting a new business venture: promoting ICOs. The plan is for Floyd Money Mayweather to promote ICOs and generate interest in projects as a paid spokesperson. More specifically, he'll promote upcoming ICOs through his social media channels (e.g., Instagram and Twitter) and become an ambassador of sorts for startups and other blockchain-related ventures. One such project is Hubii Network, which aims to disrupt online content monetization with its Ethereum-based token sale. In exchange for Mayweather's promotion, Hubii will pay him in its own tokens. It makes sense that Hubii would target Mayweather—he has nearly 10 million followers on Instagram alone—but it also makes sense that Hubii would pay him in tokens rather than dollars or euros or yen or whatever fiat currency he prefers. After all, if you have a digital asset like cryptocurrency and you want people to pay attention to your project, why not pay them with your own token?
The Final Word From Our Expert Investor
With all of these options at his disposal, Floyd Money Mayweather might be well on his way to becoming cryptocurrency's greatest investor. He has earned a reputation as being shrewd with money, and he was able to get crypto when it was still very early in its adoption by high-profile individuals. What's next for Floyd could be an even greater testament to just how shrewd he really is—and how much potential value there still is in cryptocurrencies. Here's to hoping he continues investing and holds onto his stake in Cryptocurrencies.