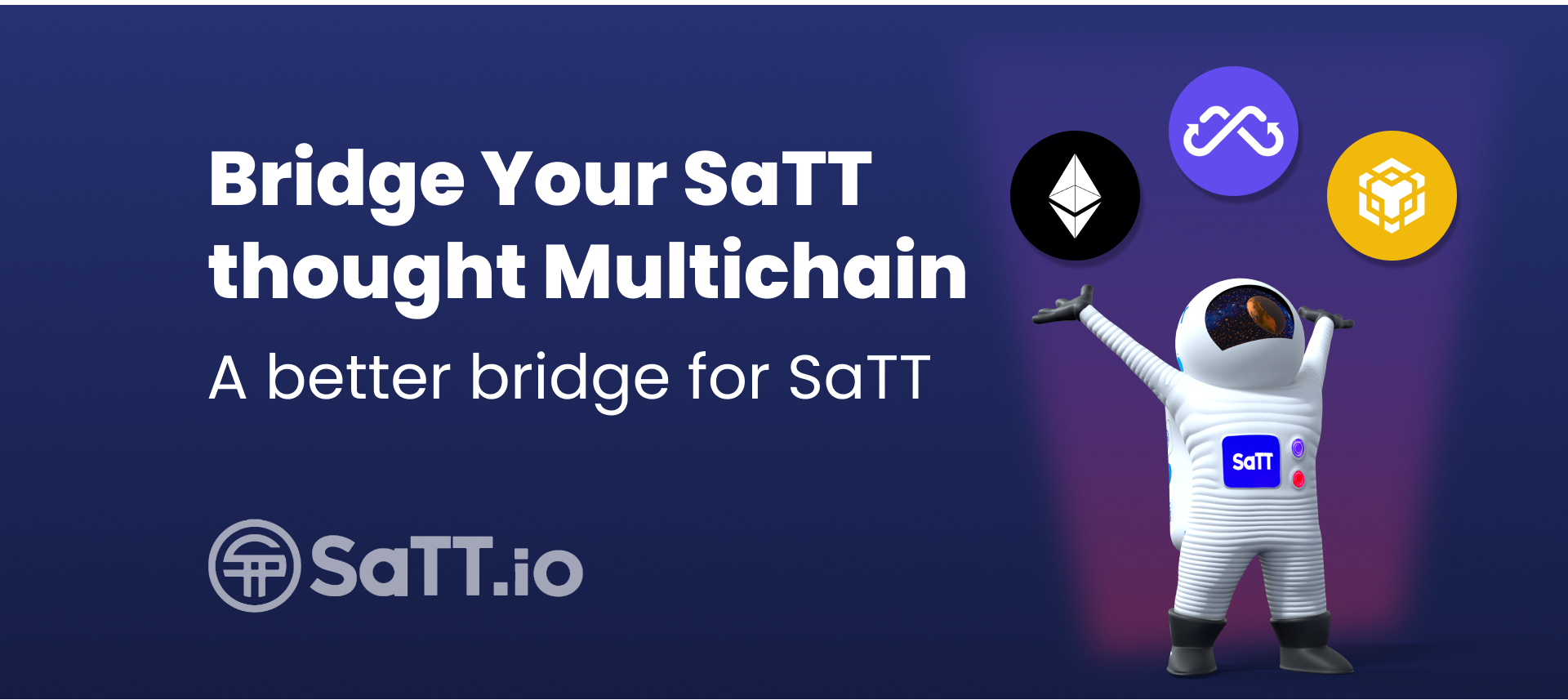 A Better Bridge for SaTT: SaTT x Multichain
We are proud to announce the launch of the new bridge, in collaboration with Multichain. This bridge will allow you to exchange your SaTT between the Ethereum blockchain and the BNB Chain.
DApps & Ethereum Virtual Machine
If you use decentralized applications, you have already heard of Ethereum Virtual Machine (EVM). It is this technology that has revolutionized the use of the blockchain by implementing smart contracts, thus allowing many interactions for DApps.
One of the most important features of EVM is the ability to work with other blockchains. DApps are now evolving in a cross-chain universe and can allow their users to use, for example, both the Ethereum Blockchain and the BNB Chain.
Tron, BitTorrent or HecoChain are also some of the most widely used EVM-compatible blockchains.
SaTT x Multichain
SaTT, the cryptocurrency of influence, is currently available in ERC20 and BEP20.
The BNB Chain has reduced the operating costs of our platform for the benefit of users. The creation of an advertising campaign or the participation of an influencer in an advertising campaign is possible at a lower cost, compared to the native Ethereum blockchain.
In order to allow interoperability between the two blockchains (ERC20 and BEP20), the use of a bridge is necessary. A bridge will allow you to exchange your tokens between the different blockchains, ensuring consistent operation between the different chains.
We chose Multichain, a pioneering Cross-Chain Routing Protocol in this field, to build our Ethereum ↔️ BNB Chain bridge.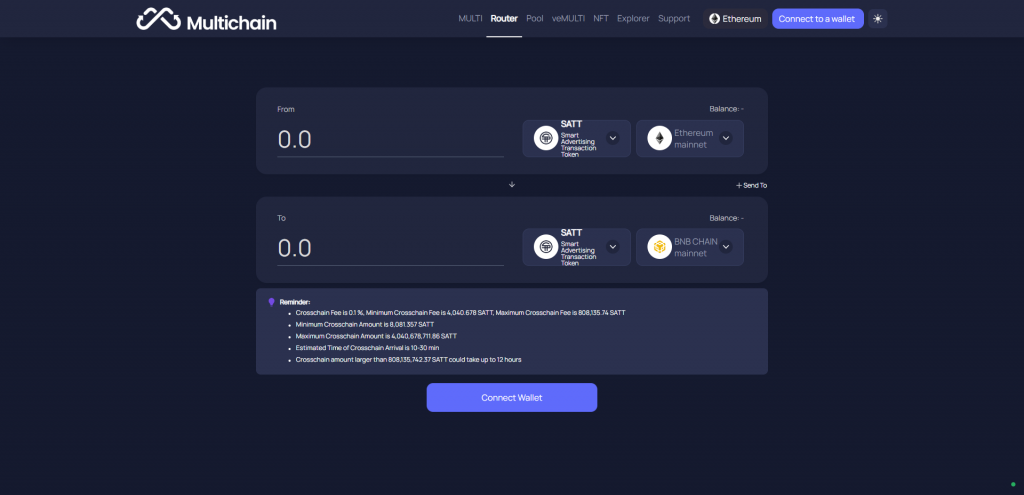 Multichain is the leader in the cross-chain field, with a fast-growing number of 53 chains and daily volumes well in excess of $100 million.
On July 20th, 2020, Multichain was born as Anyswap to address the clear need for distinct and diverse blockchains to communicate with one another. Multichain promotes interoperability across different networks and actualizes smooth asset and value transfers as a cross-chain architecture.
Follow Multichain: Website | Twitter | Telegram | Medium | YouTube
How to use the bridge:
1. Go to https://app.multichain.org/#/router.
2. In the top menu bar, select Ethereum Mainnet or BNB Chain Mainnet, depending on the SaTTs you have in your wallet.
3. Connect your wallet, making sure it is configured on the same blockchain as the one previously selected.
4. Select SaTT from the drop-down list.
5. Enter the amount you wish to exchange and then confirm the transaction.
6. You will receive your SaTTs to the same address.