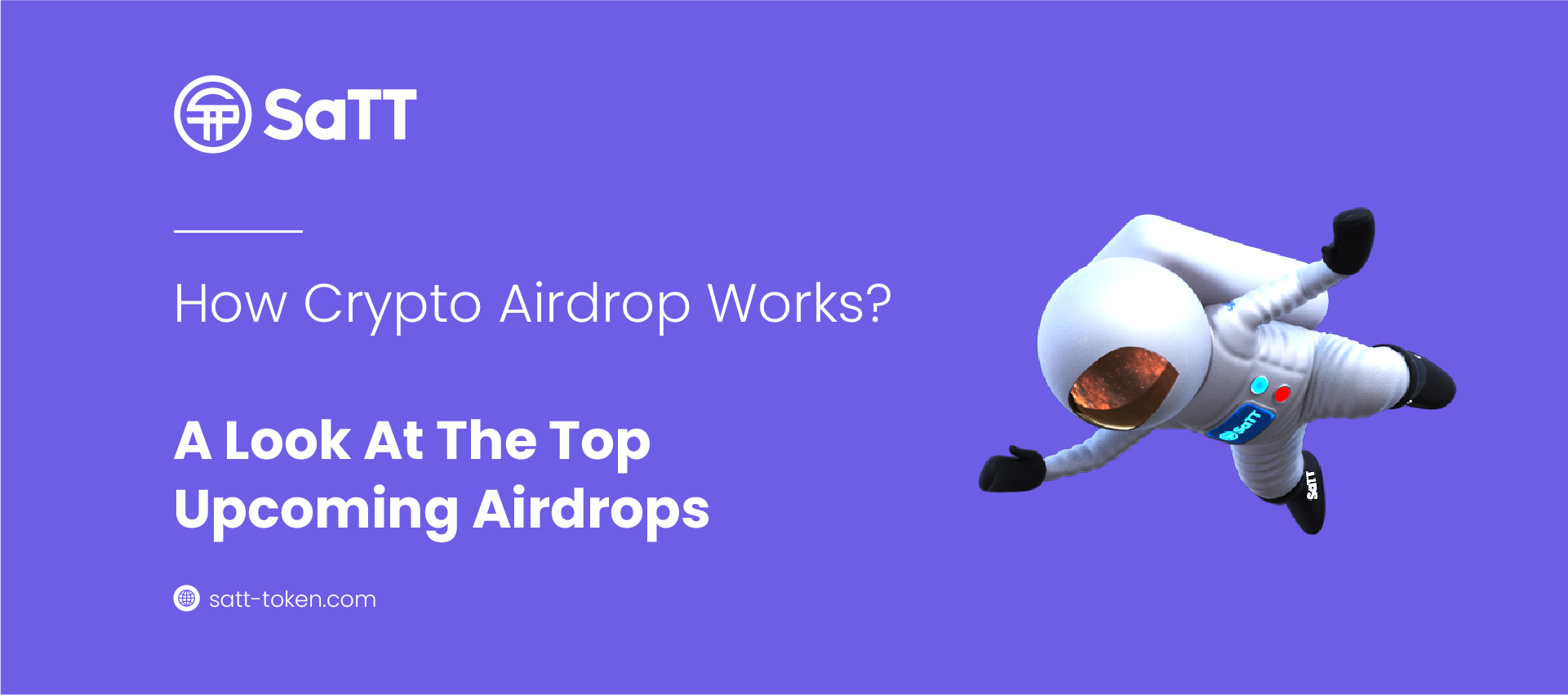 How Crypto Airdrop Works & A Look At The Top Upcoming Airdrops
Traditionally, airdrops are a marketing approach used by cryptocurrency projects to incentivise the use of their platform. New projects may airdrop cryptocurrency into your wallet as part of an initial offering or as a reward for supporting the brand.
Airdrops are a technique for obtaining digital money without purchasing it. More information may be found further down.
What exactly is a cryptocurrency airdrop?
A crypto airdrop is the delivery of free bitcoin from a crypto project into consumers' wallets.
There are numerous reasons why someone could decide to start an airdrop, but the end result is usually the same: the crypto investor receives some quantity of coins or cryptocurrency tokens, either for free or in exchange for completing a simple job.
In some situations, you may additionally be required to identify yourself via know your customer (KYC) authentication in order to participate in an airdrop program.
Crypto airdrops might be a reward for signing up for a newsletter, following the project's social media sites, or any strategy to draw attention to the brand and attract more users to the platform.
Platforms may also opt to distribute governance tokens. Governance tokens, in addition to their monetary worth, provide holders with voting rights and the ability to influence major project decisions.
What are the benefits and drawbacks of crypto airdrops?
Crypto airdrops might be a good method to diversify your crypto portfolio without needing to acquire digital assets. They could also be able to get you in on the ground floor of a new platform.
Airdropped assets, on the other hand, may be worthless. You might spend time hunting for and claiming airdrop possibilities just to have the price of the airdropped coin drop before you get a chance to sell.
Worse, there is the risk of providing money or sensitive information to a fake platform.
If you're a crypto enthusiast who appreciates staying up to date on new developments and actively maintaining your portfolio on a regular basis, airdrops are more likely to be worthwhile.
What are the main kinds of airdrops?
Crypto projects may give out free cryptocurrency in a variety of circumstances, but their primary purpose is to motivate consumers.
The following are the most prevalent forms of airdrops:
Standard airdrop
Bounty airdrop
Exclusive airdrop
Holder airdrop
What is a standard airdrop?
As a marketing technique, a typical cryptocurrency airdrop delivers a certain quantity of native coins or tokens into existing wallets.
It is frequently done to market the brand and encourage more people to accept the asset, mainly during the initial coin offering.
In general, all you need to do is create an account with the new project and enter your wallet address during the distribution event.
What is a bounty airdrop?
Bounty airdrops are similarly a marketing approach, but potential receivers must engage in some promotional activity in order to obtain the digital item.
These activities might include:
Sharing a post about the blockchain project on Twitter or other social media platforms
Signing up for the project's email newsletter
Joining a discussion forum to discuss and participate in the project
A bounty airdrop requires a little more effort than a conventional airdrop, although the activities are typically not strenuous.
What is an exclusive airdrop?
An exclusive airdrop distributes cryptocurrency to a group of people that follow an airdrop aggregator. These third-party websites disseminate information about potential crypto projects and impending airdrop activities.
What is a holder airdrop?
Holder airdrops are given to users who have a certain quantity of another cryptocurrency in their wallets. Typically, the crypto project takes a snapshot of crypto holdings on a specific date and then allows people to claim an airdrop based on their ownership at that time.
Stellar, for example, is a 2014 cryptocurrency initiative. As a gesture to the Bitcoin network, its executives announced in 2016 a proposal to airdrop $19 billion in lumen (XLM), its native cryptocurrency, to existing bitcoin (BTC) holders.
To get the XLM from the Stellar airdrop, you had to authenticate your BTC holdings.
How can you get crypto airdrops?
Crypto airdrops can be a terrific method to diversify your crypto portfolio without needing to purchase any assets with fiat cash.
Some methods for locating crypto airdrops are as follows:
Searching for crypto airdrop chances on a daily basis on the internet
Following airdrop aggregators and signing up for their special airdrops
Signing up for new platforms in order to take advantage of any basic airdrops they may give
In order to prepare for reward airdrops, we are keeping an eye on upcoming initiatives.
Taking advantage of an approaching airdrop is primarily a matter of staying on top of developments and seizing chances as they occur.

How do airdrop scams work?
If you're going to pursue airdrops, you need to protect yourself against airdrop scammers. These may include phoney airdrops or fake key scams, in which criminals attempt to steal your money or private key in exchange for a token airdrop.
Never give away your private key or link your wallet to an untrusted person. In certain circumstances, the fraudsters may even airdrop a bogus token into your wallet, and you won't realize it until you can't sell or swap it.
Consider researching a project's leadership, reviewing its public documents, and assessing the attitudes of other investors before claiming an airdrop.
Theorizing about airdrops
Who doesn't appreciate free money? "Airdrops" are a popular issue in crypto right now, with a handful of recent ones totalling significant sums.
On Crypto Twitter, one user detailed how he made a tidy US$900,000 in the airdrop for DYDX, a decentralized platform for leveraged crypto trading. He was able to qualify for ten distinct high-tier airdrops — one in each wallet — by engaging in high-volume trade on ten different wallets.
Others were able to qualify for the second-highest airdrop tier (based on trading volume) despite having a relatively tiny account. The 6,413 tokens obtained by this user are worth $89,000 USD.
The "Good Bridge" community token was also airdropped on September 11 to 16,135 individuals who have bridged Ethereum tokens to Avalanche. There were 906 tokens per airdrop, and the tokens were sold for $2.65, placing the airdrop's worth at $2,400.
The token's smart contract "charges" users a 1% transaction fee, which is subsequently redistributed to holders. Other projects, such as Bridge Loot, are delivering NFTs to users who have 900 or more Good Bridge tokens in their wallets in order to "thank those who did not sell."
Is that a Ponzi scheme? Perhaps. However, Avalanche co-founder Kevin Sekniqi has approved it.
There's also the September 2020 Uniswap airdrop, which will be sent to 251,534 previous users of the exchange, including around 12,000 addresses that only submitted unsuccessful transactions. That airdrop is worth US$8,500 for those who kept their tokens at 400 tokens per address.
ShapeShift has increased its FOX token airdrop to accommodate over 33,000 DAO community token holders who were previously disqualified due to their tokens being engaged in staking or liquidity providing operations. At the current exchange rate, that airdrop is worth US$70.
In another airdrop worth thousands of dollars, Dfinity's Internet Computer gave tokens to thousands of early supporters this year who had only signed to its email list in 2018.
Let's get a look at the top 10
So, how does one go about locating the next high-value airdrop? Almost usually, by the time they're publicized, a wallet snapshot has already occurred, making it too late to join. However, there are several initiatives that may — perhaps — offer free tokens to early backers.
There are no tokens in any of these Ethereum scaling solutions, but there has been some speculation that they may develop them in order to compete with platforms such as Avalanche and Polygon (MATIC), who may give away their tokens to lure people.
For those who are unfamiliar, ParaSwap is a decentralized exchange aggregator that compares rates from several exchanges and routes them accordingly. Mounir Benchemled, the founder of Paraswap, recently told the Epicenter podcast that the platform will launch a token soon, but he didn't disclose how it would be distributed. "We don't know when this will happen," Benchemled stated.
The Sydney-based inventors of this NFT horseracing game informed Stockhead in July that they were considering other token types, but nothing had been determined. If they do decide to introduce one, an airdrop to all horse owners (or those who have raced a horse) may be one method.
The major NFT marketplace, unlike competitors like as SuperRare and Rarible, does not have its own token. The RARE and RARI tokens, of course, have a use case – holders get to vote on how the platforms are selected. However, OpenSea is a public marketplace where anybody may sell. Still, an airdrop is possible.
This is a protocol that allows users to transmit stablecoins across Ethereum scaling solutions like Arbitrum, Polygon, and xDai.
These are websites that allow you to track your DeFi assets across many platforms and projects.
In a community call last month, the team behind the popular Ethereum wallet, which has over five million users, stated that it was "definitely" open to turning the project community-owned through the introduction of a governance token. However, senior software engineer Erik Marks stated that the team will only do so if the use case is "compelling," according to Cryptobriefing.
This is another decentralized exchange aggregator created by the Gnosis Protocol team that employs an economic concept known as "coincidence of wishes (COW)" to address miner extractable value. The Gnosis community has begun debating the possibility of adding a CowSwap token, however, it's not obvious how it would be allocated.
Our Conclusion
Airdrops are a very innocuous marketing ploy designed as community rewards for fledgling initiatives and their early backers. While they may appear to be little fry at first, they might be worth a fortune to crypto newbies or enthusiasts eager to get in early on promising projects without investing any money.
In fact, if you had received these six airdrops, you could have made a whopping $500,000 by now!
So, what are you holding out for? Remember to avoid phishing sites, bookmark reliable sites, use various wallet addresses for your airdrops, and never, ever give cash to receive an airdrop.