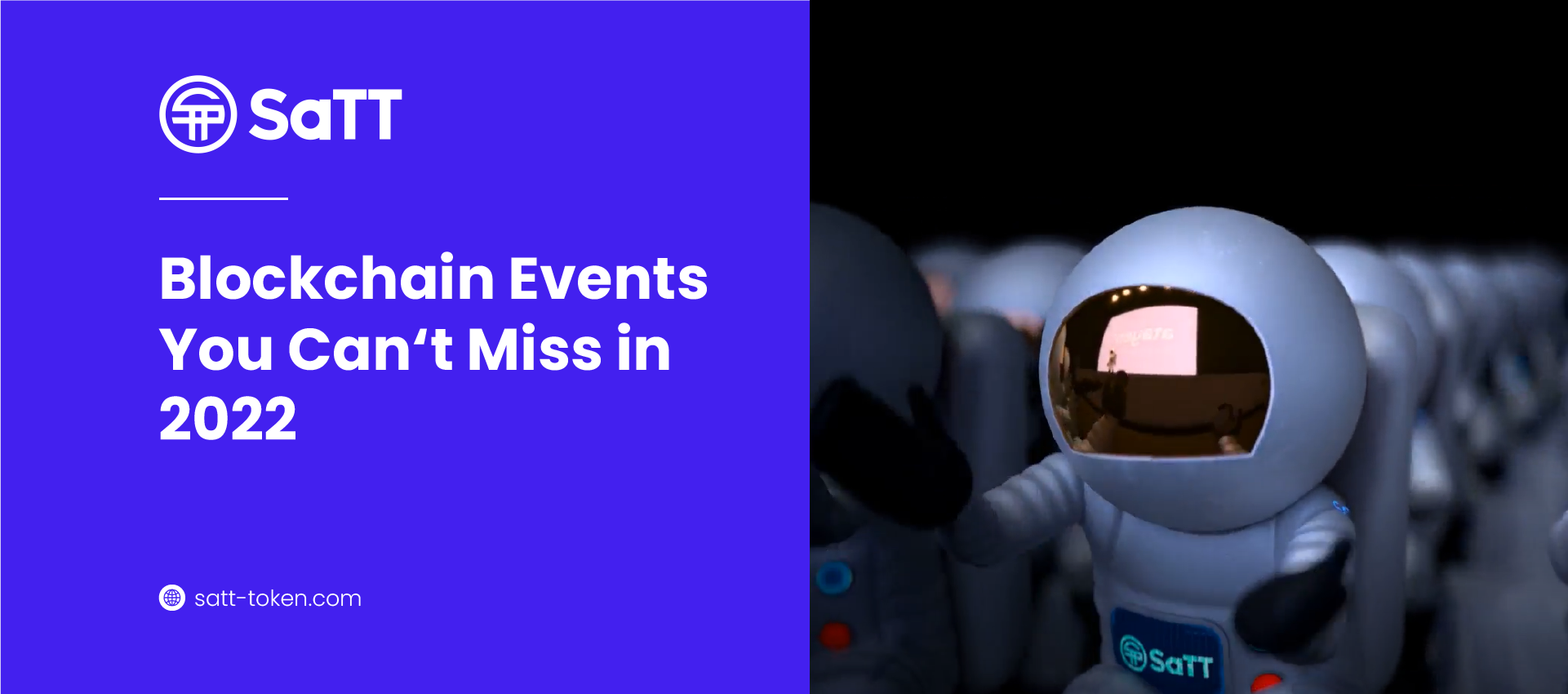 Blockchain Events You Can't Miss In 2022
The Bitcoin 2021 conference, a three-day event that drew a slew of fintech and cryptocurrency aficionados to Miami last year, drew more than 12,000 visitors to Wynwood. Attendance is expected to more than quadruple by 2022, according to the event's planners.
In fact, organizers of Bitcoin 2022, which touts itself as the world's biggest conference of its type, revealed this week that it would be held in the Miami Beach Convention Center from April 6 to 9, 2018. Organizer David Bailey of BTC Inc. said the bigger space was required because of the anticipated 30,000 attendees in Miami for the 2022 conference.
He promised that it will be "bigger and better than before." Bitcoin 2022, according to the organizers, "should be our most fruitful event yet."
But this is not going to be the only Blockchain event in 2022. Thanks to the fact that blockchain popularity is growing all over the world here are all the events we recommend you not to miss.
Time period: February 11-20
During this three-day weekend-long event, they run a continuous innovation marathon for 24 hours a day, with a broad range of activities to keep attendees entertained. Everyone may enjoy a futuristic experience, whether they want to hear from blockchain influencers and professionals or see exhibits of cutting-edge tech art.
By participating in decentralized application (dApp) development projects, providing documentation/tutorials/white papers, designing UI/UX, or creating infographics, the goal of ETHDenver 2020 is to contribute to the global blockchain ecosystem. Mentors, resources, and food will all be provided by the organizers. Visit www.ethdenver.com for the schedule, FAQs, and other useful information before your trip.
On the 22nd of May 2022, Istanbul will host the second-largest Blockchain and cryptocurrency conference in the Middle East and Eurasia, bringing together some of the world's most prominent figures.
For the blockchain and cryptocurrency worlds, it'll be the region's biggest gathering, with over 60 nations expected to attend and a broad selection of talks centred on future financial technology and substantial networking possibilities.
A prominent nation for the global bitcoin community, Turkey continues to be a desirable meeting place for other countries in this area. It's true that Turkey is now number one in the world for bitcoin ownership, according to Statista Global Consumer Survey 2019. In Turkey, 20% of the population now holds a crypto asset.
The Blockchain Economy conference will include Blockchain and Bitcoin, as well as AI, Big Data, Decentralized Technologies, Internet of Things, and Global Citizenship. For the second time in Istanbul, the Blockchain Economy conference will include international citizenship offerings for governments, organizations, and other institutions.
It is anticipated that BE2022 will provide the crypto community with a chance to learn more about nations that provide citizenship with fewer boundaries. By distributing financial resources globally, decentralization has been seen as a technique for promoting democracy by improving individual economic freedom and increasing fairness.
Time period: yet to be defined
In order to connect and create the future of money, Money20/20 Asia will bring together senior representatives from all parts of the ecosystem – from China and India's and India's financial hubs, Hong Kong and Singapore, to Japan, South Korea, and Australia's innovation centres and emerging fintech markets like Indonesia and Malaysia.
Their main focus is on payments, and from this vantage point, they have a distinctive and expansive view. As a result, they bring together a diverse group of people who are creating and innovating new methods for people to use money in different ways.
Everyone who is influencing the future of money is at Money20/20, whether it is the next generation of fintech superstars, established Asian powerhouses, or pioneering start-ups from the payments, FinTech, and financial services ecosystems. There is little doubt that they will all be looking for the person or transaction that will alter the course of their company.
Shred The System by Harrisburg University of Science and Technology
Time period: March 2
Cryptocurrency. Cryptocurrency. Distributed ledger technology.
Three weird phrases frighten traditionalists and excite disruptors alike. Crypto has here, and it's time for you to identify your niche. On March 2, 2022, Harrisburg University will host a free, one-day cryptocurrency conference that will bring together some of the world's most brilliant thinkers and doers. Pioneers in business, regulation, research, and finance will discuss the current role of crypto and blockchain, as well as their prospects in a digital world, in free-wheeling, interactive discussions.
Session themes on two tracks will include blockchain/crypto-centric approaches to corporate strategy, financial innovation, investment strategy, gaming, entrepreneurialism, and cyber security issues. In order to have a better grasp of the influence of crypto, bitcoin, and the blockchain on our lives, you'll have the opportunity to network with professionals and enthusiasts.
Time period: April 13-14
The Paris Blockchain Week Summit, which will bring together 3,000 industry executives from France and across the world in a few weeks after the PACTE legislation, which governs France's crypto-asset market, is passed. During the week-long Paris Blockchain Week, the summit will be the main event to be held.
To make France the first G20 nation to build a business-friendly climate for the fast emerging blockchain and cryptocurrency ecosystem, the Paris Blockchain Week Summit will bring together 1,700+ entrepreneurs, investors, and journalists from across the globe.
French legal framework and ecosystem are being shown at the Blockchain Week Summit in Paris, with the purpose of nurturing professions in France and Europe, and promoting the growth of the blockchain industry Encourage the world's greatest blockchain projects to establish operations in France and Europe by providing financial incentives.
French Digital Asset Association Woorton, Chain Accelerator, Datalents and Havas Blockchain organized the event, which will be launched by Minister of the Economy and Finance Bruno Le Maire, at Station F in Paris on March 31st, 2018.
"It will be a unique chance to showcase Paris as Europe's centre of blockchain and crypto-asset fundraising at the Paris Blockchain Week Summit." These issues are still underestimated in Europe, and we are happy to be among the early movers in the French IT sector, said Kat Borlongan, Director of La French Tech.
Renowned speakers from the world's most prestigious blockchain and crypto-asset firms will take the main stage for two days to discuss the latest technological breakthroughs as well as regulatory and investment issues.
Time period: yet to be defined
To newcomers to the Ethereum ecosystem, Devcon offers a crash course on the basics of the protocol, a worldwide family reunion for those already involved, and a source of inspiration and ideas for everyone.
In order to educate and empower the community to create and utilize decentralized systems, they hold Devcon every year. A conference for all types of builders will be held there, including those in the fields of software development and design, as well as clients who install the software and test engineers who operate infrastructure.
As part of their commitment to providing decentralized protocols and tools to the globe, they want to push the frontiers of what's possible. When it comes to programming, the topics may be as specialized as they are broad.
Time period: April 6-9
Miami Mayor Francis Suarez has dubbed "Miami Tech Month" the start of "Bitcoin 2022."
An enlarged 2022 event will be held on Miami Beach from April 6 to 9, according to BTC Media, the company behind the world's biggest Bitcoin conference. About ten days before Miami Tech Week in 2022, there will be a Bitcoin conference in the city.
Elizabeth Stark, the CEO and co-founder of Lightning Labs and MicroStrategy Chairman and CEO Michael Saylor have all been announced as speakers for Bitcoin 2022's general conference, which will take place on April 7-8. Other speakers include Adam Back, the CEO and co-founder of Blockstream; venture capitalist Alyse Killeen; and Andrew Yang, the former presidential candidate and current mayoral candidate for New York City. Twitter's @TheBitcoinConf will continue to make announcements about other speakers.
There will be a Pitch Day this year, which is something new. On April 6, Bitcoin 2021's "Industry Day" will provide an opportunity for early-stage companies to test their ideas and products in a pitch day style. Apply for Pitch Day here if you want to be considered for a spot on stage. Organizers said entrepreneurs at all stages are allowed to submit, from early-stage ideas to later-stage venture-funded firms.
On June 1, Bitcoin 2021 attracted a record-breaking 12,000 people to Mana Wynwood for debates, networking activities and live performances. The event brought together entrepreneurs, CEOs, Bitcoin specialists and Miami newcomers. El Salvador is trying to make Bitcoin legal money, which was announced during Jack Dorsey's keynote speech. "There were many announcements during the 2021 conference about crypto trading platforms, as well as crypto finance businesses and blockchain-focused funds joining Miami's developing crypto centre. The mayor's effort to make Miami a cryptocurrency capital was given a boost as a result of the conference.
As a result, the conference will feature a music festival on the fourth day in 2022. More than 30,000 people are expected to attend the conference, which will be held in the Miami Beach Convention Center, which has five times the size of the Wynwood conference.
"There was laughter and tears at Bitcoin 2021. We booed, applauded, and laughed some more. The conference had a wide range of emotions, and our trek in 2022 will be no different. This meeting is going to be broadcast throughout the globe. David Bailey, CEO of BTC Media and the event's organizer, stated, "Let's show them what freedom, sovereignty, and prosperity truly mean."
You may purchase General Admission (which includes both the main conference and South Music Fest), Industry Pass, and Whale Pass tickets at this time in three different price ranges. For open-source Bitcoin contributors and students, BTC Media will provide free and subsidized tickets, with more information to come. You may get in touch with the event's organizers if you're interested in partnering, presenting, or volunteering.