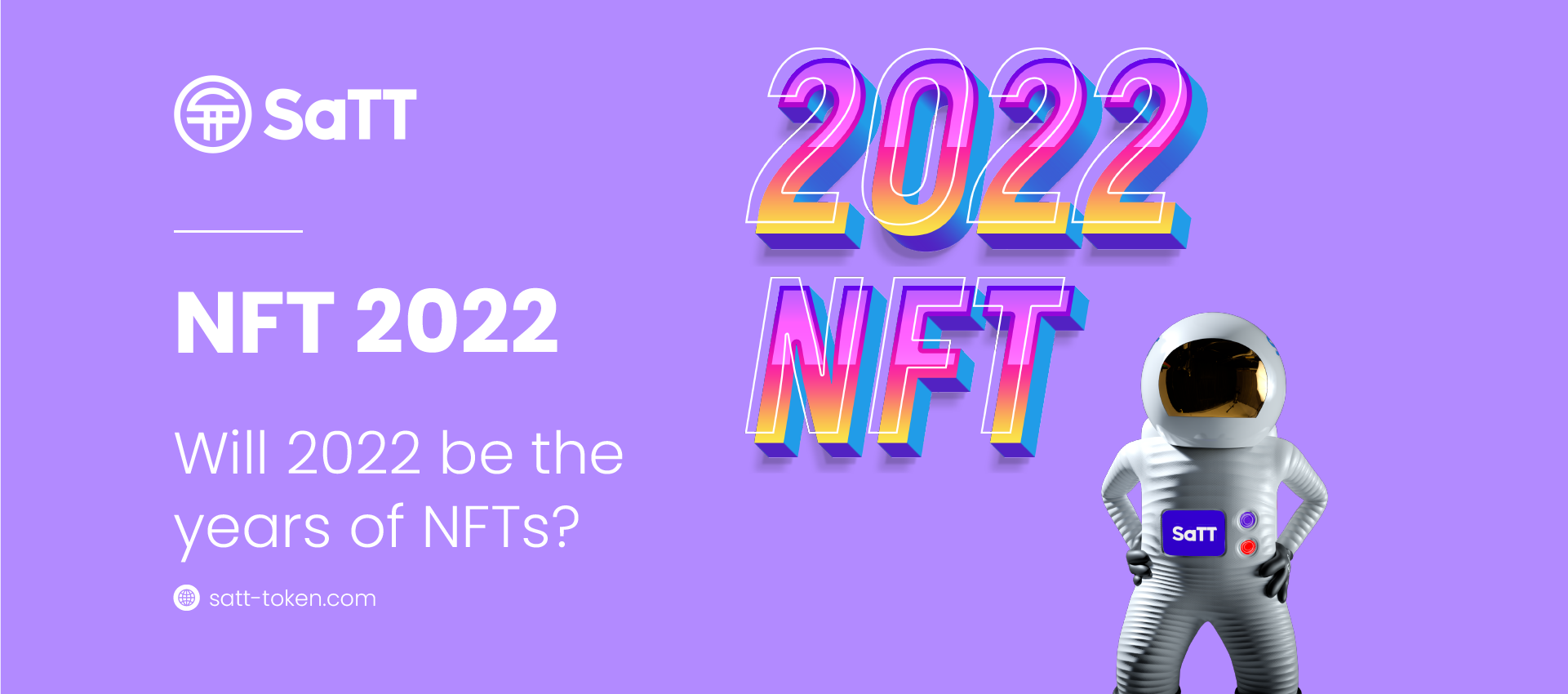 Will 2022 Be The Year Of NFTs?
It's taken a long time for us to be able to develop our own custom digital representations of real-world objects and assets. Although the idea has been there since the beginning of the blockchain era, more than seven years ago, it has only just begun to find wide-scale implementation.
In 2017, CryptoKitties sparked a boom in NFT collectibles. Since then, some of the greatest names in technology have joined on board; Visa just purchased an NFT for $165,000 as part of their ongoing commitment to the platform. There are a variety of virtual properties available as NFTs, from French chateaux to the Great Wall of China. You can buy one with Next Earth,
You'll see them in movies, TV shows, novels, and more a year from now — all shown as an NFT. Due to the fact that they allow people to own something that is part of something greater than themselves, NFTs are becoming increasingly popular.
NFTs and the Online Economy
The digital economy includes NFTs. Game economies, virtual real estate, and even social media platforms like Facebook are all part of the digital economy.
One of the most significant changes to occur in recent years is the growth of the digital economy. The value of digital products exchanged on virtual markets throughout the world is expected to reach $7 trillion by 2027, according to predictions. And, like with other forms of trade, the more consumers participate in these markets, the more valuable they become for producers as well as for consumers.
NFTs are projected to expand much more in this environment by 2022. NFTs, in particular, are expected to become commonplace across a wide range of platforms. Additionally, Virtual Reality content producers will increasingly use NFTs as a monetization method to supplement their current income sources while creating new experiences.
Models for New NFT Businesses
Supply Chain and Peer-to-Peer are two typical NFT business concepts.
When an artist sells a digital piece, the money is split between them and the middleman, according to the classic Supply Chain method (e.g., app developer, platform owner). Because both partners are taking on the risk of selling a digital product that doesn't make enough money to justify their engagement, this approach is risky.
Users can purchase a digital work from someone else via Next Earth's NFT marketplace by using the Peer-to-Peer (P2P) or "flipping" models.
To prepare for this, we'll be introducing new business models like the affiliate/network model in 2022. Direct contact with another party that distributes your digital work for you replaces dealing with a middleman; for example, influencer marketing may be used to spread your digital artworks on multiple social media platforms like YouTube and Instagram.
There will be a significant increase in the number of players in these markets by 2022 as artists will find it simpler to distribute their work online using current technologies. Artists will release more artwork digitally in 2022 than ever before once they understand how easy it is to share their work digitally using existing technology. This will lead to enormous demand for NFTs as people seek new methods to express themselves via art.
What Does The Future Have To Offer?
The NFT industry, which is currently booming, will see a huge increase in volume in the next year as more large investors join on board.
Following Visa's announcement that it purchased a "CryptoPunk," one of the thousands of NFT-based digital avatars, for nearly $150 000 in Ethereum, as well as Marvel Entertainment unveiling its first official "digital statues" of Spider-Man, Nigel Green, chief executive and founder of deVere Group, said this:
"When a digital asset is issued with an NFT, it is guaranteed to be one-of-a-kind, and hence cannot be exchanged for another. For example, it might be used to signify ownership of a tokenised tweet or a work of art."
In the second quarter of 2021, sales of NFTs have already reached $2.5 billion, over 20 times the $13.7 million recorded in the first half of last year, according to Green.
Payments giant Visa understands and values that the future of nearly everything is digital, therefore the demand is going to explode," he said. Major investors like Visa understand and appreciate this.
As other well-known companies follow suit, their cash, experience, and good name will likely attract more investors who are interested in getting into the industry.
A greater number of new markets
Green predicts that the rising number of NFT marketplaces where users may make purchases, as well as the fact that more and more artists, singers, sports, fashion, entertainment, gaming, and retail companies are creating digital assets to interact with customers and followers, will fuel demand.
'This market is just getting started,' says the analyst. This year has seen a spike in interest in NFTs, but the year 2022 will be the year they really take off. Over the next 12 months, we anticipate a huge rise in market volume."
Despite the fact that NFTs are still a novelty, Green believes that as the speed of digitalisation accelerates, digital assets will become more valuable.
Demographics
Another factor driving NFT growth is demographics. Millennials and Gen Z, in particular, have grown up in a digital environment and will want to immerse themselves in the digital representations of luxury goods, sports, music, and art.
"Plus, the huge wealth shift is benefiting millennials, "Green chimes in with his addition. "Over the next few decades, the baby boomers — history's wealthiest generation – will pass down an estimated $68 trillion in fortune to their children and other successors.
In a dynamic market characterized by rapidly shifting trends and tastes, the key to successful investing is being able to identify winners and avoid losers.
-DeVere Group's Nigel Green.
There is another reason why NFTs will be around for a long time: they are reshaping business paradigms in the creative sector. "Artists and musicians may give better virtual experiences for collectors and purchasers, they can verify whether their works are counterfeited, and they can incorporate criteria to earn royalties every time their works are re-sold in the future," he says.
As a result of NFTs, Green believes that the Internet of Information and the Internet of Value are coming together, attracting big investments from multinational corporations, funds, and venture capital companies, among others.
He cautioned investors, saying the market is still young and thus speculative, and that they should proceed with prudence. In a few years' time, some of the NFTs currently for sale will be worthless, while others will be very valuable.
Similar to early Internet Web pages, it's hard to find what you're looking for. In a dynamic market characterized by rapidly shifting trends and tastes, picking winners and avoiding losers is critical to any investment.
From games to collectibles, NFTs will be big in 2022
NFTs are expected to take off in popularity in 2022, according to some experts. Stablecoins ruled the headlines in 2019, with the introduction of Libra dominating stable coin news in 2020 and 2021. ICOs and smart contracts dominated the financial landscape in both 2017 and 2018.
Will Non Fungible Tokens (NFTs) win out this time?
Ruben Merre, the CEO of Ngrave, made this claim on LinkedIn, where he published a lengthy piece proving his claim.
There are two main points to this debate: the usage of NFTs in games and collectibles.
Due to the extended lifecycles of their goods and, most all, their capacity to provide really new monetization models, NFTs have already started making their way into the online gaming market in 2020. Blockchain-based game creators have already started attracting venture money.
NFTs are already widely used in this industry, notably in games that feature collectibles like the venerable CryptoKitties. Aside from collectibles, another attractive market for this technology is gamification. In fact, numerous gamification-related initiatives have already been launched in 2020.
Projects that have been labelled as "virtual worlds" have blossomed in 2020 and have proven that they can expand rapidly. There's still a lot to be done in the world of collectible cards, such as Pokémon and stamp cards, as well as books and posters and everything else linked to valuable collectibles from this perspective!
To be more specific, as Merre points out, NFTs may accurately reflect what is uncommon and distinctive in the world by being inventive while also being infallible. Furthermore, they can be transferred and their ownership is undeniably certifiable.
In reality, the CryptoKitties were the first significant success for NFTs in November 2017, but their full potential looks to be still untapped. Art, document tokenization, and governance tokens in the NFT sector are a few examples of additional sectors where they might have a significant impact. Even though it's impossible to predict where this industry will be in 2021, it's possible that it may grow even farther than it has in the past.
Traditional Collectibles Will Be Dethroned by NFTs
NFTs are seeing unprecedented levels of interest and publicity at the moment. According to a recent poll, a startlingly large percentage of Americans are familiar with the NFT industry. That Millennials are beginning to understand the value of their digital footprint and what they can do with it is a really encouraging indication.
Since the 2008-2009 economic crisis and the current epidemic, our society has evolved fast. From where we work to how we interact, the way we live has shifted drastically. In the same way, people's consumption patterns have changed; they spend more time than ever before on their mobile devices, and technology has connected them like never before.
In the future, NFTs will overtake traditional collectibles because of all these above tendencies coming together. NFTs are expected to have a great year in 2022.