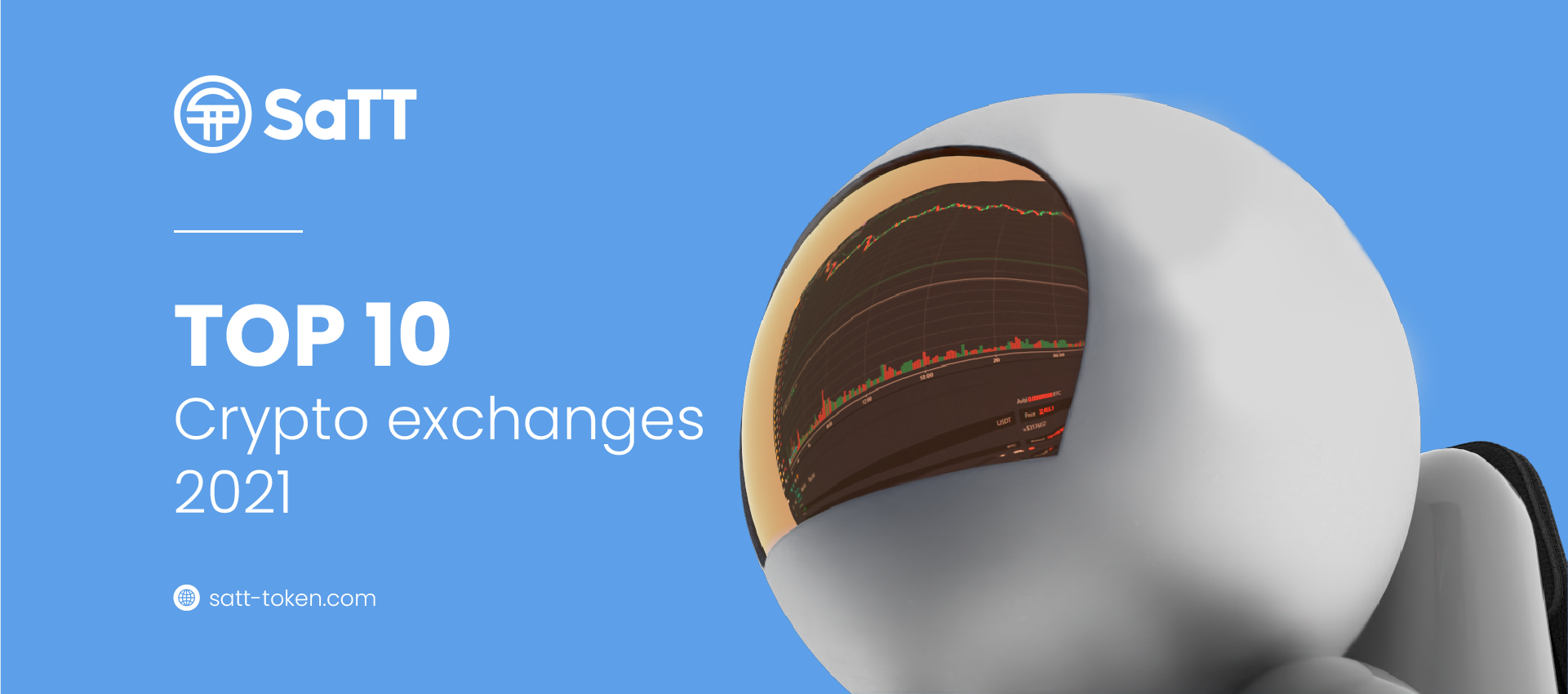 Top 10 Crypto Exchanges 2021
Just a few years ago, cryptocurrency was viewed as some kind of underworld currency meant for the dark world of business. However, things have flipped so fast that digital currencies are increasingly being accepted in the mainstream economic systems. With the increasing popularity and demand, many platforms (crypto exchanges) have emerged to facilitate buying and selling of digital currencies such as Bitcoin (BTC), Ethereum (ETH), Cardano (ADA), Tether (USDT), Dogecoin (DOGE), XRP, etc. In this article, we discuss some of the top 10 crypto exchanges in the market today. But before we dive into the best crypto exchanges of 2021, let's first review a few of the most important points we considered in the review.
Security: Security is one of the most important features to consider for any platform involved in handling financial transactions. Security means you will be reviewing whether the exchange is under any regulatory authority among other factors.
Liquidity: This is another important metric to consider when looking at liquidity in the exchange. Naturally, exchanges with a high volume of transactions have better liquidity, which allows anyone to buy or sell their digital assets quickly.
Ease of registration: The process of registration is another factor that plays a role when choosing a crypto exchange. Some exchanges have a long and tedious registration process requiring you to provide personal details, including filling the KYC form to be allowed to transact. However, others don't require much, except for your email and password.
The number of coins on offer: While some exchanges offer thousands of cryptocurrencies for trade, others select just a few renowned cryptocurrencies. The latter is limiting if you want access to more varieties.
Fees & commissions: There are many categories of fees and commissions that crypto exchanges may be charging users. Fees and commissions differ according to each platform, such as deposit/withdrawal fees, staking fees, etc
Trading features: While some platforms offer plenty of trading features such as margin trading and others, others stick to the basics of buying and selling crypto assets.
Deposit and withdrawal methods: Some exchanges have numerous deposit and withdrawal methods while others don't. This is where you'll have to choose whether the deposit and withdrawal methods offered by an exchange suit you.
Top 10 Crypto Exchanges 2021
We have highlighted some of the most common observable metrics that will define our list of top 10 crypto exchanges of 2021. At this point, we are going to rank these crypto exchanges based on how they perform in some of these observable metrics.
Binance
Binance had to occupy #1 in the list because it fits the majority of the common metrics for a good crypto exchange. The global crypto exchange was funded in 2017 and serves more people around the world than any other exchange. Binance is the biggest crypto exchange platform in terms of market reach, traded volume, user base, and the number of coins on offer.
Over 150+ cryptocurrencies: This makes it the platform with the highest number of listed crypto assets.
More products and order types: You can also stake, get crypto loans, and access other products such as savings.
More trading options: Margin trading, options, and futures trading are all on offer on Binance.
Best for new traders: New traders or beginners can learn how to profitably trade on cryptocurrencies through Binance Academy, making the platform efficient when you're just getting started.
Advanced features: These are features such as margin trading that benefits experienced traders and institutional traders.
Several payment methods: Binance has several payment methods, including supporting credit card deposits.
Low fees: Binance has both makers and takers fees of 0.075% to 0.0525%.
Supports many countries: Binance is available in more than 180 countries, making it the biggest in terms of global market reach.
Cons: Binance is not available to US customers, and its version for the US market has a limited number of cryptocurrencies offered and order types.
Coinbase
Occupying our #2 in the list is Coinbase, one of the largest crypto exchanges in the world today. Founded in 2012, Coinbase has been in the market for many years, hence offers the best in terms of confidence in their stability. The platform offers various advantages, including:
Over 80+ crypto assets: Users of Coinbase have access to over 80+ crypto assets to trade on, making it one of the most diverse exchanges in terms of crypto exchanges.
More opportunities to earn: You can earn crypto through many ways on Coinbase. For example, you can stake crypto to earn regular interest rewards, crypto rewards for an educational course.
Low minimum: The exchange has one of the lowest minimum balance requirements for users.
Accepts more payment options: You can deposit money in your Coinbase account via ACH transfers, wire transfers, debit card transactions, PayPal transfers, and Apple Pay transfers.
Cons: Although Coinbase is quite popular due to many reasons, one of its major demerits is that it's one of the more expensive exchanges for those with lower balances. Additionally, the platform has no futures, margin, or options order.
Kraken
Kraken is one of the oldest and more established crypto exchanges we have today. The exchange was launched in 2011 and is reputed for its focus on top-notch security protocols. The following are the features that make Kraken stand out from the crowd:
Top-notch security: Having been in the market for a decade, Kraken's security has never been breached.
Wide range of digital assets: Kraken has over 60+ crypto assets on its platform.
Staking or loaning out your digital assets: You can stake or loan out your cryptocurrencies to earn profit and interest.
Many trading options: Margin and futures trading for some investors
Ease of use: Kraken is one of the easiest platforms to use, especially for beginners.
Quick registration and verification process: With Kraken, you can get verified in minutes, except for PRO users whose verification process can take several days.
Cons: Although Kraken is one of the most established crypto exchanges in the market, its high fees for beginners are a deterrent for many who want to get started. Kraken is also quite expensive (2%) than Binance (0.5%) for the Instant Buy fee.
FTX
FTX appears to be a legitimate cryptocurrency exchange that specializes in derivatives, index, Futures and leveraged tokens that can be traded with margin. The exchange is backed by top cryptocurrency liquidity provider Alamada Research which manages hundreds of millions of digital assets per day. Some of the cutting edge features of FTX are:
Focused on derivatives products.
Unique features, such as trading on political features and indices which some may find interesting.
No record of hacks so far.
Low fees
FTX allows you to buy cryptocurrency using a credit card using simplex.
FTX guarantees liquidity.
Cons: FTX is relatively new, launched two years ago. Some regional restrictions don't provide alternatives for users from those jurisdictions.
Crypto.com
Crypto.com is one of the most popular exchanges in the market today because it provides a wide range of crypto assets. Currently, the platform offers over 90+ crypto assets and many unique perks for its users, such as crypto rewards debit cards for those interested in optimizing for coin-based rewards.
Some of the features that make Crypto.com stand out are:
High-security level: Crypto.com has one of the highest cyber-security ratings in the industry.
Margin trading available
Easy to convert fiat into crypto: Crypto accepts 20+ fiat currencies, including USD, EUR, and GBP.
Low fees: Compared with other trading platforms, Crypto.com is one of the cheapest in terms of fees charged to its users.
Multiple ways to earn crypto or interests with your assets
Cons: Although one of the most popular crypto exchanges, Crypto.com offers very limited educational resources, and coins on offer depends on your state of residence.
Gemini
Gemini is one of the most popular crypto exchanges for beginners looking to get started with crypto trading. The US-based exchange was established in 2014, making it one of the oldest exchanges. Based in New York, the platform is one of the few crypto exchanges regulated by the New York State Department of Financial Services. Some of the features that stand out in Gemini are as follows:
Easy to use: Gemini is one of the simplest platforms for anyone starting with crypto trading.
Highly security standards: Security is Gemini's main selling point, and has never been hacked
50+ crypto assets supported- It's a platform favorable for those who would want to trade only on well-established and popular cryptocurrencies.
Crypto Savings: The recently launched Gemini Earn is one of the most popular features. Gemini Earn is where users can earn interest on their crypto assets. The earning rate is up to 8.05% on various tokens, except for Bitcoin that is 1.49%.
Cons: Expensive transaction fee: The platform charges 0.99 to 1.49% transaction fees, which is above the market rate. The platform is also accused of poor customer service as customers complain about locked accounts without explanation.
KuCoin
The Singapore-based exchange calls itself 'The People's Exchange.' Originally launched in Hong Kong in 2017, KuCoin provides one of the widest range of crypto assets (250+ cryptocurrencies). The crypto exchange is highly popular with the global market due to the following reasons:
Low trading fees: KuCoin wins in the category against its more established counterparts such as Coinbase. The trading fee is 0.1%, which you can also reduce to 0.08% if you pay your fees using KCS Coin- their own native cryptocurrency. Trading volume also reduces for those with high trading volume.
A wide range of Crypto assets to trade on KuCoin wins hands down when it comes to the variety of cryptocurrencies on offer (250+). This number is continually increasing as they add more every other day. You are more likely to find your preferred crypto on KuCoin than on any other platform.
More trading features: Margin trading, Spot trading, Futures trading, P2P marketplace, etc. are all available on KuCoin.
More ways to earn crypto: You can use crypto lending features to earn more interest or a KuCoin KCS bonus.
Cons: Although KuCoin has lots of benefits for its users, its fiat to crypto conversion is not suitable. For instance, to buy crypto assets with fiat directly will cost you up to a 12% fee depending on payment methods. Also, you cannot withdraw fiat currency from the exchange, hence you may need to transfer your coin to another platform such as Coinbase or Gemini.
Bitstamp
Another earlier entrant into the crypto exchange market is Bitstamp. Founded in 2011, Bitstamp is one of the most established cryptocurrency exchanges. The platform is known for its few cryptocurrencies on offer (30+), which is still sufficient for beginners. Some of the best features of Bitstamp Exchange are:
Simple fee structures: This platform is one of the best for new entrants into the world of crypto trading.
Allows users to purchase crypto with fiat currencies, e.g. via bank account, debit/credit cards.
Great customer support: This is one of the biggest selling points for Bitstamp. It offers 24/7 dedicated phone customer support.
Cons: Low-security procedures. The platform has suffered hacking, which resulted in a loss of Bitcoin worth $5.2 million. Its limited range of available cryptocurrencies also makes it not suitable for advanced traders who would want to explore other new digital assets in the market.
eToro
eToro is considered the leading social and copy trading platform. The platform's innovative copy trading mirrors select traders with successful track records, which is one of its unique attributes.
Some of eToro's positive attributes that make it favorable for many users are:
Copy-trading: With eToro, you can see what other successful traders have done.
User-friendly platform: You can interact with other traders and learn their trading strategies.
Multiple options to deposit funds: You can use Bank wire, credit/debit card, Bank transfers, Neteller, Skrill, Rapid Transfer, iDeal, etc. You can also deposit money in your eToro account via PayPal, outside the United States.
Fee: Non-US customers pay $5 withdrawal fees. After a year of inactivity, you will pay a fee of $10, as well as conversion fees for non-USD deposits.
Highly secure: The platform has a 2-factor verification, cold storage, FDIC-insured USD balances, multi-signature facilities, KYC, and private keys.
No commission on unleveraged purchases
Demo account: The platform offers a demo account worth $100,000 that you can play around with to learn before you invest your real funds.
100+ trading pairs
Cons: eToro is only available in 44 US states, and only offers email support to paid members.
Bittrex
Bittrex closes our list of the top 10 cryptocurrencies of 2021. Bittrex was launched in 2014 and has grown to become one of the most popular crypto exchanges. It's one of the most widely used crypto exchanges in the US. The company is known for its stringent KYC and AMI protocol where it employs a self-regulatory model known as the Blockchain Act. Some of the most important features of Bittrex are:
Many coin options: Offers up to 400 cryptocurrencies
The platform puts a lot of emphasis on the security and privacy of user data
USD deposits and withdrawals for US residents
User-friendly
Provides 880+ trading pairs.
Cons: Although the platform is known for its strict KYC protocol, this process can be a deterrent to new users. It also has limited trading features, for example, it has no margin trading.
Conclusion
The best crypto exchanges are those that offer some of the most important features, including a secure, easy-to-use platform, numerous cryptocurrencies offers, competitive fees, multiple payment methods, multiple earning options, learning/educational materials, etc. However, it may be impossible to get all these features in one exchange. If you have a large crypto portfolio, it's advisable to spread your assets on different platforms based on what you like.