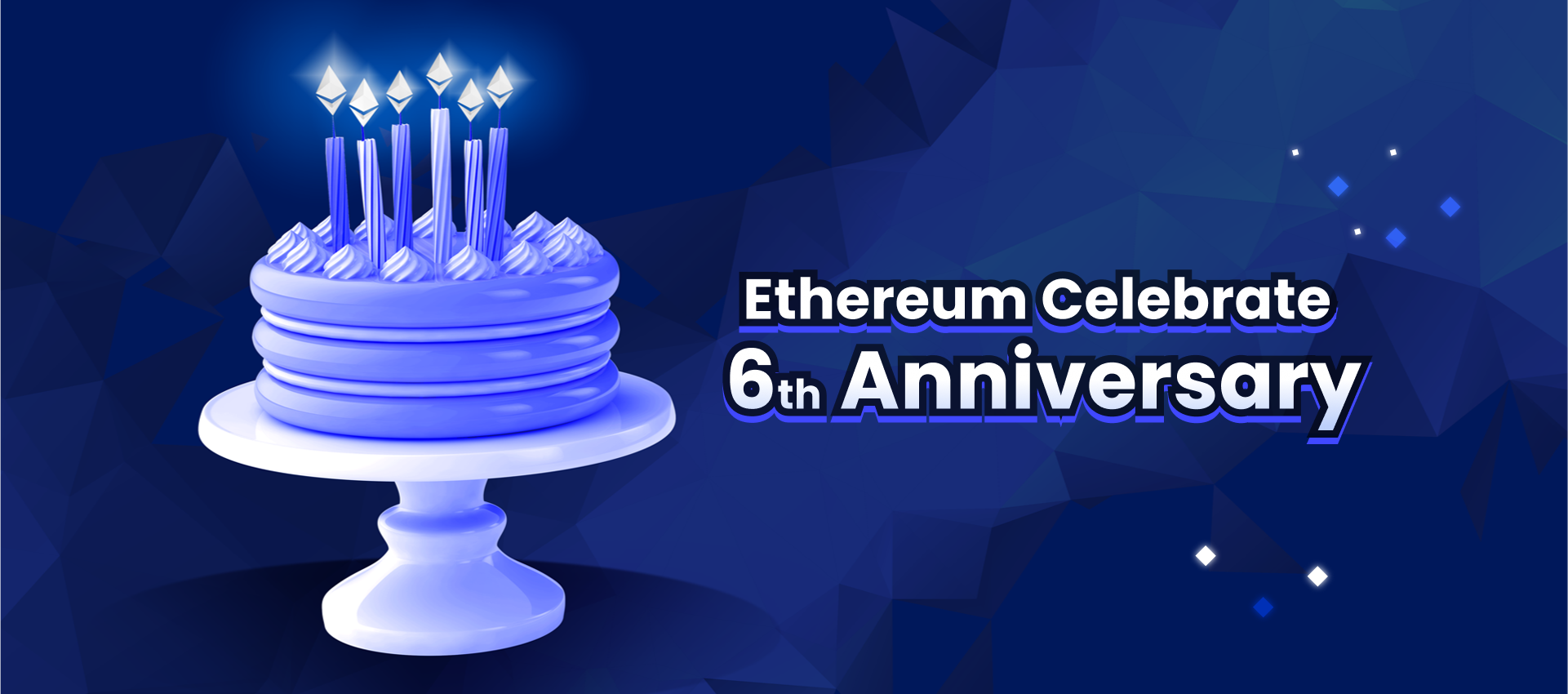 🎂 Ethereum celebrates its sixth anniversary 🎂
🎂
Ethereum Celebrates Its Sixth Anniversary
🎂
Today, July 30, 2021, is Ethereum's sixth anniversary!
Block number 0 of the Ethereum blockchain was mined on July 30, 2015, exactly six years ago. 
At the time, very few other cryptocurrencies existed. Besides Bitcoin, born in 2009, there was Litecoin (born in 2011), Ripple (2012), Dogecoin (2013), Stellar (2014) and a handful of other cryptocurrencies. 
Cryptocurrencies were for the most part only means of payment, that is, currencies used to carry out simple financial transactions.
Today, Ethereum is the second largest cryptocurrency, with a market capitalization of $274 billion. 
Founded by Vitalik Buterin, Ethereum was a huge technological advance in the blockchain universe thanks to the implementation of smart contracts. The Ethereum network has allowed the birth of many other protocols, based on this one, like the SaTT !
Ethereum 1.0: Smart Contract
The idea of ​​smart contract had already existed for a long time, but Ethereum was at the origin of the development of this technology.
 Ethereum's white paper, produced two years before the launch, in 2013, proposes "A Next-Generation Smart Contract and Decentralized Application Platform"
" A smart contract is a mechanism involving digital assets and two or more parties, where some or all of the parties put assets in, and assets are automatically redistributed among those parties according to a formula based on certain data that is not known at the time the contract is initiated. "
Vitalik Buterin
July 30, 2015, Ethereum has established itself in the cryptocurrency world, not as a means of exchange, but as an innovative platform offering smart contracts and the creation of decentralized applications.
Since that date, Ethereum has experienced tremendous success with more than 440,000 Tokens created on the network and is at the initiation of several emerging protocols, such as DeFi or NFTs.
Towards Ethereum 2.0: The Road To Success Goes On
The main difference between Ethereum 1.0 and Ethereum 2.0 is the underlying consensus protocol. Until recently, the Ethereum network only used the PoW consensus protocol. Although this was the most viable option initially, using PoW to issues such as lack of scalability, high power consumption, and high network costs.
👉 Learn more about Ethereum 2.0:  SaTT X Ethereum 2.0 👈