Crypto Highlights: Aave to launch 'Twitter on Ethereum', U.S talks tough on stablecoins, Bitcoin slips below 31k: There is more in this week's Crypto Highlights.
Top Headlines for the Week
Following Grayscale's GBTC unlock, Bitcoin price dives below $31K after lowest weekly close in 8 months.
Following Jack Dorsey's decision to create a new Bitcoin (BTC)-centric financial services network, Aave founder hints at developing 'Twitter on Ethereum'
Digital asset manager Grayscale is launching an institutional-grade DeFi fund and index.
Top Stories Of The Week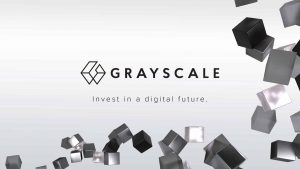 Grayscale Investments, a digital asset manager, is creating a DeFi Fund and index, according to CEO Michael Sonnenshein. He stated on Squawk Box that the business has received interest for DeFi assets from a wide range of present and potential investors. As a result, the company has created both an institutional-grade index and a fund.
According to him, the fund would allow investors to invest in DeFi protocols through a single investment instrument. It will provide them with a comprehensive range of DeFi assets, such as Uniswap (UNI) and Aave (AAVE).
This will become Grayscale's 15th investment entity, according to Sonneshein. The company presently has a number of trusts for bitcoin, ether, and other cryptocurrencies, as well as a digital big-cap fund that invests in a number of popular cryptocurrencies. Following its bitcoin and ether trusts, the business just revealed that this crypto fund has become an SEC-reporting corporation.
Grayscale is also attempting to convert its primary bitcoin trust (GBTC) into a bitcoin ETF, presumably to address the trust's ongoing negative premium. It is currently collaborating with BNY Mellon to attain this goal. On the broadcast, Sonneshein stated that approving a bitcoin ETF is "really a matter of when not if" in his opinion.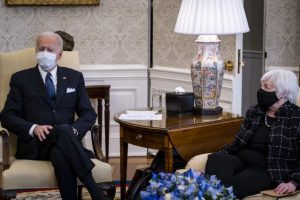 President's Working Group on Financial Markets will meet on July 19 to examine stablecoins, according to the US Treasury Department.
The working group, which includes the chiefs of key financial regulatory agencies, is being convened by Treasury Secretary Janet Yellen to investigate stablecoin regulation and hazards, as well as provide recommendations for future work on the topic. The President's Working Group is an interagency group entrusted with keeping an eye on the financial markets in the United States.
"Given the fast expansion of digital assets, it is critical that the agencies work together to regulate this sector and create any proposals for new authorities," she added.
In the near future, the committee plans to release formal suggestions. In December, the President's Working Group released a study on stablecoin legislation that looked at retail payments and solicited public comment on how these forms of payments are utilized.
The December statement warned that stablecoins might pose dangers, especially in terms of end-user rights, know-your-customer, and anti-money laundering concerns, market integrity, and monetary stability.
The meeting on Monday will also include Federal Reserve Chairman Jerome Powell, Securities and Exchange Commission Chair Gary Gensler, and Commodity Futures Trading Commission Acting Chair Rostin Behnam. While the committee requested previous Acting Comptroller Brian Brooks to comment on its findings in December, it's unclear whether current Acting Comptroller Michael Hsu will be included in any future recommendations.
This Week's Market Sentiment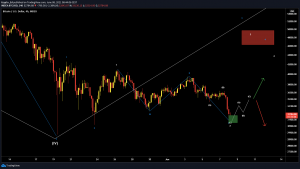 It's doom and gloom for Bitcoin a day after the feared Grayscale unlocking event, with altcoins performing even worse.
BTC/USD struck a local low of $30,630 on Bitstamp on Monday, according to data from Cointelegraph Markets Pro and TradingView. The price movement, which came a day after Bitcoin's lowest weekly finish since December 2020, highlighted the vulnerability of a market with low volume and network fundamentals that are still recovering.
After Bitcoin failed to hold on to support levels further up, traders expected a downward slide, with the integrity of $30,000 itself being called into doubt. "Finally, volatility for Bitcoin," concluded in-house trader and analyst Michal van de Poppe.
BTC/USD was hovering at $30,700 at the time of writing, with a daily loss of roughly 3%. A look at buy and sell orders on major exchange Binance revealed that there is still a lot of demand at $27,000 and above, lowering the chances of a further drop.
It was all about capturing the next price bottom among market players.
Van de Poppe had previously stated that the eventual BTC price floor might not occur as a result of a sharp drop or have well-defined features.
Despite this, there hasn't been a daily close below $31,000 since January.
Mainstream Adoption of the Week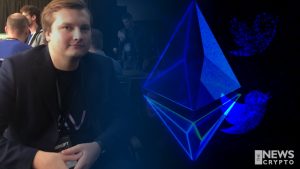 This week's crypto highlights also features Aave Founder's bold statement over the weekend. After Jack Dorsey announced that he was creating a new Bitcoin (BTC)-centric financial services network with a striking resemblance to Aave, Aave creator Stani Kulechov told his 90,000 Twitter followers on Saturday that his protocol should create "Twitter on Ethereum."
Dorsey tweeted Thursday that Square Inc., his mobile payment company, was creating a new business "focused on building an open developer platform with the sole goal of making it easy to create non-custodial, permissionless, and decentralized financial services."
Bitcoin will be the main emphasis, according to the tweet, which had over 34,000 likes at the time of publishing.
Kulechov suggested in his response that Dorsey's business concept is comparable to Aave, an open-source, non-custodial DeFi protocol that allows users to borrow assets while earning interest on deposits. While it's unclear whether Kulechov's Twitter-on-Ethereum idea is real, he did say that Aave co-founder Jordan Lazaro Gustave would be in charge.
Aave has become one of the most widely used DeFi protocols, with demand for its services increasing even among conventional investors. Aave aims to introduce a permissioned version of its platform for institutional investors this month, according to Cointelegraph.
SaTT Update of The Week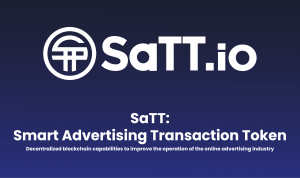 In the past days/weeks, SaTT has been on a winning streak. From listing on HitBTC exchange to Bitcoin.com exchange, now SaTT has formed a strategic partnership that would further strengthen its winning streak in the cryptocurrency market. 
SaTT has reached a strategic partnership with one of the leading digital asset security companies, Onchain Custodian. SaTT is famous for its reputation in blockchain-based advertising product technology. By reaching this partnership, SaTT is all set to provide clients and investors secure, insured, and compliant management of their digital assets.
The recent developments in the SaTT ecosystem and the latest exchange listing is setting the tone for the ingenious blockchain-based advertising network to bring the needed innovation to the global advertising landscape. 
The next big step for SaTT is a Proof of Concept(POC) of their innovative solution through real influencer integration. An event that we will follow closely and which we are sure will cause a stir in the blockchain-infused advertising space!
This Week's Crypto Meme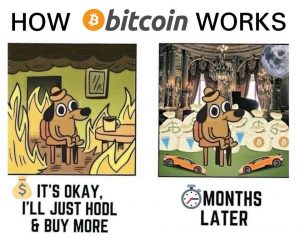 We hope you enjoyed this week's edition of crypto highlights. For a peek at our last edition of crypto highlights & blockchain news, click here.