Crypto Highlights: This week's crypto highlights feature Bitcoin's recovery to $40k range, Globant IT firm buying half a million worth of BTC, How SaTT partnership with Onchain is benefiting users and more.  
Top Stories Of The Week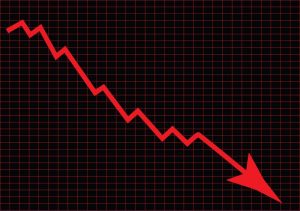 The number one reason being cited behind this sudden development is a crackdown by one of the world's biggest economies, China.
China has barred financial institutions and payment companies from offering any services related to cryptocurrency transactions. Therefore, banks, NBFCs, and online payment channels cannot provide services such as registration, trading, clearing, and settlement for cryptocurrencies. With the scope of prohibited services having been increased to an unprecedented level, it seems virtual currencies are no longer to be supported by any real value.
Bitcoin and Ethereum, however, had been falling since last week, even before this announcement by Chinese regulators. This was after Tesla CEO Elon Musk announced that his electric car-making company would not be accepting Bitcoins as payment anymore, reversing his declaration from a few weeks ago.
The situation might look dramatic, but it "is normal in many volatile markets, including crypto, especially after such a large rally," says Avinash Shekhar CEO to India-based crypto-exchange ZebPay.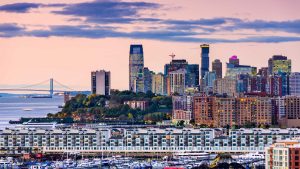 The prosecutor's office in Monmouth County announced that cryptocurrency assets that were confiscated in 2018 was liquidated on Coinbase recently. The estimated worth of the cryptocurrencies was valued at $57,000 at the time of the raid — was liquidated for $198,237 generating a "profit" of over $141,000.
The prosecutor's office did not disclose exactly which cryptocurrencies were seized during the drug bust. However, both Bitcoin (BTC) and Ether (ETH) have recorded whopping gains since 2018, with Bitcoin surging to a new all-time-high near $65,000 in 2021 from a low of $3,200 in December 2018. Ether, the second-largest cryptocurrency by marketcap, broke past $4000 for the first time in history before coming crashing down. In late 2018, the altcoin was trading below $100.
The assets were frozen on a United States-based crypto exchange once officials determined them as profits secured from illegal drug sales. The justice system believes that this could be a good example of how law agencies could operate when dealing with cryptocurrencies.
"This will serve as an effective template for the state law enforcement agencies in the cryptocurrency market — a place where we can expect proceeds from crimes to continue to be concealed," said Christopher Gramiccioni, the Monmouth County Prosecutor.
This Week's Market Sentiment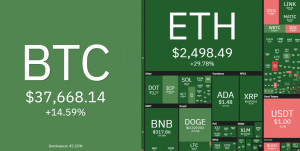 After suffering the biggest monthly price drop in Bitcoin (BTC) history, bulls now look to stage a comeback with a significant amount of support forming near the $37,000 level, and within the last hour, Bitcoin's price pushed up back to the $40,000 level.
It was a huge relief for crypto traders when finally they were greeted to a green market outlook after the massive bloodbath that began in the week before. The majority of altcoins saw their prices bounce back on May 24th, following last week's downturn that was the "largest deleveraging event since the March 2020 sell-off," according to an on-chain report from Glassnode.
Last week saw Bitcoin record over $14 Billion in losses with the highest daily losses recorded on 19th of May which amounted to a new all-time high of $4.53 billion in losses.
The overall cryptocurrency market cap currently stands at $1.68 trillion, where it was around 2.2 trillion just 10 days ago. Not only Bitcoin, altcoins that were hit hard such as Ether and BNB have also recovered slightly.
Mainstream Adoption of the Week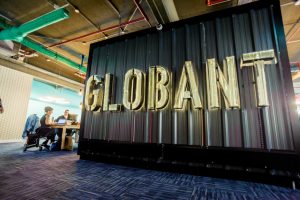 In a recent filing with the U.S. Securities and Exchange Commission revealed that major global IT conglomerate Globant has become the latest institutional investor to support Bitcoin.
Globant is an IT and software development company founded in 2003 that operates predominantly in Latin America but also has offices in the U.K. and U.S. The firm declared its purchase of crypto-assets for the first quarter of the year in a statement to the SEC made on May 25:
"During the first quarter of 2021, the Company purchased an aggregate of [$500,000] in crypto assets, comprised solely of bitcoin."
Despite revealing the presence of Bitcoin on its balance sheet, the firm has not revealed the cost-basis paid for its BTC stash. However, with its purchases coming in the first quarter, any BTC buys made from the second week of February onwards would currently be sitting at a loss.
Globant stated that it declares Bitcoin as an intangible asset because it "lacks physical form and there is no limit to its useful life." It added that any gains made on digital assets will not be recognized until they are sold.
SaTT Update of the Week


With this latest strategic partnership with Onchain Custodian, SaTT is all set to provide clients and investors secure, insured, and compliant management of their digital assets.
"Secure platforms are a priority for investors from all over the world, and especially in Asia." stated an official from SaTT.
Hinting at the value brought by partnering with one of the leading custody service providers of the continent, SaTT looks positioned to rise as a leading player for the global market. Onchain Custodian, is a leading digital asset security company. gained a reputation for itself in blockchain-based advertising product technology.
There are also plans being discussed internally to launch a massive Proof-of-Concept campaign to test out the platform capabilities. More details about this is yet to be released to the public.
This Week's Crypto Meme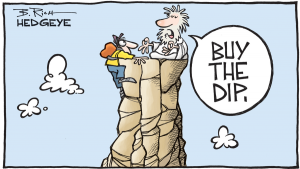 We hope you enjoyed this week's edition of crypto highlights. For a peek at our last edition of crypto highlights & blockchain news, click here.