Crypto Highlights: GameStop to raise $1 Billion via a New Public Offering, ETH achieves a new ATH,  XRP good for a run-up to $2, More ALTs joins the crypto rally led by ETH and XRP. This week's Crypto Highlights has these and much more.  
Top Headlines for the Week
Bitcoin broke through $60,000 and neared its ATH as it reached $61,301 early this year.
XRP price surges above $1 as the total cryptocurrency market cap shoots beyond $2T. 
Ethererum, BNB registers new ATHs while many other altcoins register new relative highs. What's this signaling?  
Top Stories Of The Week
GameStop Corporation is an American video gaming retailer. The company declared that it has filed a prospectus supplement with the United States Securities and Exchange Commission and plans on offering and selling up to 3.5 million GME shares through an at-the-market (ATM) equity offering program.
Following the announcement, GameStop's shares fell by more than 14% to $164, as per data from MarketWatch. Its stock value had surged above $370 in late January 2021. GME was trading at less than $20 at the start of the year.
Thanks to the Rally from the Reddit Community 'WSB', GameStop shares skyrocketed to $370 from a single share value of $4, by January 2021. The incident with 'WSB, short for WallStreetBets (WSB) is a great example of how social sentiments can impact even the world's biggest financial markets. With more than 5 million followers on Reddit, WSB certainly managed to disrupt the traditional markets as well as crypto and precious metals markets. Traders within WSB realized that GameStop – then a brick-and-mortar retailer of video games was facing acute hedge funds shorting, and decided to rally behind the firm. 
The new ATM offering is capped at 3.5M shares and is expected to generate a massive $1Billion in sales.  GameStop expects to use these proceeds to expedite its transition to the digital & e-commerce space allowing it to be more attractive & accessible to a wider audience. GME stock sale will be offered via an intermediary in the form of  Jefferies Group, an American multinational independent investment bank who will act as the sales agent.  
"Sales may be made at market prices prevailing at the time of a sale or prices related to prevailing market prices," the firm noted while stating that all sales of common stock will comply with Rule 415(a)(4) of the Securities Act.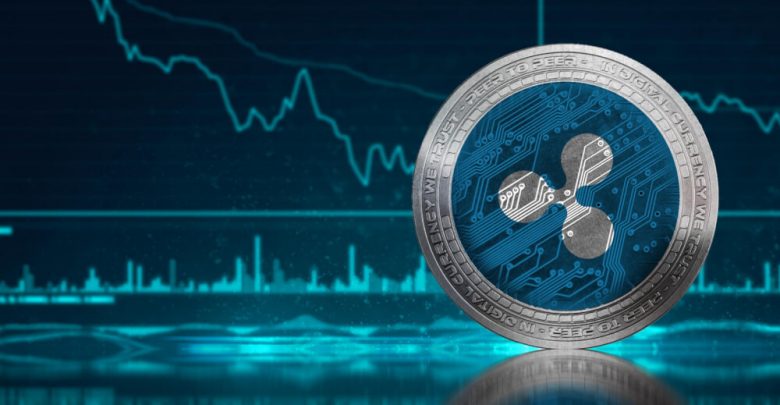 For the first time in 37 months, XRP has surpassed the $1 value, placing it at around $47 billion in terms of market valuation. The fourth-largest cryptocurrency in the global market, despite allegations of being sold illegally as security, has broken out against the Bitcoin (BTC) pair. 
XRP recorded its all-time-high back in Jan, 2018,  more than 3 years ago. According to traders, the current bullish trend for XRP has all the signs to break it. The current rally for XRP is purely technical, and not driven by any other superficial factors. 
According to Cantering Clark, a leading cryptocurrency derivatives trader,  XRP had all the right technical components for a rally when price was hovering around $0.75 region.  
"Not for nothing, XRP technically has all necessary taken all necessary strides to be bullish. After the exchange de-listings and write-off by most of CT, this essentially left the market short from both a positional and side-lined standpoint. This can move much higher."
There is also a secondary catalyst behind XRP's rally which seems to be its expanding social volume. According to data analysts at Santiment , XRP has been buzzing all over social media competing for neck to neck with some of the  other top cryptocurrencies in social volume.
Given the present technical structure of XRP remains constant and the social volume keeps increasing, XRP's momentum could reach the major resistance area soon, at around $1.20 with a macro sell-wall at $2. At the time of writing, XRP achieved a new 3-year high above $1.4 yesterday and is currently trading at $1.364 at press time.
This Week's Market Sentiment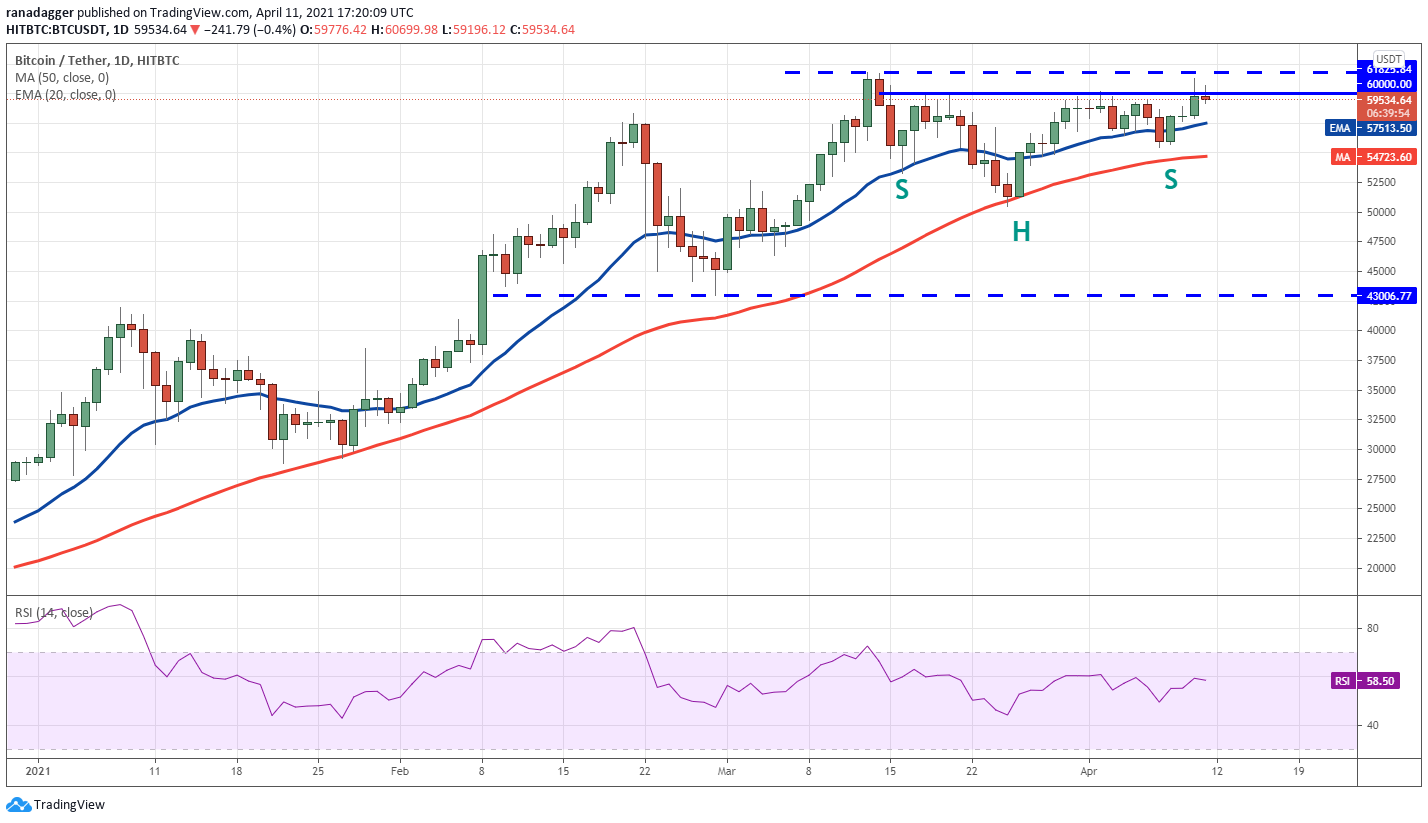 BTC/USDT
It's not just Bitcoin shooting for the moon on Monday — altcoins are setting records, indicative of a broader leg up for cryptocurrency interest.
The market has been responding positively since the Easter Weekend. In the last 4 days, Ether(ETH) achieved a new ATH at $2190 and BTC managed to hit the $61k mark once again. Bitcoin soared above the $60,000 overhead resistance on April 10 and reached $61,301.21, just short of its all-time high at $61,825.84. 
However, it does seem that the bulls continue to find resistance in sustaining the BTC price above $60,000, indicating a strong pull from the bears.
XRP has gained massively from last week to this week, from trading at above $0.85 to currently above $1.35 mark. Ripple's XRP achieved a new high at $1.4 in the last 48 hours. It managed to surge past the resistance at $1.2 last week and is cruising along fast. The macro-sell margin for XRP is set at $2, there's still a long way to get there. XRP prices might skyrocket with rumors of Coinbase re-listing XRP on their exchanges which would mean massive support for Ripple's cryptocurrency.
BNB on the other hand has performed impressively as it surged past $600, yet another psychological mark for the Binance coin. BNB which was trading around $370 last week same time, managed to break past $400-$600 faster than one could imagine recording massive daily gains.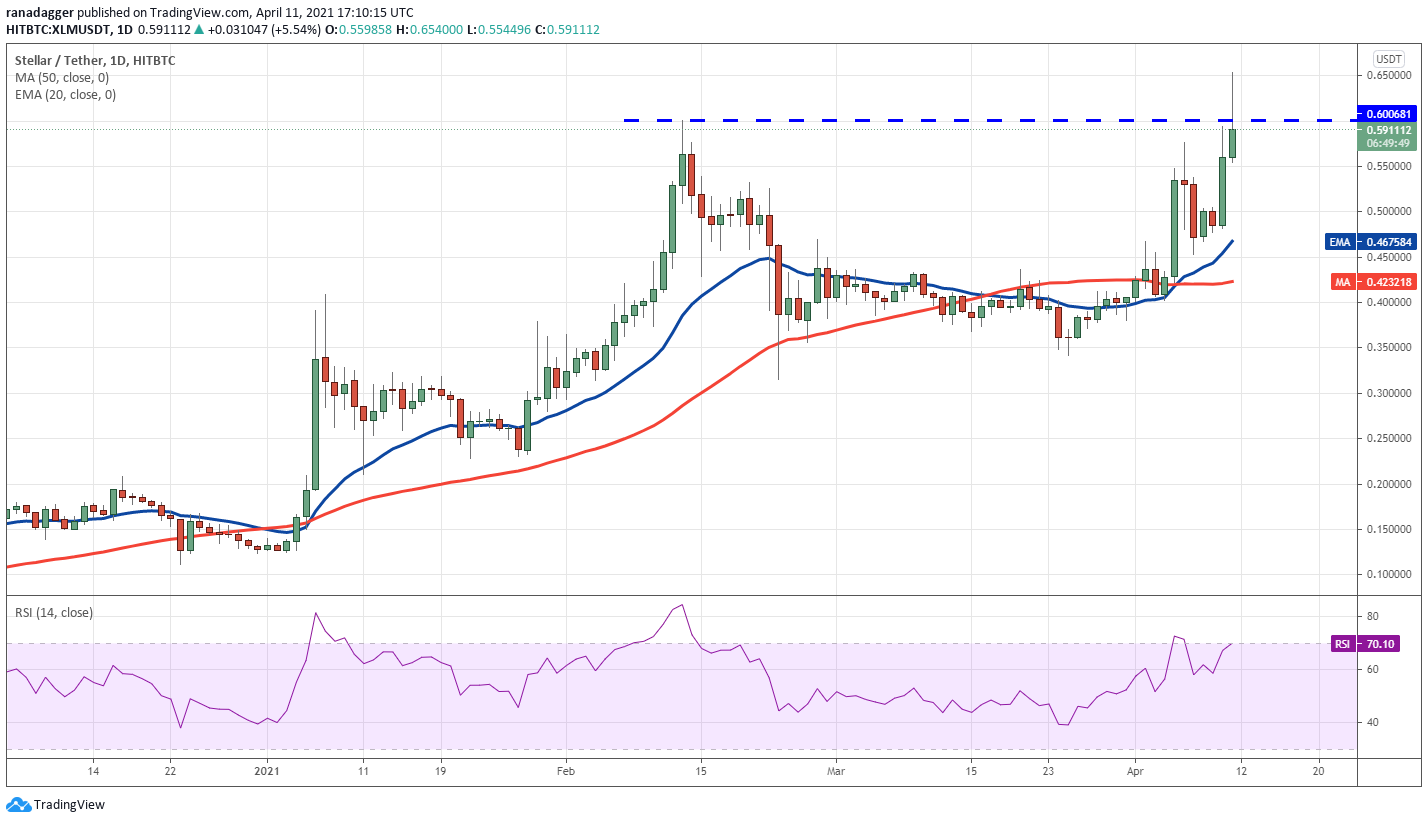 XLM/USDT
Other coins to keep an eye out for this week are the 3X's – XMR, XLM, XTZ. The 3 major cryptocurrencies have gained significant gains within the last few days compared to the rest of the alt-coins. Chances are they will continue to outperform the other altcoins in the days to come as well. 
Mainstream Adoption of the Week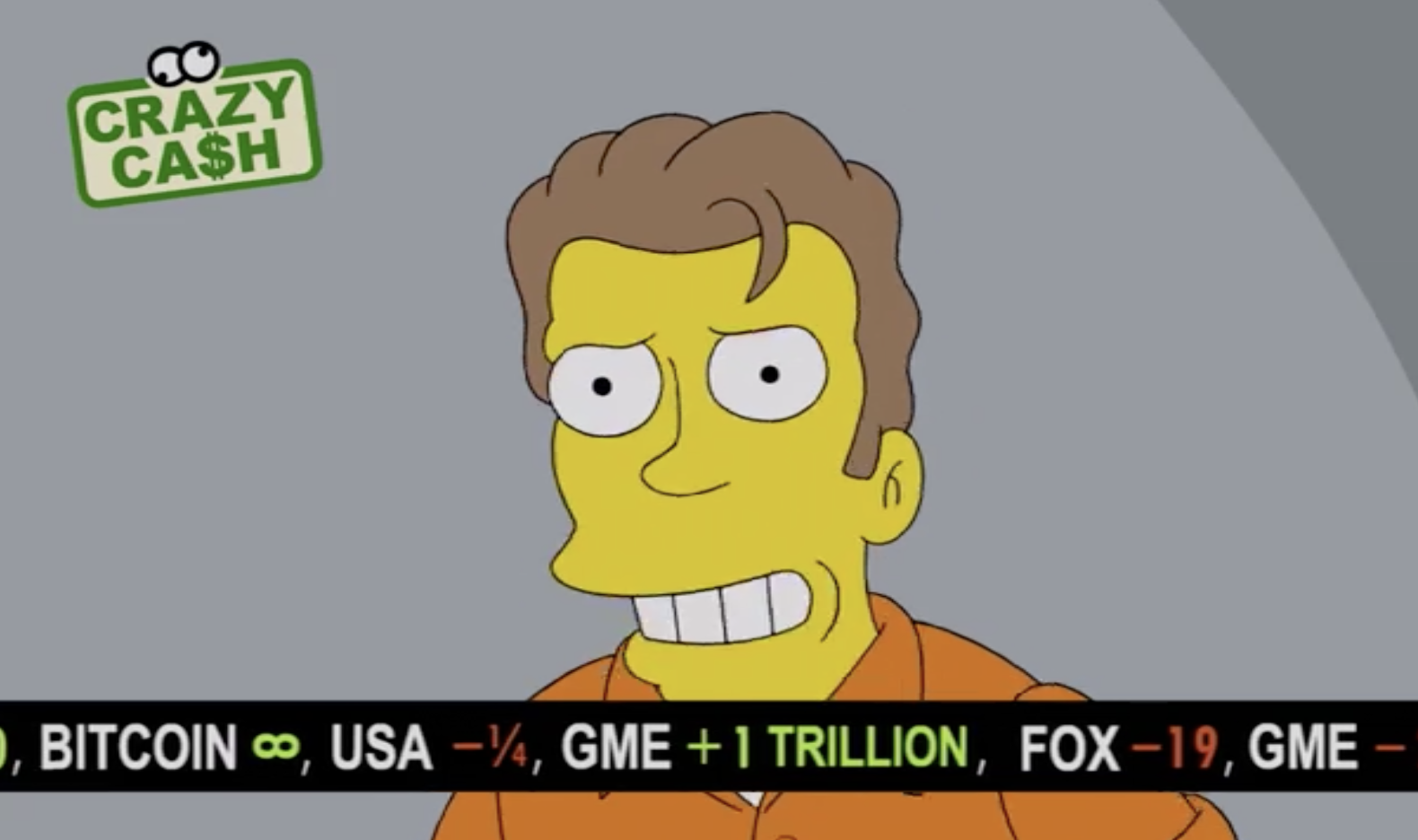 Entertainment is one of the most effective channels for product/brand marketing. Such is the case when Bitcoin was featured in the last Sunday's episode of The Simpsons, one of the most popular animated sitcoms in TV history. This has created a huge bullish picture for the price of Bitcoin in the days ahead. 
With many americans trusting bitcoin as a medium of investment for their stimulus checks, the inclusion of the most-desired cryptocurrency in one of the most famous sitcoms of all-time gives a nudge to all those currently engaged in crypto as well as for those who currently missed-out. 
Re-iterating the scene from the Simpsons episode, when Marge is checking on her gains during an episode of "Crazy Cash", the price/ticker feed can be seen next to a green infinity symbol against the price of BTC. Simpsons being a TV series with millions of viewers as well as belonging to a wide range of age groups, the impact of 'Bitcoin on the show' cannot be underrated. 
This isn't the first reference of Bitcoin on Simpson as actor Jim Parsons of The Big Bang Theory appeared in an episode last year to explain cryptocurrencies and how a distributed ledgers work. In that he refers to cryptocurrencies as the "cash of future". The most recent or similar prediction to Simpson's reference to infinity comes directly from the Kraken CEO Jesse Powell who predicted that eventually BTC price is "going to infinity". 
SaTT Update of The Week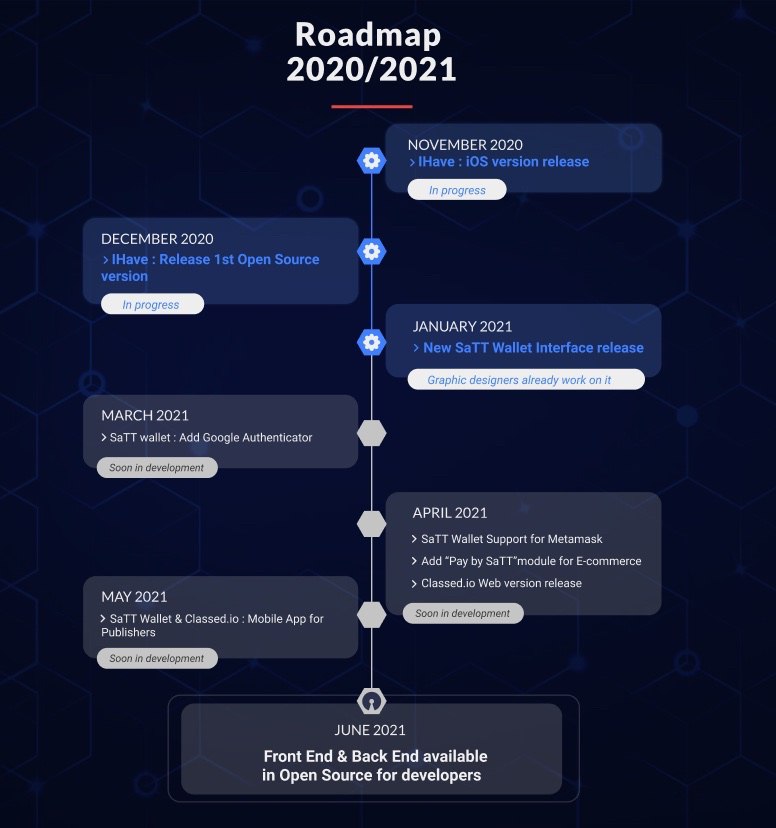 Last few weeks saw SaTT providing its users with a comprehensive tutorial to easily get on to the HitBC exchange. These tutorials describe among others topics such as including how to register on the platform, How to exchange your BTC for SaTT among other valuable information. 
It wasn't long ago when SaTT reached yet another major milestone in its listing journey as it went onto get listed on HitBTC. Adding another feather to its colourful cap, SaTT is getting listed on one of the most popular and advanced cryptocurrency exchange platforms in the world – HitBTC with BTC & USDT pairs. The SaTT BEP20 (BSC) is also available and exchangeable on Pancake Swap, following the integration of SaTT BEP20 token in there. 
SaTT getting listed on a major platform like HitBTC is big news indeed. The HitBTC platform hosts more than 1600 trading pairs presently and is set to grow further with time. Besides dealing with an exchange, custodial and other related services, HitBTC has outscored most other crypto-exchanges in terms of transparency and consistency. 
Next big step for SaTT according to their roadmap, the proof of concept of the solution on the BSC. An event that we will follow closely and which we are sure will cause a stir in the advertising industry!
Among other things SaTT users can now look forward to the Metamask wallet connect, Two-Factor Auth via Google Authenticator, and E-commerce integrations as major upcoming milestones. 
This Week's Crypto Meme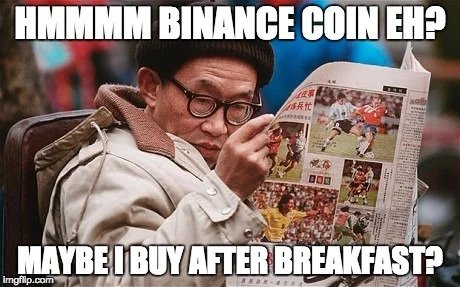 We hope you enjoyed this week's edition of crypto highlights. For a peek at our last edition of crypto highlights & blockchain news, click here.