In order to provide you with a simpler and more intuitive experience, we have set up a series of tutorials for the different exchange platforms on which SaTT is listed.
You will also find a glossary which will allow you to better understand certain technical terms.
In this tutorial, whenever something needs your full attention, you will see this sign ⚠️
Disclaimer :
We cannot be held responsible for any errors on your part. 
Before buying, betting, or trading, make sure you understand what you are doing and carefully consider your investment goals, level of experience, and risk appetites. The DEX's, including Binance DEX, are all in beta mode and trading on these platforms is very risky.  Do not trade with funds you cannot afford to lose!
Glossary:
Here is a glossary of technical terms used in this tutorial to help you understand better.
URL (Uniform Resource Locator):
Address of a site or a hypertext page on the Internet (e.g. https://satt.atayen.us/)
By extension, the URL bar is the search bar of your internet browser.
SEED PHRASE 
The seed sentence is strictly confidential. You must store it in a safe and secure place, and not send it to anyone. This is the access key to your wallet.
PRIVATE KEY
The private key is also strictly confidential. Linked to your wallet password, it allows you to access your account on the Binance wallet or import your wallet to a compatible external portfolio manager.
Limit Order / Market / Stop-Limit
Please carry out your own research of the various sale orders offered on the platform.
Prerequisite:
This tutorial requires the use of a MetaMask wallet.
A tutorial for the creation and configuration of this wallet is available here.
Memo:
(BSaTT> SaTT)
BNB gateway address:
bnb15hv3a52t2jfr0mwuz57nl6p6gt9hpa0gwhkanq
2 BSaTT = 20,000 Satt
(SATT> BSaTT)
Address gateway ETH:
0xA186415565BF4d0E0A4B61DaE4ec44DF37EF790c
20,000 SATT = 2 BSaTT
Summary
Binance Portfolio Creation
Transfer or purchase BNB
Exchange BSaTT with BNB
Convert your BSaTT to SATT
Convert your SaTT to BSaTT
Step 1: Creating the Binance Wallet
Go to https://www.binance.org/en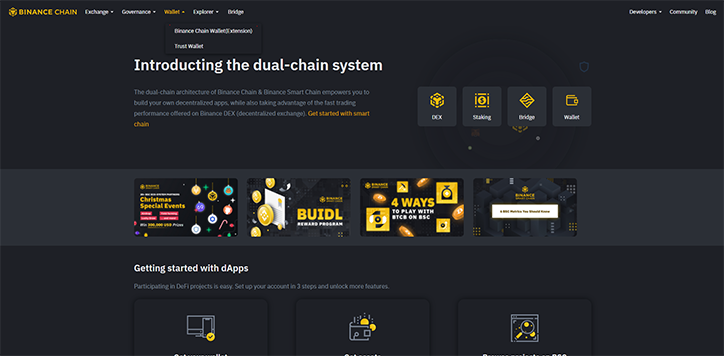 Hover over the tab [Wallet] then click on [Binance Chain Wallet (Extension)].
Check that you are redirected to:
https://chrome.google.com/webstore/detail/binance-chain-wallet/fhbohimaelbohpjbbldcngcnapndodjp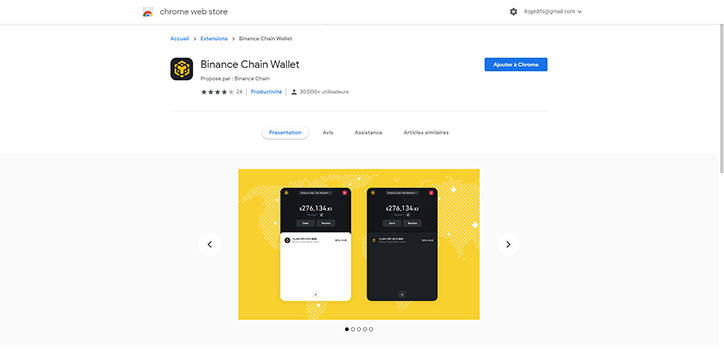 Install the extension and then open it.
Click on [I do not own a wallet], choose a password.
As a reminder: The longer your password, the more different types of characters it contains, the more difficult your wallet will be to hack.
Construction of a highly secure password:
8 to 18 characters.
Include numbers.
Include lowercase and uppercase.
Include special characters.
Do not include an identifier
Here are some examples :
u.9aQ9Bq5> v4.H! W
i% 2 + N_hH5mD67} Ex
g / s8) 4W3D9mX. ~ Qa
8@PU.7h [Hvcb & E65
-Fa8Y / 6A4P9? wj * z
If you do not have any ideas, please search "Password generator" on Google for suggestions!
⚠️ Here you will find your SEED PHRASE and your PRIVATE KEY. 
These two elements were presented in the lexicon at the beginning of the article. If you are unfamiliar with these terms, be sure to read their definitions carefully. These are the access keys to your wallet.
Write down and save your SEED PHRASE in a secure place.
Register your PRIVATE KEY in a secure space then keep it. You will need it  to connect your wallet to Binance DEX.
Click on [Continue]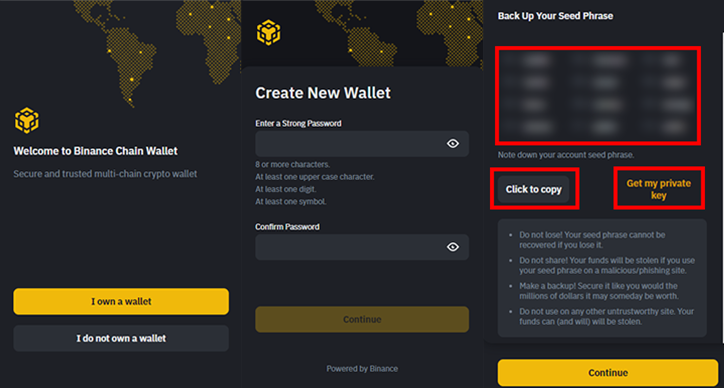 Click on the drop-down menu at the top of your wallet [Binance Smart Chain Network], then choose [Binance Chain Network].
We will now register the BSaTT.
Click on the [+] at the bottom of the portfolio.
In the search bar type "BSATT-9F8M", you will find it in the list. Check the box on the right.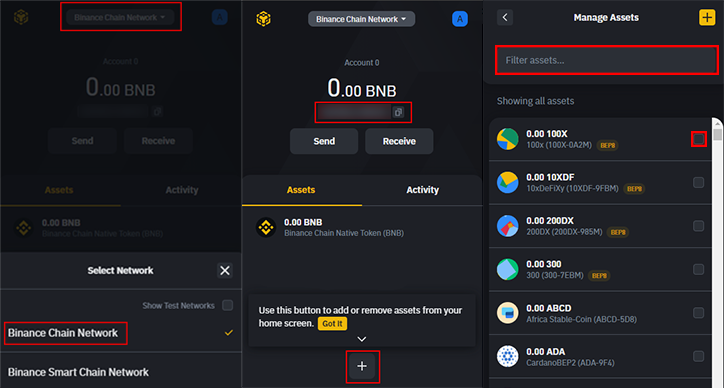 The balance of your BSaTT is now displayed in your wallet.
Copy your address by clicking on the button [Copy], for use later on.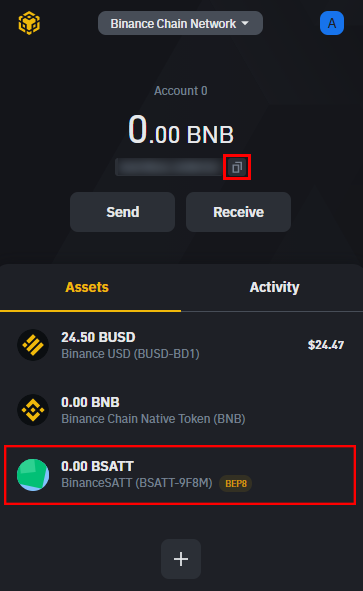 Congratulations, your Binance DEX wallet is successfully created and configured!
Step 2: Transfer or buy BNB
If you want to buy BSaTT, you will need BNB.
Transfer your BNBs
If you have a Binance.com account you can link your account in order to transfer your BNBs directly to your Binance DEX wallet.
Buy BNB
Go to https://www.binance.org/en again.
Click on [Exchange], then on [MiniTokens (BEP-8)] in the top menu bar.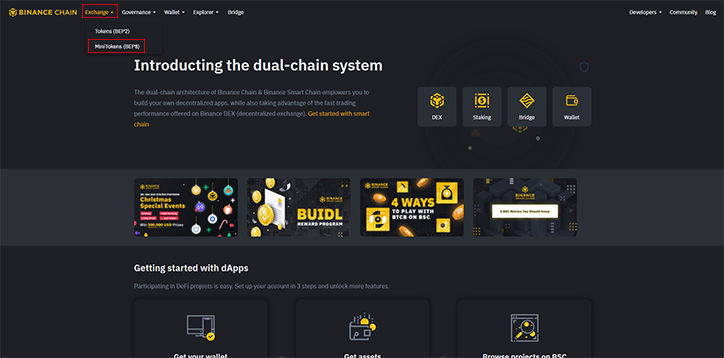 Read,  then click [I Understood] to accept the terms.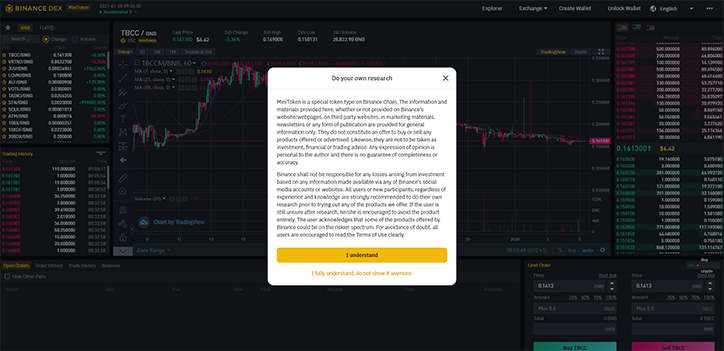 You will arrive at the interface of Binance DEX.
At the top right bar menu click on [UNLOCK WALLET]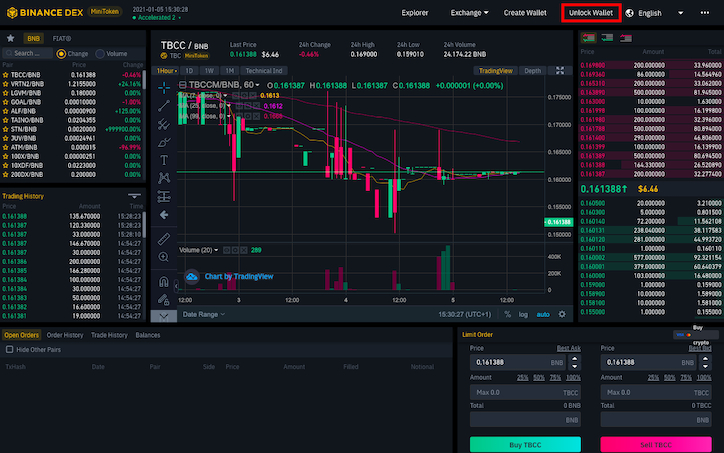 Click on [KEYSTORE FILE], import the "Private Key" file that you previously stored earlier.
Enter the password made when creating the wallet.
Click on [Unlock Wallet Now].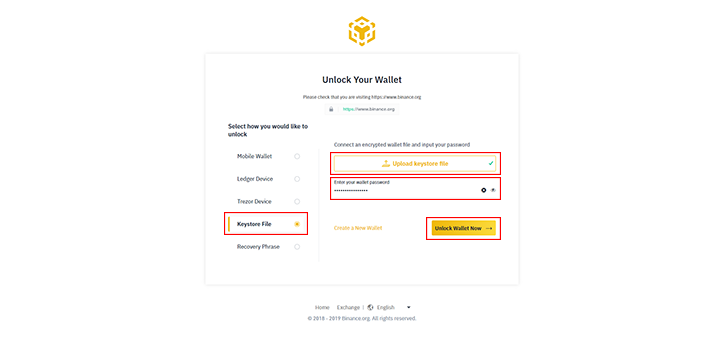 In the frame "Limit Order" at the lower right corner, click on the button [Buy Crypto] with the VISA and MASTERCARD logos.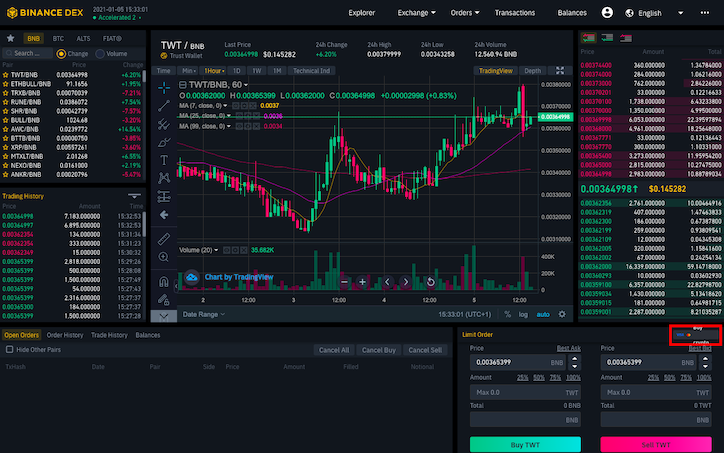 You are now at the MoonPay interface.
Select "BNB" from the drop-down list.
Choose the amount you want.
Click on [BUY NOW].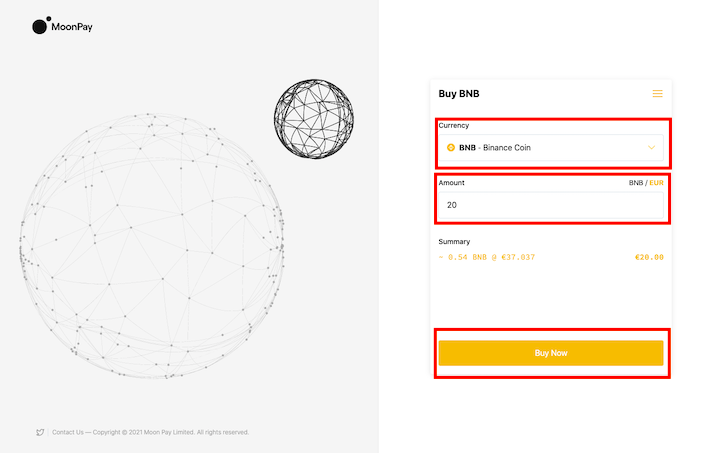 In some cases, MoonPay automatically recognizes your wallet, if so, skip all the steps until the purchase validation step.
If you haven't already, open your Binance wallet, then click the small button [Copy]. (see screenshot below).
Paste it in the field "Wallet Address".
There is no need for Memo.
Validate.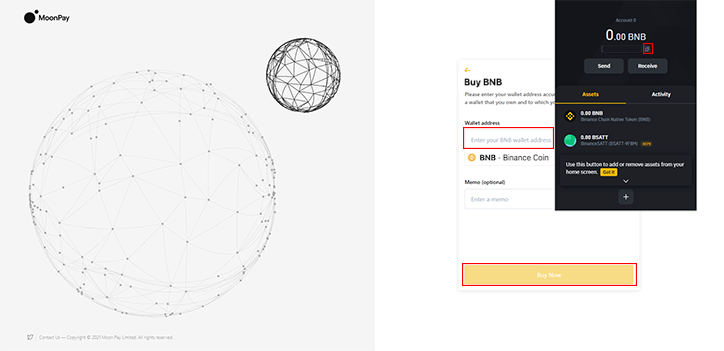 In the following windows, enter your personal information, check the box and advance to the following window: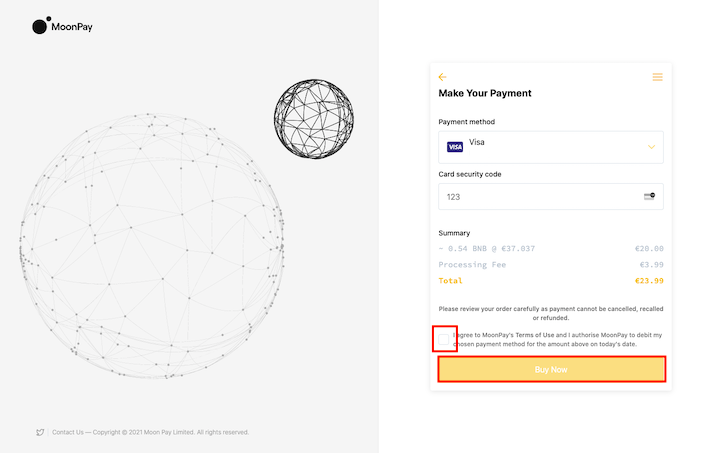 Validate your purchase.
Your balance will appear in a few minutes.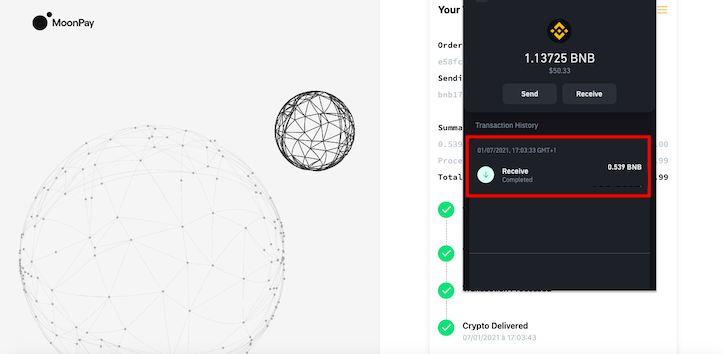 Step 3: Exchange BSaTT with BNB
Return to the Binance DEX interface.
From the side menu, select [BNB] again, then find and select the pair BNB / BSATT.
You will arrive at this link: https://www.binance.org/en/trade/mini/BSATT-9F8M_BNB
Place your order.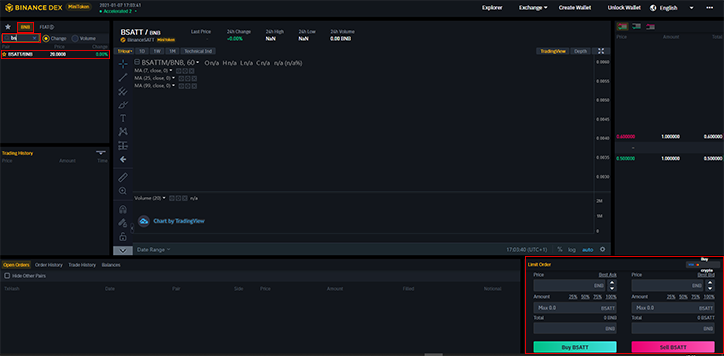 Step 4: Convert your BSaTT to SaTT
In order to transfer your BSaTT to the Ethereum blockchain, you must use a "bridge".
This bridge is a set of wallets between two blockchains, allowing you to block your BSaTT on an address to "free" SaTTs.
Open your Binance wallet.
You will need a minimum amount of BNB on your wallet to pay the transaction fees (much cheaper than the fees on the Ethereum blockchain).
Click on [BSATT] and then on [SEND].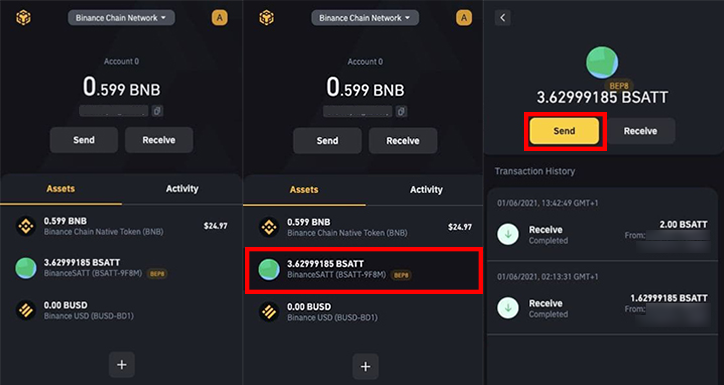 ⚠️ Follow these steps:
In the "Address" field, insert the address of the gateway BNB:
Bnb15hv3a52t2jfr0mwuz57nl6p6gt9hpa0gwhkanq
In the"Memo" field, enter your address wallet Ethereum (ERC-20) that you got on MetaMask (the checksum format with lower and upper case).
In the"Amount" enter the number of BSaTT
(Reminder: 2 BSaTT = 20000 SATT).
Click on [SEND]
Click on [SEND] again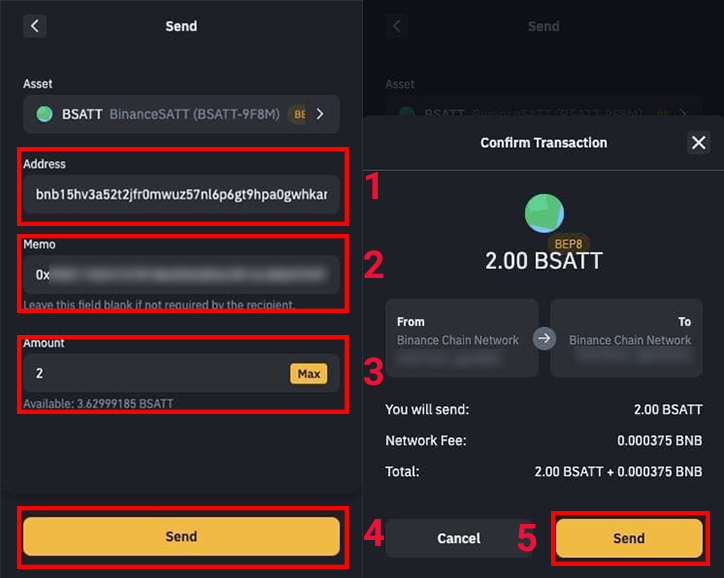 You will receive the SaTTs in your wallet within a few minutes.
Step 5: Convert your SaTT to BSaTT
In order to use your SaTT on Binance Dex, you must use a "bridge".
This bridge is a set of wallets between two blockchains, allowing you to block your SaTT in a blockchain, then issue BSaTT to the Binance Chain.
Go to https://etherscan.io/
In the search bar type "SATT" then click on the third token "Smart Advertising Transaction…".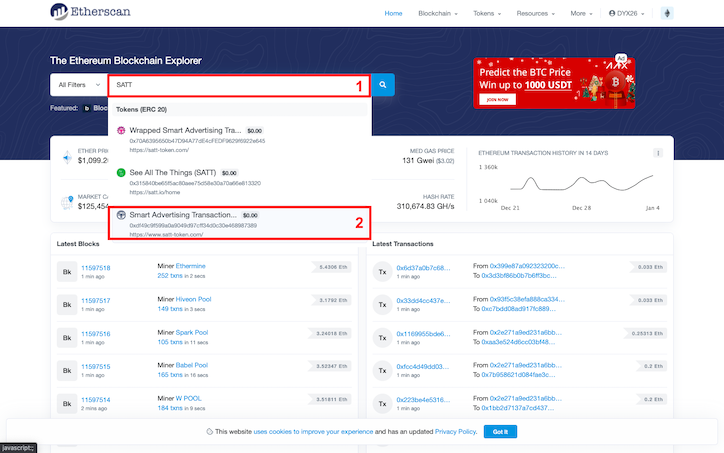 Click on [Write Contract] in the horizontal menu.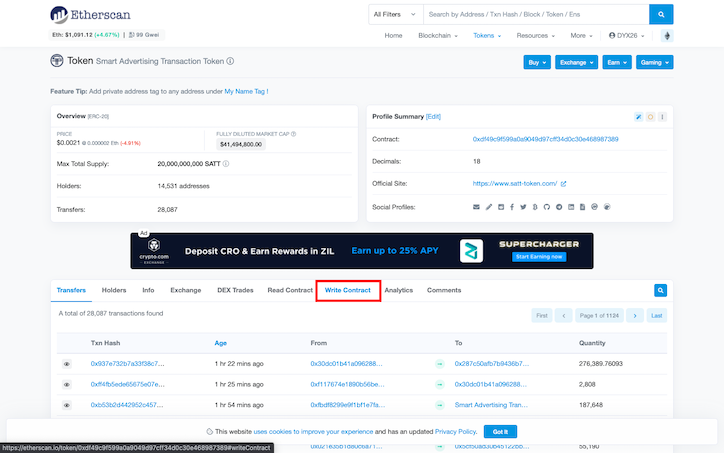 Open and unlock Metamask.
On Etherscan click on [Connect to Web3]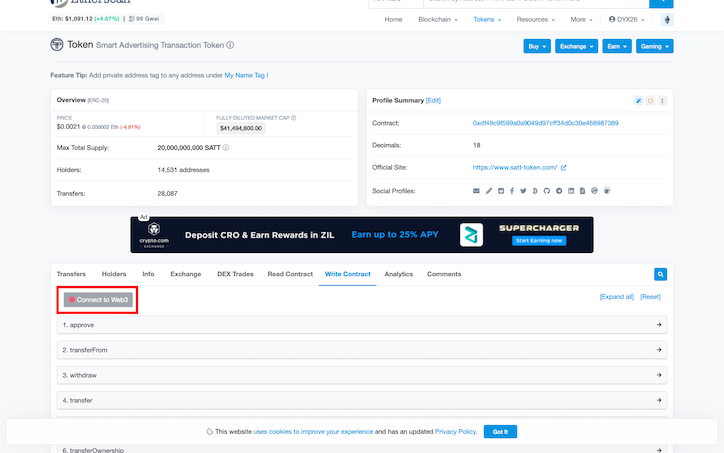 In the MetaMask window select the correct wallet, click on [Next]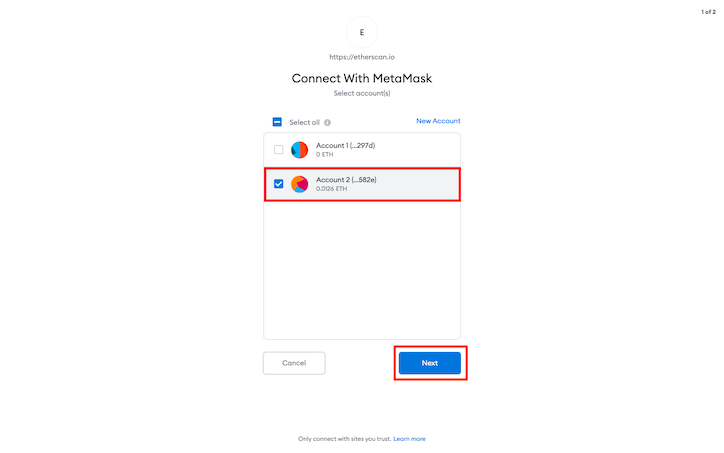 Click on [Connect].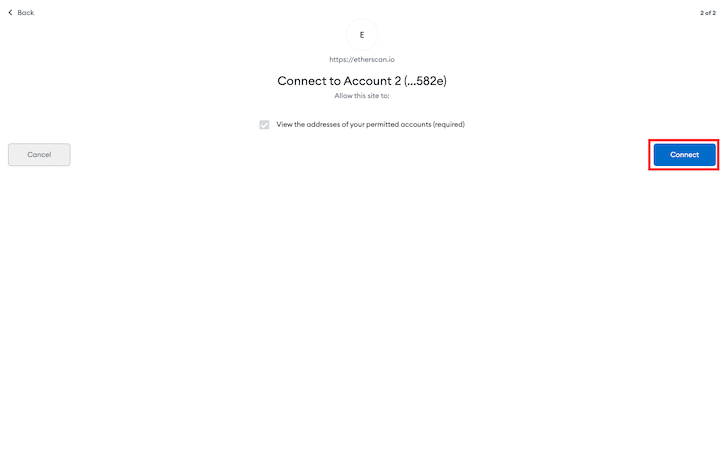 You should see a green circle "Connected – Web3".
(If this is not the case, click again on the red circle, then on the MetaMask tab, the update will be done manually)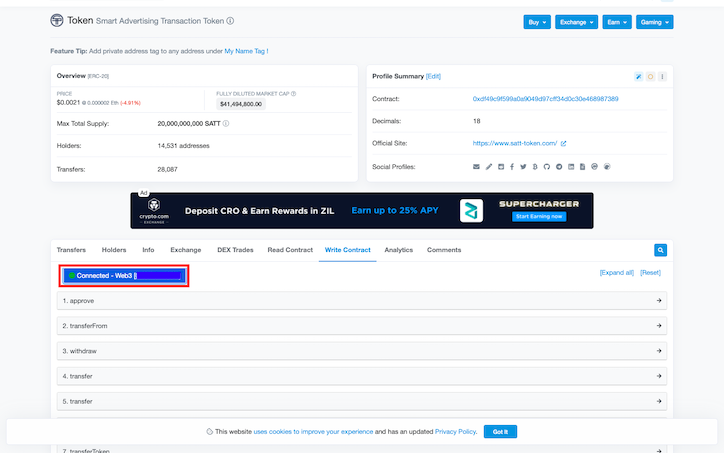 Click, you must then press [5.Transfer].
Do not use [4.Transfer] because the "data" field is missing.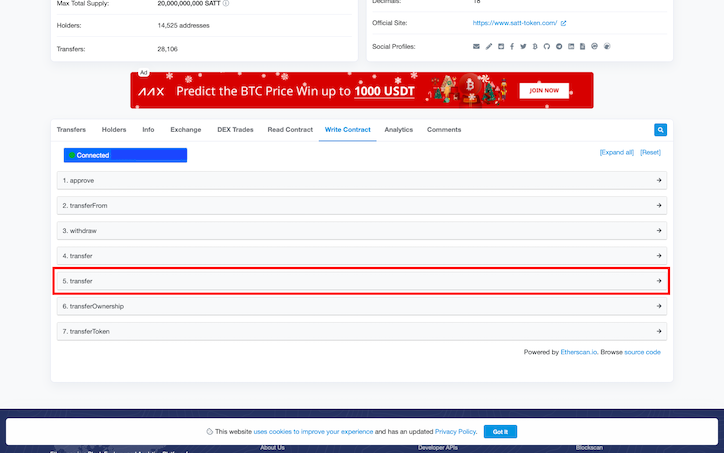 ⚠️ Fill in the following fields like this:
In the "to (address)" field, insert the address of the ETH gateway : 0xA186415565BF4d0E0A4B61DaE4ec44DF37EF790c
In the "value (uint256)" field you must indicate the amount to be transferred.
WARNING :
1 BSaTT = 10,000 SaTT
Minimum conversion: 10,001 SaTT
Condition: add 18 "0". (example: for 20,000 SaTT, enter 20,000,000,000,000,000,000,000)
In the "data (bytes)" field you must insert the address of your Binance wallet, previously converted into hexadecimal, then add the prefix "0x" in front of the final address.
To do this, you can use this site http://string-functions.com/string-hex.aspx.
(example:
Your portfolio is to address "bnb00azertyuiopqsdfghjklmwxcvbn123456789a", Copy it and paste it on the site chosen:.
Your hexadecimal address  "626e623030617a6572747975696f707173646667686a6b6c6d77786376626e31323334353637383961".
Add "0x" prefix, the address to paste into the  field "data bytes" is 0x626e623030617a6572747975696f707173646667686a6b6c6d77786376626e31323334353637383961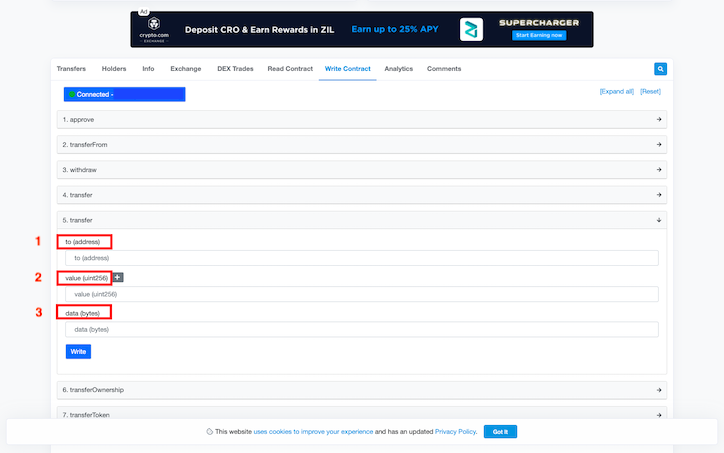 "Click [Write]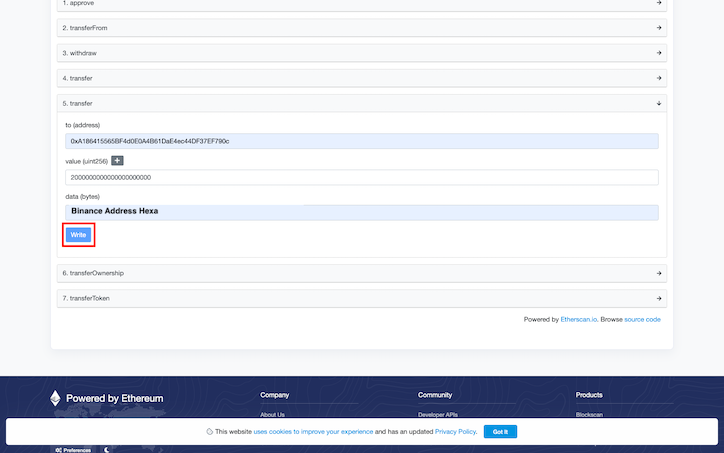 Confirm the action on MetaMask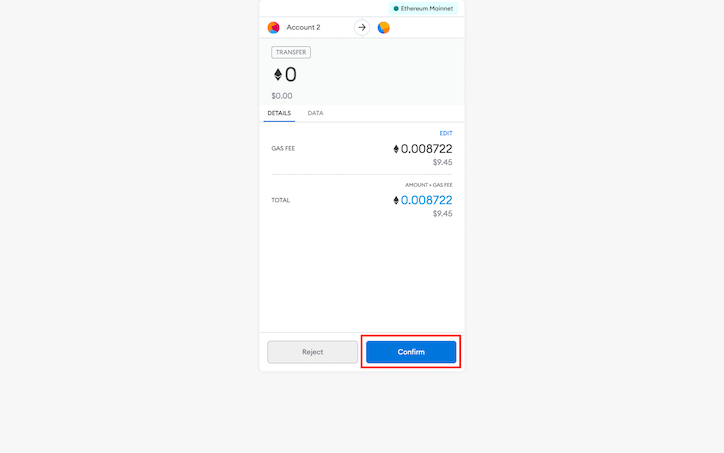 Congratulations, your transaction has been recorded.
It may take several minutes for your funds to be available in your Binance DEX account.