Crypto Highlights: Launch of Digital Yuan ahead of Digital Dollar, Bitcoin to test 16k resistance, Silver lining for DeFi amidst 60% crash and many more in this week's Crypto Highlights. 
Top Headlines Of The Week
Will China beat the US in the race to launch the first CBDC? 
With Joe Biden, the new President Elect how does the future of crypto look like? 
Bitcoin is now bigger than major companies like Paypal, Disney, Neflix 
Top Stories Of The Week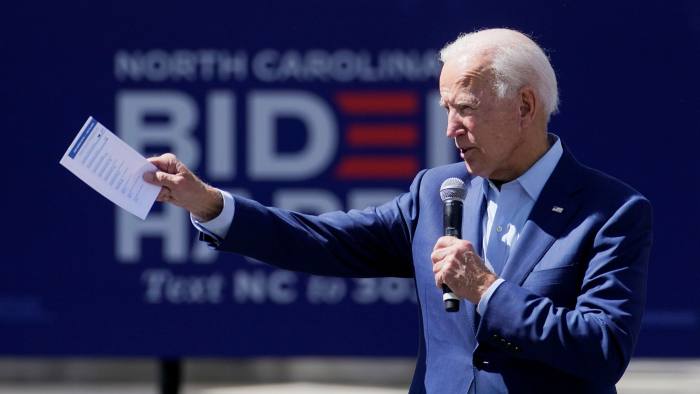 The wait is finally over ! The most anticipated election of year 2020 has ended with Donal Trump missing his chance for a 2nd term in office. It is one of fewer occasions in the history of US politics where an incumbent US president hasn't been elected to a 2nd term. The brighter side here is that this has brought forward a new era for the Americans under a Joe Biden administration. This administration is also historic as Joe's running mate Senator Kamala Harris became the first Black, Asian, Female Vice President. One of the questions that's  now on everyone's mouth is, what does the new Biden administration mean for crypto?
Qiao Wang, lead at DeFi accelerator DeFi Alliance, cheered Trump's loss, noting that the President had tweeted negatively about Bitcoin and Libra  in the past: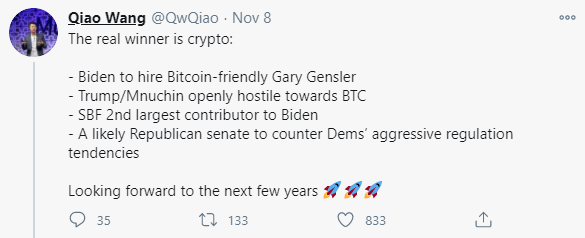 Another notable comment from investor Mike Novogratz indicated that a democratic administration is more healthy for crypto.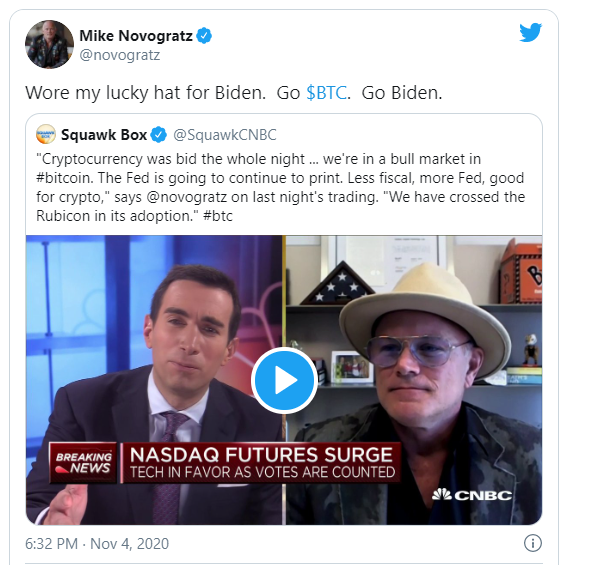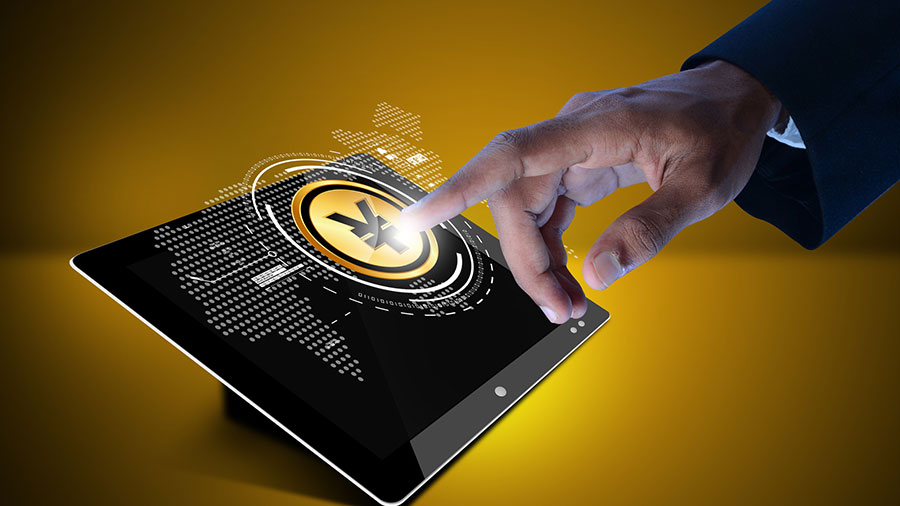 Central Bank Digital Currency or more commonly known as 'CBDC' has become an industry buzzword of late. One of the futuristic blockchain innovations that has been discussed at length since Covid-19 is the importance of digital currencies. As some major governments have demonstrated positive sentiments towards a CBDC such as Australia, Canada of late, the launch of the first CBDC has switched from being a mere research interest to a near-term possibility. 
The discussion for a US Digital Dollar grabbed mainstream attention when the Trump administration was first issuing its stimulus package. Recently we witnessed another small scale example of a digital currency implementation from a village in Switzerland. 
Today's spotlight speaks of the race between  the US Digital Dollar vs Digital Yuan. As the two leading global economies in the world, many predicted that whoever is first to launch the CBDC will have a significant advantage over the other  in the long term. 
Looking at a statement issued by David Roche, the president of Independent Strategy, the story is two-fold. While China can win the race to become the first to launch a CBDC in the form of a digital Yuan, it would take a long time for it to replace or dethrone the U.S Dollar. The reasons explained clearly in the below statement;
" Dethroning the dollar – which the euro tried to do, and settled at a miserable 18–20% of all the international things that go on — is very, very difficult. […] There is a certain amount of illusion at the moment that the yuan — which accounts for 2% of international trade settlements and even less if you come to financial investment flows — that this can take over."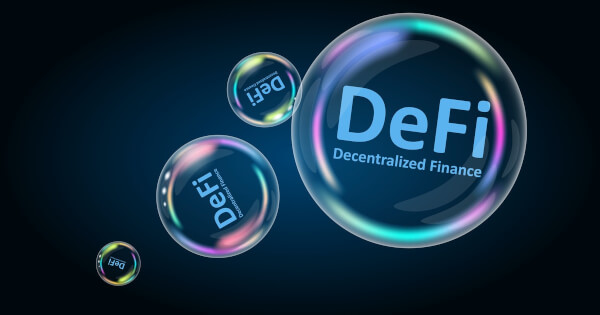 While it has been raining Bitcoin for crypto lovers, it hasn't been that well for DeFI followers. The DeFI index in Binance has crashed by 60% compared to the flourishing success witnessed by Bitcoin. Similarly several altcoins too have had to embrace the impact of Bitcoin in the spotlight.
Binance's DeFi Composite Index is now trading under $400 — a 60% decline from it's all-time highs. Most DeFi tokens have erased 70%–90% of their gains since early September which has brought a lot of questions to the public as to what could be the reason behind this. 
In a statement issued by the No.1 cryptocurrency exchange, it said;
It has been an "underwhelming month" for large-cap cryptos such as ETH, XRP, BCH and LTC, all of which only eked out "modest gains" in October.
While the DeFi market has crashed, it hasn't been all bad signs. The Total Value Locked(TVL) in DeFi still remains at $12.16 Billion. The value of ETH locked in DeFi accounts to nearly 8% of that $12 Billion.
Exclusive From SaTT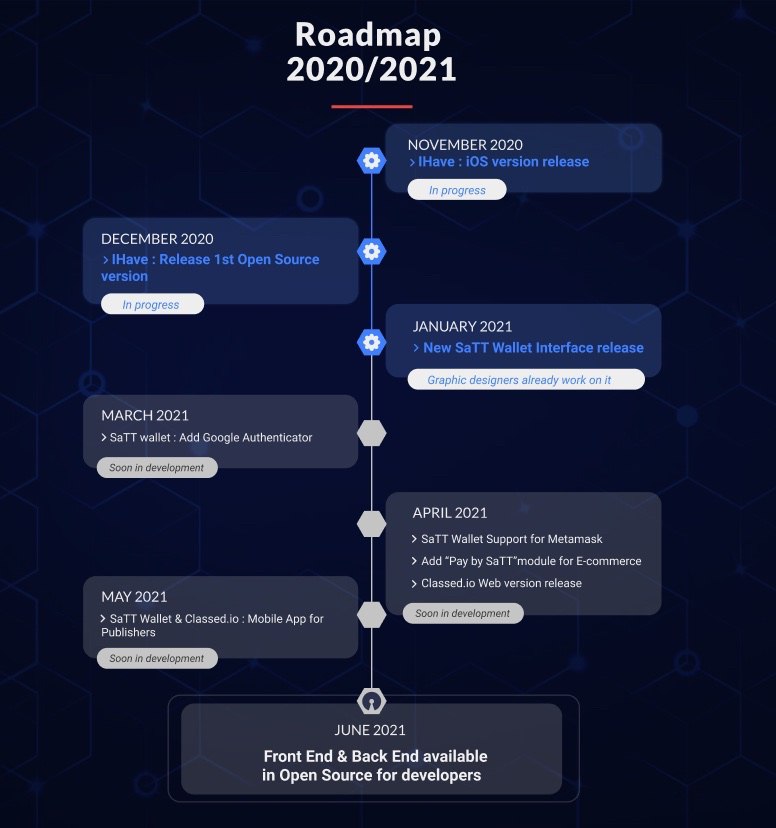 In this week's crypto highlights, here's a refresher on the SaTT Roadmap announced just a few weeks ago. 
SaTT members can still earn an exclusive 10-day staking reward to further entice WSATT holders to add more liquidity to the WSATT/ETH pool. Staking rewards details are as follows;
10 days: 2% – Limited to first 50 participants

30 days – 3%

90 days – 10%

180 days – 22%
Early last week, SaTT announced to the world in a featured news piece that their ultimate destination is to be Open-Source.'
Mainstream Adoption Of The Week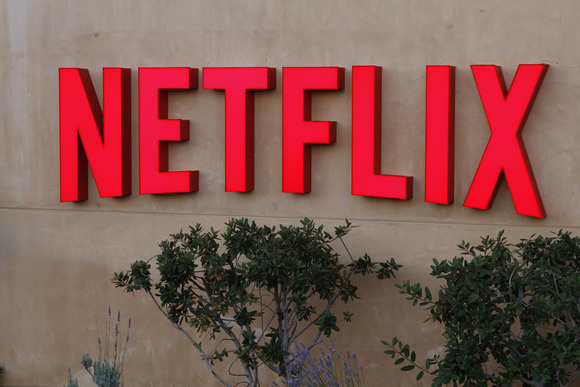 Did you ever imagine a day would come where Bicoin is considered more valuable than some of the world's leading companies? The D-day has come! 
Just two months ago, the Bitcoin price was around $10k with a market capitalization of $190 billion. Fast forward to today, Bitcoin is currently around the $15k mark and aiming to go past $16k as the next resistance level. Today it records a market cap of $280 billion. 
That is if you consider Bitcoin as a company, its valuation today is at $280 billion which is way higher than companies such as Netflix, Paypal, Disney and Coca-Cola.  Compared to the public listed companies in the world,  Bitcoin is currently behind Home Depot valued at $306B. If Bitcoin can continue this bull run to secure the 16th place among these listed giants, it would displace Mastercard as well which would be a significant achievement to the world's most desired cryptocurrency. 
This Week's Market Sentiment
This week's market sentiment focuses mainly on Bitcoin and its continuous momentum from the last few weeks. Bitcoin enjoyed an extended bull run starting from the US Election and continuing through the long 4 days of vote counting. However the strong rally that started at $14000 on Bitcoin's 12th birthday ended up at $15956.26 on Nov 6th. 
Since then, BTC has failed to push the current resistance levels to make a run at $16k. The price keeps hovering around the $14500 – $15600 range over the past several days since. What does the BTC outlook look like for the coming week?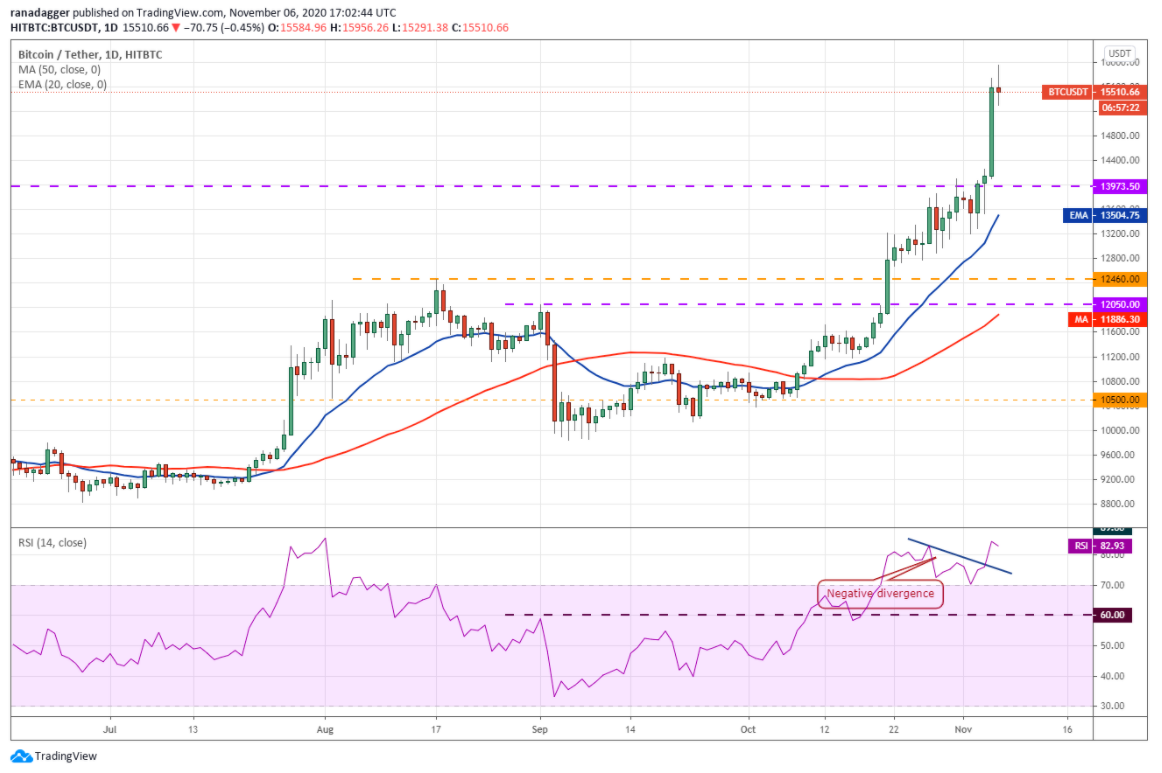 Looking at the above technical analysis, the trend is clearly in favour of bulls at the moment. According to the analysts, if the bulls buy the dip at $14000 it will suggest that the support has been regained for the bulls to  continue further on another bullish run. The recent dip below $15000 may indicate that dip as well if so this could very well establish as the floor for future price declines. 
Most importantly for our readers, if BTC manages to go past 16k this could definitely indicate prices to as high up as $17000-$17200 before finally making a shot at claiming a new ATH for Bitcoin. With Biden becoming the new president of the US, many await to figure out his views towards crypto and digital assets upon which the prices will further fluctuate. 
Given that the recent plummet didn't go lower than $14000, it is safe to assume that the bulls are in play now and we can expect to look forward to a very interesting week for BTC.
Meme Of The Week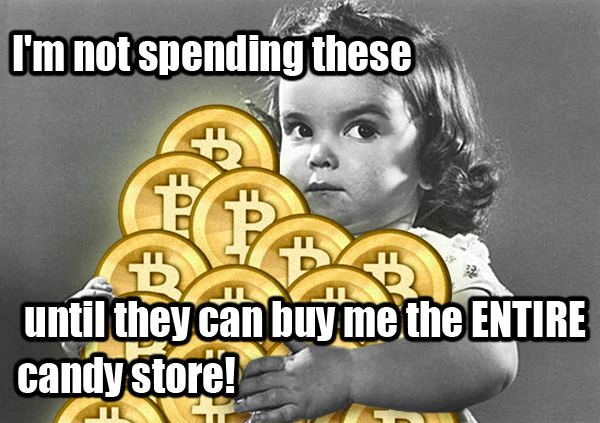 We hope you enjoyed this week's edition of crypto highlights. For a peek at our last edition of crypto highlights & blockchain news, click here.