After a pause, we're back with our popular series on cryptocurrency involvement/acceptance among celebrities & famous personalities. This week we're bringing to you the journey of cryptocurrency adoption of an icon in the global music arena. 
As cryptocurrency gathers more mainstream attention with the explosion of the DeFi market, the race for who will be  the next Bitcoin millionaire still exists among celebrities who had promoted the idea of a blockchain world in time past. Few notable celebrities are known to be associated with Bitcoin and cryptocurrency in such a manner it won't be surprising to find them among Bitcoin millionaires now or in the future when price goes to a new all time high. From Nas to 50cent. We are taking into perspective the activity of top hip hop icon Snoop Dogg or Snoop LION as he likes to call himself in his reggae music. 
About Snoop Dogg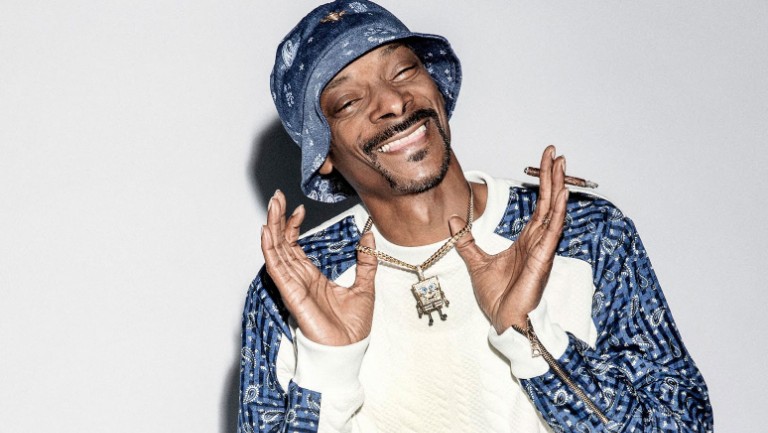 Calvin Cordozar Broadus Jr., best known for his stage name Snoop Dogg, briefly Snoop Lion, is an American hip hop artist and media personality that got into limelight like many oldies in the hip hop industry, through the famous Dr Dre debut solo single "Deep cover" and then on his debut album "The chronic". Snoop has sold numerous albums around the world totaling around 58 million both in and outside the United States of America. 
The famous rapper was born on 20 October 1971 at Long Beach California USA and has lived the majority of his life in and out of the USA. He has successfully dominated the entertainment industry in different ranges, as an actor in movies, co hosting events like the world wrestling wrestle mania, featuring in drama series and have won numerous awards across board. This gives him a lot of credibility in the entertainment space and of course a source of inspiration, a role model to a lot of fans majority of whom are teens. It becomes quite interesting to see the entertainment Icon actively take part in the cryptocurrency and blockchain sector. 
Snoop Dogg and Cryptocurrency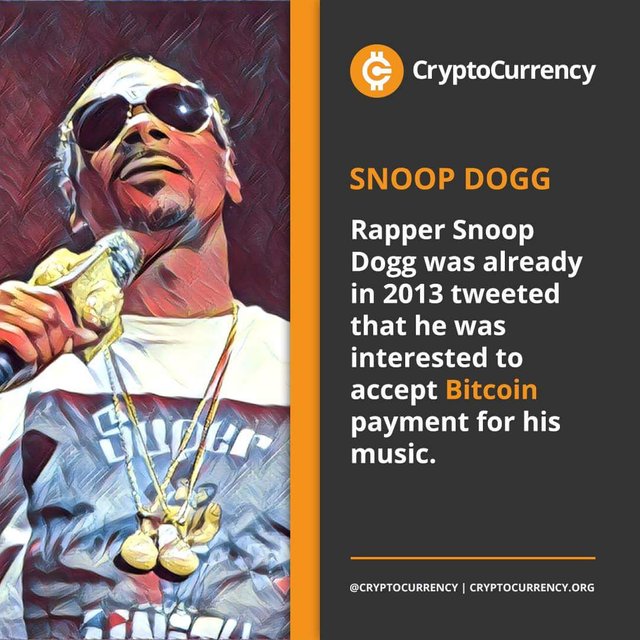 In the early days of cryptocurrency not too many people identified with the industry, many were skeptical due to its high volatile nature, as early as 2013, described by most as the infant period of the blockchain. So when Snoop Dogg embraced Bitcoin for his next album sales the world was surprised. 
It all started in December 2013 when snoop made a tweet about making sales of his next album in Bitcoin and would be delivered by drones which didn't go unnoticed as it drew the attention of major Bitcoin outfits like CoinBase and Bitpay willing to offer quite the helpful hand with the sales.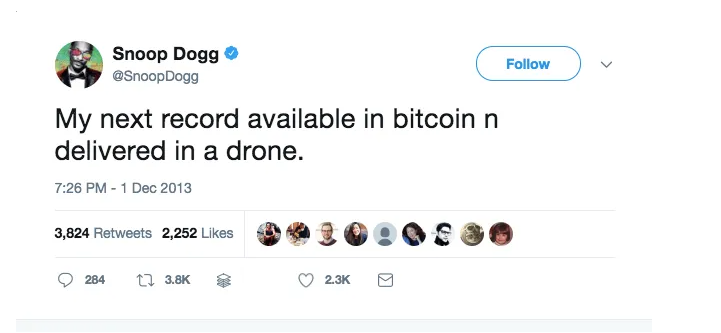 Not much is heard afterwards but a media personality like Snoop Dogg embracing Bitcoin as accepted currency for his studio work at the time was quite significant in a lot of ways;
Increased Confidence Level
:
There were regulatory concerns at the time, like most new technologies trying to get mainstream adoption, Bitcoin and the blockchain technology wasn't spared of this murky legal outlook. Skepticism bordering on government regulations, security and privacy issues around the time and to say the least not many people were confident of the ecosystem surviving beyond a few years so when Snoop Dogg tweeted about Bitcoin it was reassuring for a lot of Enthusiasts who may not be entirely confident. Today the confidence level is increasing rapidly as public acceptance increases, faith in cryptocurrency is reaching an unprecedented level. 
Public acceptance
:
What follows the positive boost of cryptocurrency by top celebrities like Snoop Dogg, public acceptance of the technology increased globally and in  few years afterwards the world would be thrown into a frantic buying mode, increasing buy pressure, pushing the price of cryptocurrencies to their major all time highs. The price of Bitcoin will rally as high as $20,000 per coin, Ethereum $1,400 per coin and a host of other credible coins. He was also recognized as a special invitee at an Invite-only event to promote Ripple held in NYC in 2018.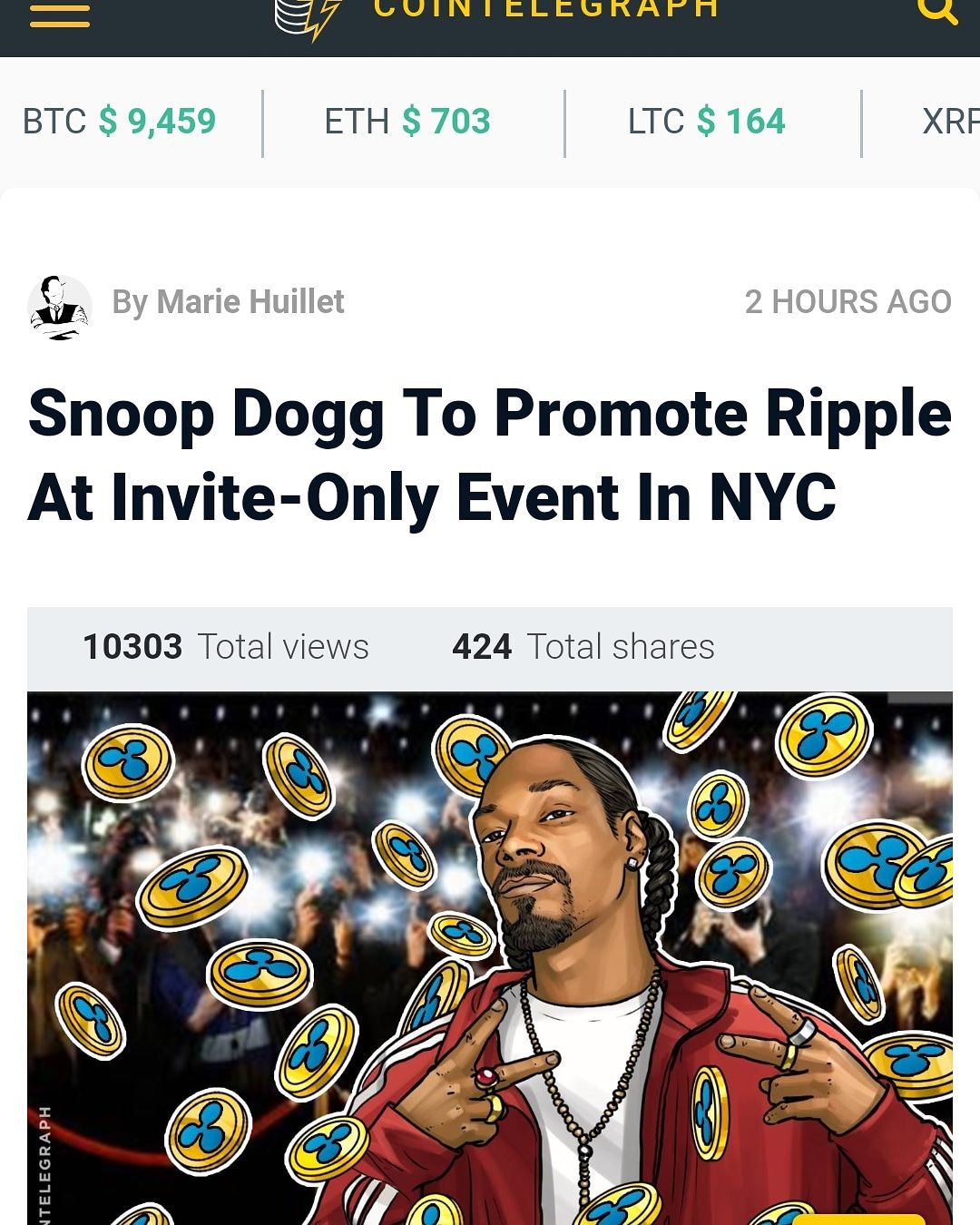 Mass adoption
:
Following public acceptance caused by a positive impact of celebrity contributions was mass adoption, real life applications of the blockchain. Simple acts of propagating the Bitcoin message by these celebrities got the attention of traditional industry operators looking into taking part in the blockchain economy. And in 2020 we could see even more applications in financial areas, where DeFi applications and protocols have taken center discussions. 
Final Thoughts
It could be said that the Tweet by Snoop Dogg could be good old publicity stunt to promote Bitcoin and maybe sponsored for personal gains at the time since there was no wallet that shows proof of actual transactions carried out however Bitcoin needed the public boost which has brought us to this point in history. We are certainly not where we are but not definitely not where we used to be. The industry is still very much young and a lot of growth potentials are available in the future. 
Hope you enjoyed reading Snoop Dogg's journey with Cryptocurrency.  In case you would like to read our last article on this series 'Mel B and Cryptocurrency' feel free to read it here.