FUD has been a buzzword that has come to life with the birth of cryptocurrencies. The crypto space is one space that has so many dimensions to it. There are many terms that are used to describe the different situations that affect it or its users. Perhaps, one reason why it is yet to attain mainstream adoption is the many terms that seem impossible to assimilate to the non-crypto savvy – although this is not proven.

FUD in crypto simply means Fear, Uncertainty and Doubt and it is a term that applies to a situation where fear can get in the way. It reflects the sentiments of the market especially when there is a big shift in the price of cryptocurrencies. The state of mind during a FUD affects how a cryptocurrency trader makes a trade, purchases a coin, or hold on to their coins.
FUD is not always grounded in reality and can sometimes be something as silly as a respectable and known figure with a large following declaring bitcoin as a bubble that will burst and his follower base feeds on that fear and take actions based on that piece of new information that they have gotten. Throughout the history of cryptocurrency, there have been FUD moments that have changed a lot of things and they will be discussed in this article.
China Endorses Blockchain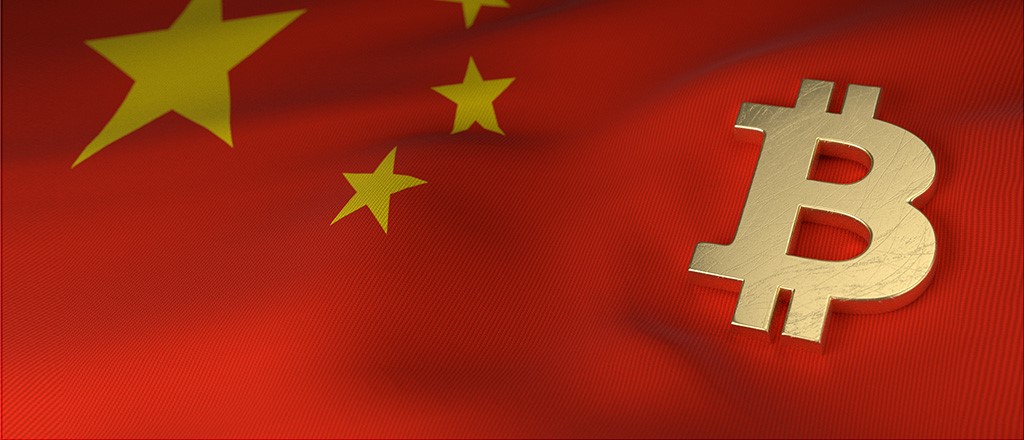 Just when it has all but been confirmed that the uptrend of bitcoin was dead due to the fact that it had fallen to new local lows, the president of China, XI Jinping, spoke out in support of blockchain. He told his citizens that the country needed to remain at the forefront of developing the future of the budding blockchain technology. 
The whales in crypto saw this as the perfect opportunity to cause a splash in Bitcoin and cause a short squeeze of epic proportions and the resulting FOMO (Fear Of Missing Out) from China's declared support for crypto helped Bitcoin to set a record for its third-largest single-day gain in the asset's young history. 
Facebook Libra Launch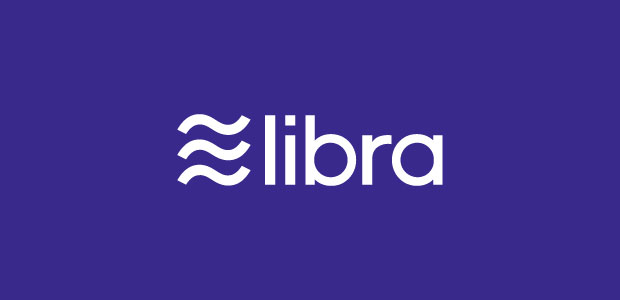 The Facebook Libra Launch is another big moment of FUD for crypto. It started off as a rumour that the Mark Zuckerberg owned social media company, Facebook was all set to release its own cryptocurrency. Soon as word got out to the media there was a sudden surge of interest in the cryptocurrency space as so many people believed that it could be just what is needed for mainstream adoption.
Although there were people enthusiastic about the development, a large number of people were still skeptical and worried about the privacy of the coin. As a result the political world turned the heat on Facebook over accusations on privacy. Given the company's history in dealing with such accusations in the past, this surely lit up the crypto space as one of its biggest moments of FUD. 
Trump Tweets About Bitcoin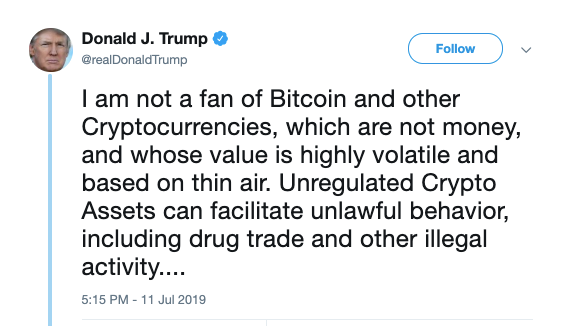 After the controversy that was kicked up by Facebook's Libra, the president of the United States of America, Donald Trump, made a tweet about the Libra coin, Bitcoin, and every other cryptocurrency. Although it was regarded as a big deal that the POTUS spoke about bitcoin and cryptocurrency, it was, however, a let down that he spoke negatively about it and it almost perfectly coincided with Bitcoin's rally at the top at that time, as he claimed that they were used for illicit crimes.
In his tweet, Trump said "I am not a fan of Bitcoin and other Cryptocurrencies, which are not money and whose value is highly volatile and based on thin air. Unregulated crypto assets can facilitate unlawful behaviour, including drug trade and other illegal activity…."
Binance Blocks US Users From Its Flagship Platform

Binance is arguably the biggest cryptocurrency exchange in the world and when it announced that it will be blocking US-based investors from trading using its flagship platform, FUD took over the altcoin market which caused a massive selloff and widespread capitulation.
 It really was a mess as crypto regulations suddenly became a hot topic when the industry-leading exchange shut out their biggest customer base without much explanation. In return, the company launched its US exchange platform that is still growing. The impact of the initial announcement was felt and it was reflected on the prices of assets.
BAKKT Launch Hype and Failure
Bakkt is a bitcoin futures trading platform from NASDAQ and was a trending issue when it was first announced in 2018. Most of the crypto market expected that there will be a sudden influx of institutional investors which would be enough to cause Bitcoin to immediately embark on a new bull run but that wasn't the case as the exchange launched to an abysmal trading volume with bitcoin falling by nearly $2,000 in a single day on the day that the exchange was launched.
In conclusion, these are some of the biggest FUD moments in the history of crypto that has affected it in one way or the other. These events have a habit of repeating themselves. Therefore, it is yet to be known or seen what the next big FUD will be. Perhaps, its possible that the next big FUD will happen in 2020?